The Superbowl comes a little early for those in the decorative lighting industry. From January 20th-24th, every relevant brand in the industry gathered in Dallas, Texas, for Lightovation, the Dallas International Lighting Market. We got to check out the Littman Brands showroom, arguably the most versatile and impressive out of the many companies that we toured. Let's take a look at our favorite new fixtures from their different brands!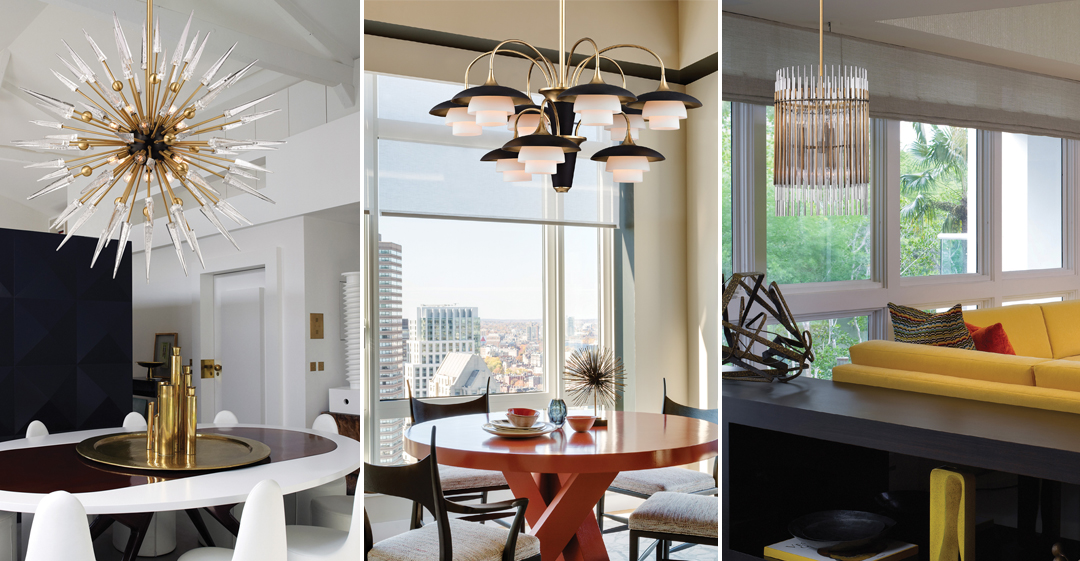 From left to right: Sparta, Barron and Wallis by Hudson Valley Lighting®
Hudson Valley Lighting®
Sparta – Just as bold and powerful as its mythological roots, Sparta is a stunning display of bursting energy frozen in motion. With a black textured ball at its center and a dynamic tension, Sparta pushes forward the Sputnik concept into new territory.
Barron – Wow. Finely textured and painted black on the outside, with a metal finish on the inside, Barron's shades are a visual delight in person. Opal-etched diffusers nested in pairs within each shade further soften and diffuse the light.
Wallis – From a visual standpoint, Wallis creates an interesting perspective from any angle. By layering glass and metal rods at staggered but even lengths in a classic drum shape, Wallis manages to feel both contemporary and familiar. At the same time, it directs light vertically and diffuses it horizontally.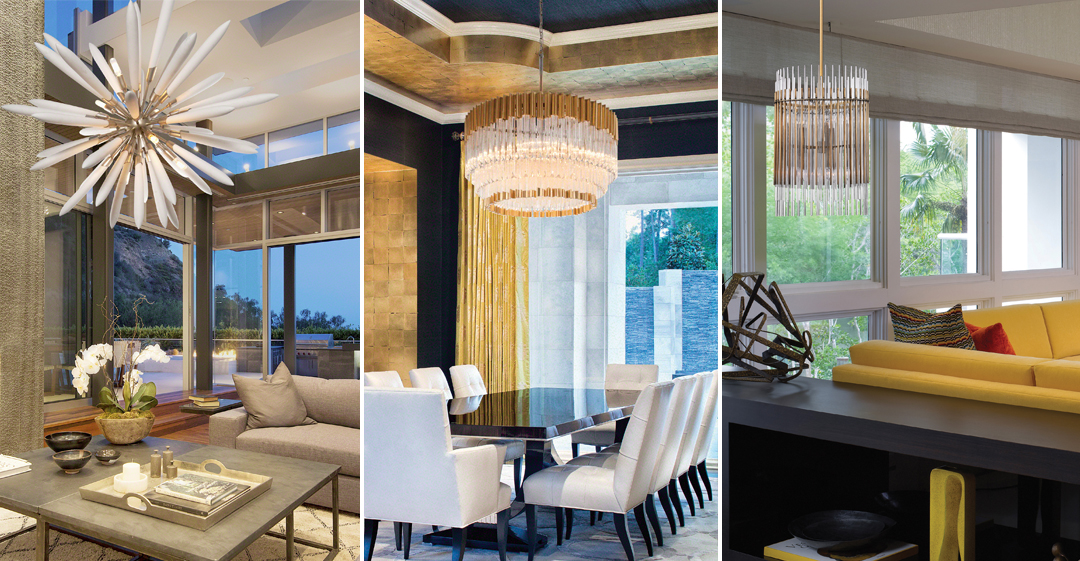 From left to right: Altitude, Charisma and Tiara by Corbett Lighting
Corbett Lighting
Altitude – With a frame handcrafted from iron and finished in modern silver leaf, Altitude features radiating arms of bone china in a matte bisque finish. The contrast of matte and satin finishes adds even more dimension to the already dynamic form.
Charisma – Charisma channels retro style in a new and fresh way with clear triedi crystal forms arranged in a circular, tiered formation. The crystal is complemented by iron extrusions made and capped in gold leaf while a stainless steel frame sparkles from the inside.
Tiara – Embodying royal elegance, Tiara is a chandelier that pairs classic elements with a unique diamond-patterned frame. Every opening features a faceted pear crystal with a central indentation. The outer frame is finished in bronze leaf, while the inner frame is an arched, flat bar stainless structure which reflects the light. These two different finishes create the illusion as if Tiara is floating.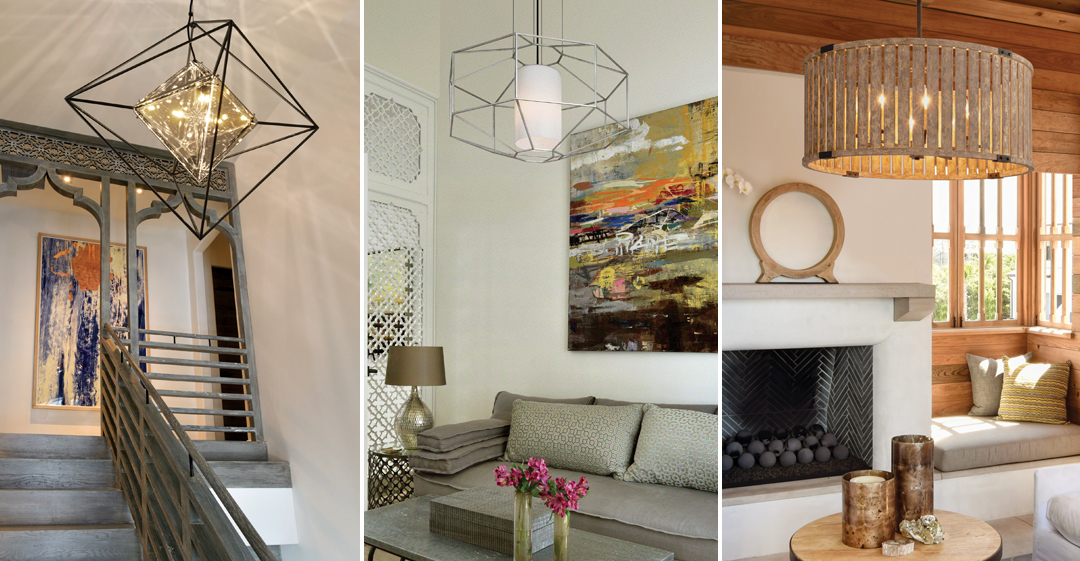 From left to right: Epic, Silhouette and Stix by Troy Lighting
Troy Lighting
Epic – Lights are sprinkled throughout the interior of Epic's diamond-shaped, plated topaz prism. When turned on, the glass diffuses the glare, and when turned off, the glass's plated quality creates a subtle yet stunning appeal – truly beautiful in person.
Silhouette – Silhouette is an airy design with precision clarity. At its center is a globe or cylindrical diffuser in gloss opal glass hung from a black cord. The light source is surrounded by thin, geometric, hand-worked iron framework, which is suspended by aircraft cables.
Stix – Evoking a rustic French country feel, Stix is a slatted wooden drum design finished in antique gold leaf. The distressed finish, reminiscent of barn wood, is accented by hand-worked iron details.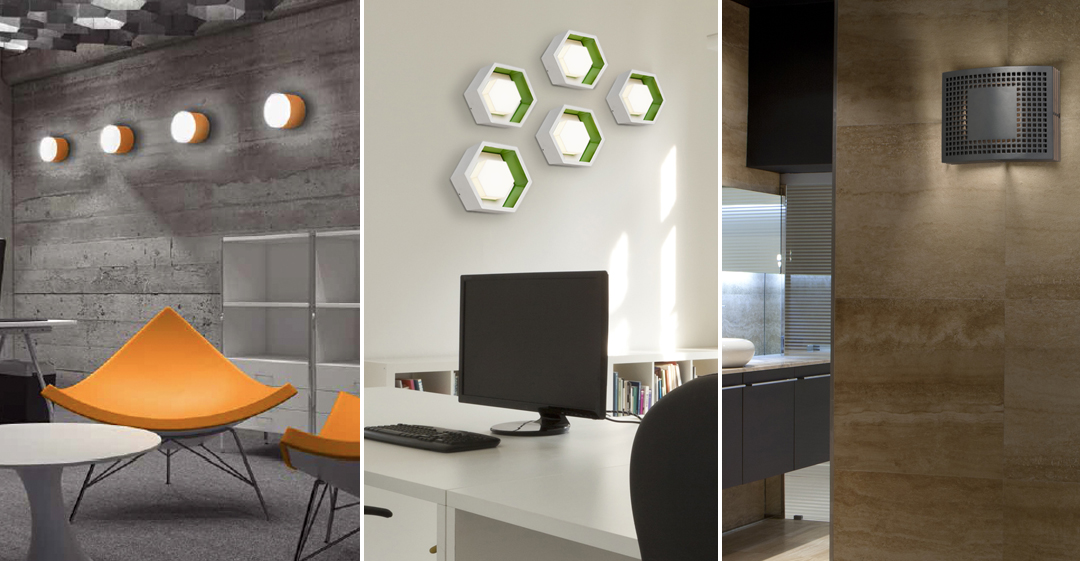 From left to right: Omni, Hex and Echo by CSL® (Creative Systems Lighting)
CSL® (Creative Systems Lighting)
Omni – A bold and decorative lighting design, the circular Omni wall and flush mount is eye-catching alone or in multiples. Omni is not only energy-efficient but visually striking with a machined acrylic diffuser and machined aluminum housing – also fit for damp or wet conditions.
Hex – CSL shows off its multifaceted approach to design and applicability with Hex. Featuring warm illumination encased in a multi-colored, six-sided shape, the hexagonal fixture comes in stamped aluminum housing with a molded acrylic lens/diffuser. It is offered in a multitude of finishes for both the housing and the inner accent color.
Echo – CSL's Echo wall-mounted fixture is a unique design with elegant appeal. The fluent, curved design features a pierced aluminum shield and louvers which distribute diffused wall illumination and ambient light.
That's it for our "What's Hot from Lightovation" list. Littman Brands still amazes us with their exquisite designs and fine details year after year.