Pass the rolls, stuffing and mashed potatoes – because we have a lot to be thankful for this year. Thanksgiving isn't just a time to celebrate friends and family, it's a time to celebrate great design. Just like our favorite Turkey Day traditions, our favorite designs are timeless year in and year out. So as we tuck into our feast (for the eyes!), here's a look at some designs for which we truly give our thanks!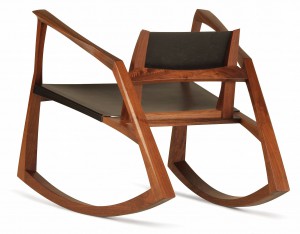 v5 rocker by Skram
Perhaps no other piece from Skram represents designer Jacob Marks' aesthetic more precisely than the v5 rocker. No wasted or frivolous elements, just a clean and pure use of walnut with black saddle leather sling seat and back. The v5 rocker is available in walnut (shown), cherry, rift-sawn white oak natural, whitewashed or ebonized, european beech, or custom. Leather color options include chestnut, tan or black.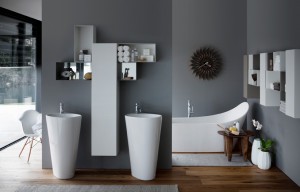 LAUFEN – Palomba Menhir
"Menhir," which means "tall stone" in Breton, is a floor-standing ceramic washbasin. Its smooth contours recall a rock formed and polished by the tide, its bowl organically morphing into the washbasin surface. The renowned Italian design team of Ludovica + Roberto Palomba describe this effect as a "fingerprint of nature." Winner of a 2012 GOOD DESIGN Award, this washbasin showcases LAUFEN's commitment to creating innovative and standout ceramics for the bathroom.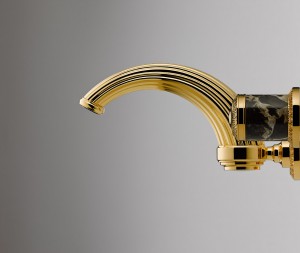 Malmaison by THG
THG-Paris' esteemed Collection Malmaison is traditional and ornate, drawing its inspiration from the Chateau de la Malmaison near Paris. With intricate lotus leaves and delicate palmettes, renowned designer Christofle created this historical, exceptional pattern in 1967, and it has graced Christofle's magnificent collection of jewelry, tableware and home accents since. THG-Paris has been entrusted with this pattern and has applied the same attention to workmanship and detail in this outstanding collection of luxury bath fittings and accessories.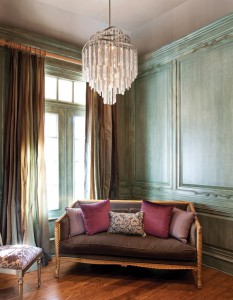 Chimera by Corbett Lighting
With shimmering nickel and crystal tassels and clear tubular glass, this multidimensional piece stands out with its dynamic shape and kinetic energy. Rows of tassels are hung at different lengths and suspended from a handcrafted frame finished in an attractive Tranquility silver leaf finish, making Chimera a sight for all the senses.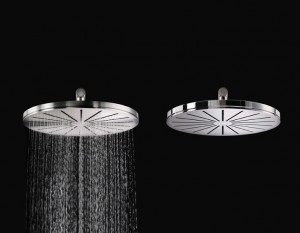 Round Showerhead by VOLA
The Round shower is the latest evolution in VOLA's highly-acclaimed Round Series which takes the circle – already a key feature of VOLA design – as its focus. The Round Shower plays with existing lines to produce a fresh and aesthetically-pleasing geometrical form.
What designs are you thankful for? Tweet us @Styleture