November 11 marked the much-anticipated opening of the Louvre Abu Dhabi, a decade-long project between the United Arab Emirates and France. An architectural and cultural tour de force, the Louvre – with its compelling dome structure and "micro-city" layout – emerges from the mind of internationally renowned French architect Jean Nouvel.
Nouvel's global reputation launched with the establishment of his architectural practice in 1970, which followed years of schooling at the Ecole des Beaux-Arts and had a slight overlap with his early work under architect Claude Parent. Through the late 1980s and to the present, Nouvel has served as the visionary behind projects including the Galeries Lafayette in Berlin, the Agbar Tower in Barcelona, the Quai Branly Museum in Paris and One Central Park in Sydney – making his role in the billion-dollar Louvre just one example of modern architectural excellence among many others in his portfolio. Having received the Aga-Khan Prize for bridging Arab and French cultures in the late 1980s and the prestigious Pritzker Prize in the late 2000s, Nouvel was deemed a natural choice in leading the design and development of Abu Dhabi's newest artistic focal point.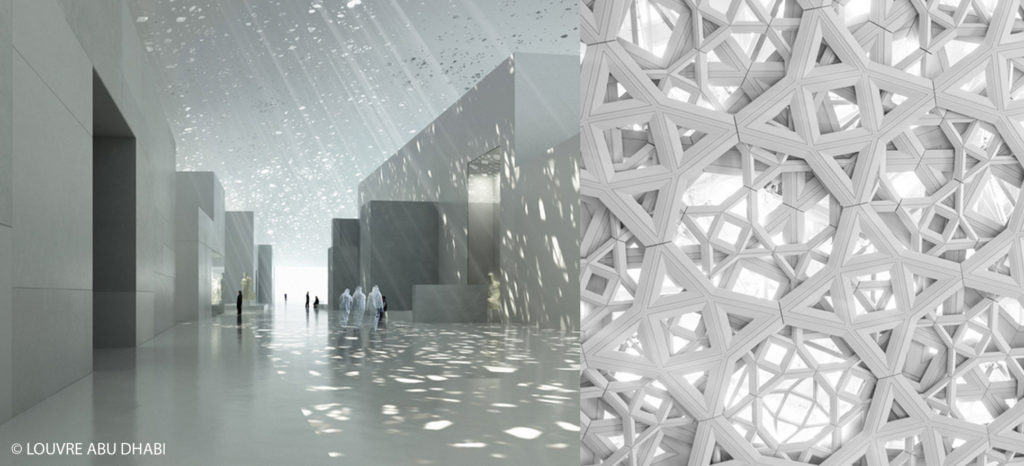 Nouvel's Louvre Abu Dhabi unites clean-lined surfaces with complex geometric roofing, centering a silver-toned dome above the expansive, 55-building museum structure. The dome, with a weight equal to that of the Eiffel Tower, features 8 layers of "stars," which filter in rays of natural light while still providing shade for museum visitors. The dome plays off of traditional Arab structures while eco-consciously making the museum more energy efficient. Aside from its eye-catching dome, the sprawling institution draws interest due to its placement at sea, as it is accessible both by car and boat.
In its 23 galleries, the Louvre will include permanent and temporary collections. The former include focal points such as a 9th century Quran script, "Madonna and Child" by Giovanni Bellini and the funeral set of Princess Henuttawy. Its borrowed offerings include classics from Leonardo da Vinci, Van Gogh and Monet, though the Louvre will host four temporary exhibitions a year. All collections and galleries focus on bridging cultures, uniting art under a global history and transcontinental visual narrative.
With a stunning architectural form and a colorful assortment of collections, the opening of the Louvre Abu Dhabi marks a historical moment for modern museums.