The International Contemporary Furniture Fair (ICFF) is back in full swing— and we couldn't be more excited! As North America's premier showcase for contemporary design, ICFF brings together the latest design trends and innovations in one jam-packed trade show and exhibition. With the show opening to the public on Tuesday, here's what we can't wait to see at ICFF.
Watermark Designs and Flavor Paper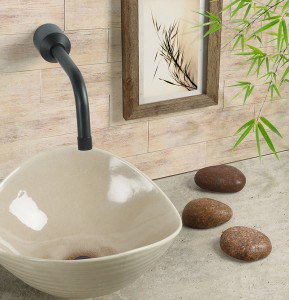 We love Watermark Designs for their hip Brooklyn aesthetic and innovative faucet designs— and for their first ICFF, they're putting both proudly on display. Their new Zen Collection is comprised of quartz faucet handles and rocks hand-picked from the shores of Lake Michigan. Utilizing rare earth magnets, this new collection eliminates the need for set screws, which gives the handles an even more natural look and feel.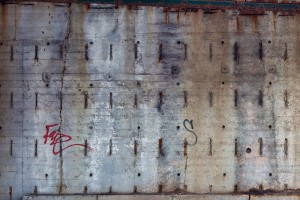 While this new collection is thrilling enough, we're just as excited to tour their booth, which will be "flavored" with wallpaper from the equally innovative Brooklyn-based company Flavor Paper. Flavor Paper's hand-screened wallpaper is produced in their "Flavor Lab" in the Cobble Hill section of Brooklyn. The booth makes use of two Brooklyn-themed designs: the Brooklyn Bridge and DUMBO wall. We can't wait to check out this hip collaboration in person!
ThermaSol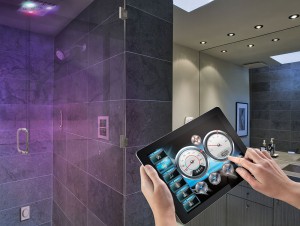 Never ones to shy away from the latest technology, this year ThermaSol's booth is all about the apps. Among the products on display will be their Solitude Mobile App, the industry's first mobile app for steam shower systems. This technology adds to their long list of innovations, including the Serenity Light & Music system, FastStart technology and 100% digital fully networked steam systems. Visitors can also brew up a steamy cup of coffee using the TopBrewer app from Scanomat. We'll definitely be stopping by ThermaSol to keep our energy up at ICFF!
Big Ass Fans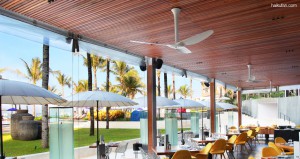 With designs as awesome as their name, Big Ass Fans truly reinvents the ceiling fan. They offer a full line of fans engineered and tested to improve air movement in spaces of every size and type— from hangars and stadiums to libraries and homes. We can't wait to cool down under their 60-inch Haiku ceiling fan, recognized by ENERGY STAR as the most efficient ceiling fan in the world.
Devon & Devon

The luxurious Devon & Devon is making its first trade show appearance in North America at this year's ICFF. With 25 years of luxury design and manufacturing experience, Devon & Devon is known for drawing inspiration from the beauty of the past and reinterpreting it for collections relevant for today. We can't wait to check out their Jetset vanity unit, President bathtub, Wide Blues console and more.
THG

THG-Paris, the world-renowned luxury atelier, is introducing three new collections in partnership with the prestigious brands Baccarat and Christofle. While the dramatic Pétale de Cristal is made in partnership with Baccarat, Collection O by Studio Putman and Collection Malmaison are two new collections with Christofle. Each with its own distinctive design, both collections offer modern and traditional embellishments to basins, bathtubs and bath fixtures.
GRAFF Faucets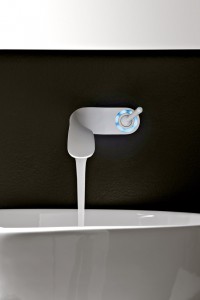 GRAFF Faucets is one of our favorites, and we're excited to get reacquainted with some of their most innovative faucet and shower collections. The Ametis faucet integrates LED lighting with stunning results, while the Aqua-Sense shower system features chromatherapy and a USB port. We're also looking forward to checking out the lovely Luna bath faucet and Sento collection.
Chair Factory
Chair Factory offers timeless classics to modern, chic furniture. Offering premier seating for the architecture and design community, Chair Factory carries notable designer names and looks that exude sophisticated elegance.
Did we leave anyone off the list? Tweet us @Styleture and let us know!