Is your decor feeling a little run down? It's time to get in shape – and add some geometric style to your home workout regimen. Whether it's daring squares, audacious angles or pentagons that pop, you don't need a mathematical formula to determine that geometry is in. Geometric designs energize even the most "out of shape" interiors with bold patterns and eye-catching forms. For your editorial consideration, here are some geometric-inspired pieces that prove its hip to be square (or circle, or triangle…).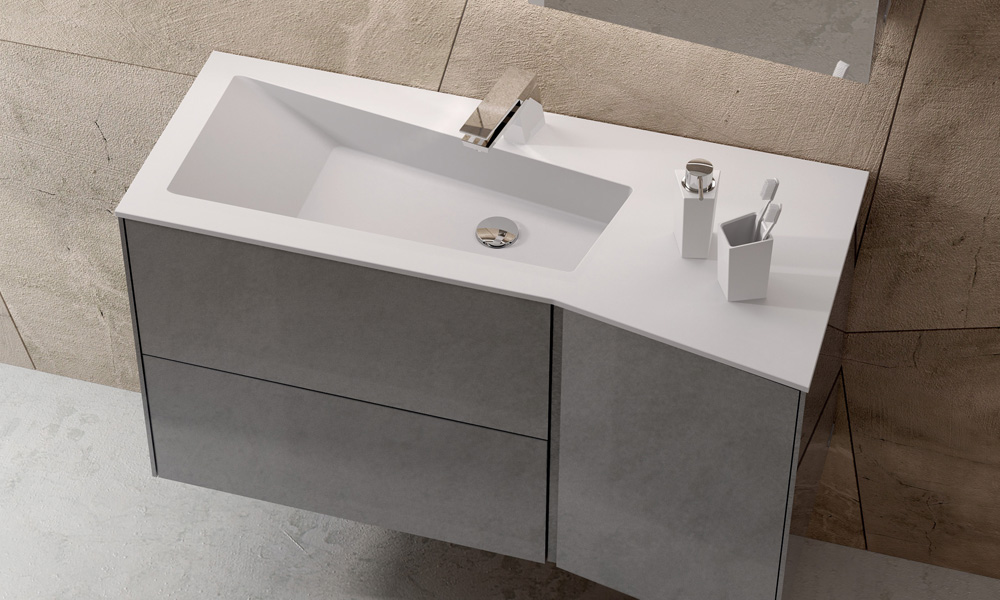 Sonia – Fractal
Fractal answers the visual conundrum of how an object can look the same from far or near. Breaking the rules of ordinary geometry, the 360-degree asymmetrical design of Fractal visually creates a different piece of furniture, depending on your perspective, to give your bathroom a whole new point of view. Sonia created the Fractal series based on volumetric ergonomics, allowing full optimization of the interior and the exterior space. Fractal comes either floor- or wall-mounted. The collection also comes with a medicine cabinet, equipped with LED technology and a double glass door wall vitrine. The Fractal cabinets come in two sizes, while the wall vitrine is available in four finishes.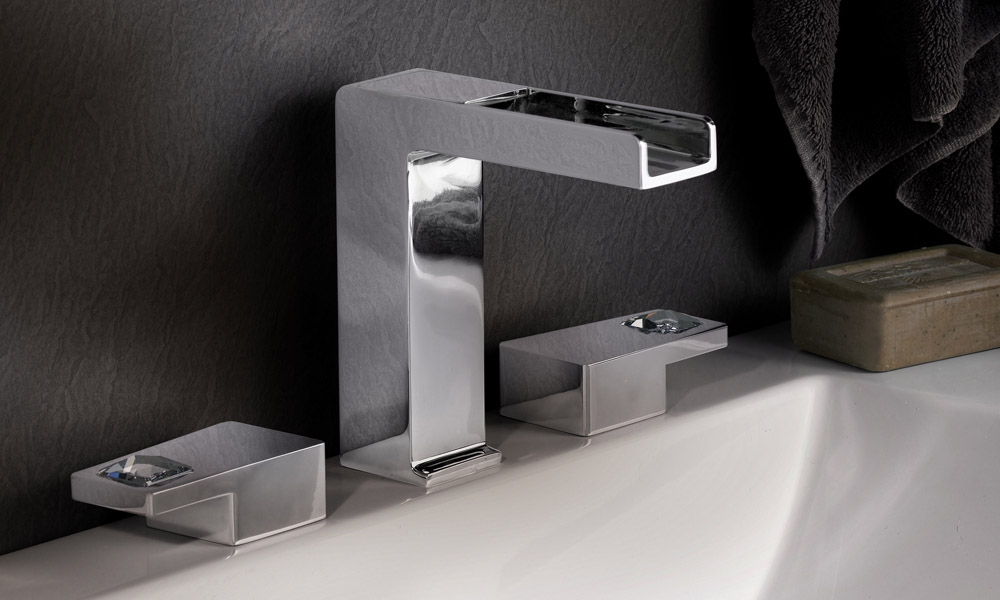 Watermark Designs – Edge
Edge lives up to its name with a sleek tapered edge and trapezoidal spout. Boldly blurring the line between luxury and contemporary, Edge is available as a wall mount or deck mount, and features three different handle options, including one with an elegant crystal insert, one with geometrical cutouts, and one that eliminates the escutcheon. Each handle attaches to the valve via Watermark Designs' signature rare earth magnets, eliminating the need for screws and ultimately resulting in one streamlined look. Edge is destined to appeal to modernists and those seeking a minimalist aesthetic infused with a touch of refinement.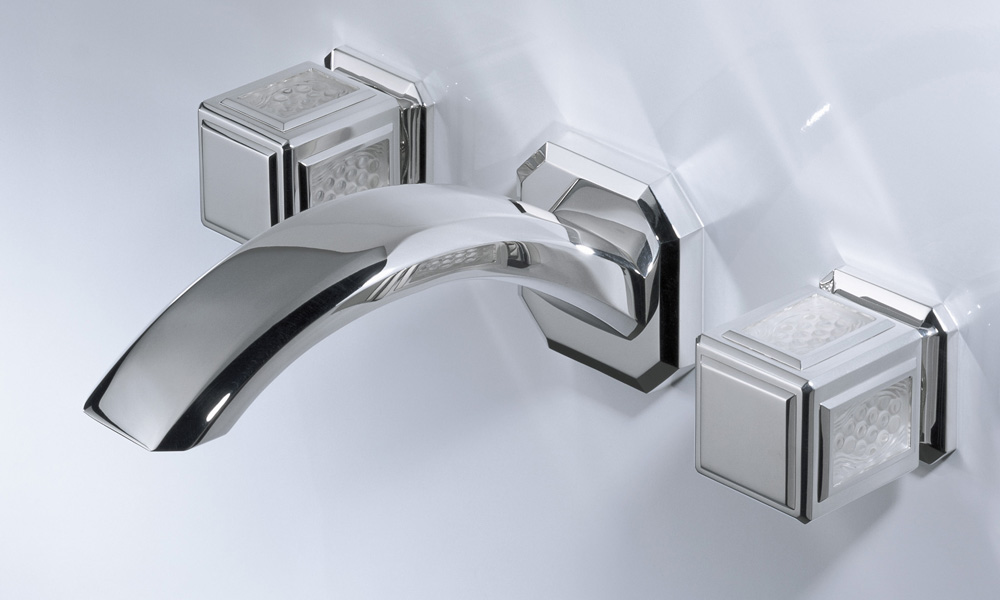 THG – Metropolis
The Metropolis Collection of faucetry, bath fixtures and accessories combine pure geometric lines with the refinement of inset Lalique Crystal. The square-shaped handles reveal crystal encased in precious metal, while the tops of the lever handles are adorned with the raisin motif, creating a sophisticated contrast of crystal against shimmering metal surfaces. The iconic raisin motif of the crystal sculpture, originally created by designer René Lalique in 1928, decorated the interiors of the Orient Express. The Metropolis has been created to add an aristocrat charm to the bath surroundings. The faucet series feature square or lever shaped handles, with the same raisin motif encased in metal. It comes with an option of black and white Lalique crystal. Combined with a series of complementing accessories, the Metropolis faucet series add a glamour quotient to the bath area.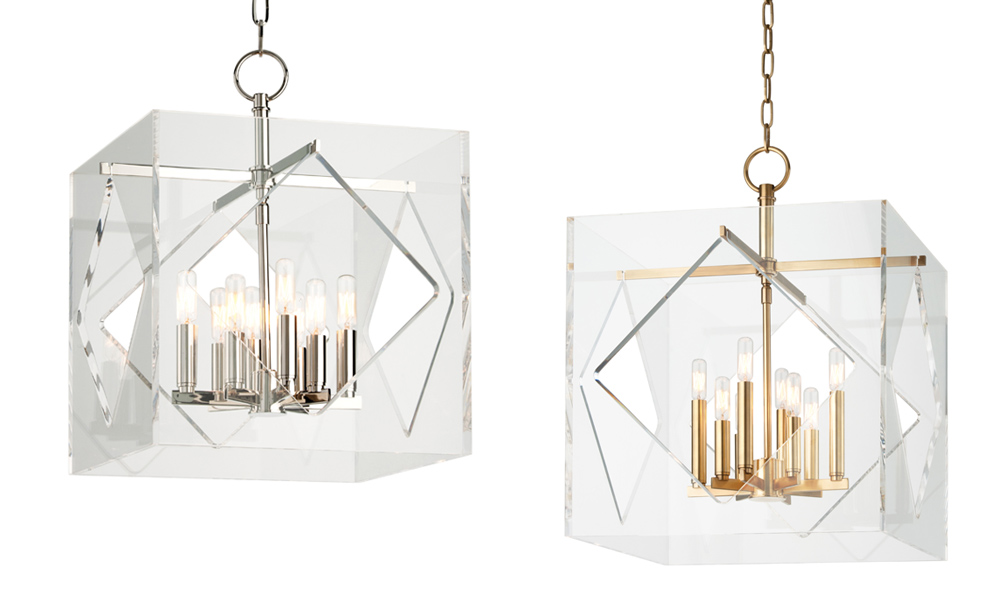 Hudson Valley Lighting – Travis
Travis presents an ultra-glamorous look that evokes the silver screen's Golden Age. The captivating collection draws inspiration from Hollywood Regency style by encasing a sleek and elegant chandelier in a cut and polished cube of modern acrylic. Available in aged brass and polished nickel finish options, the pendant comes in three eight-light sizes and as a single four-light option.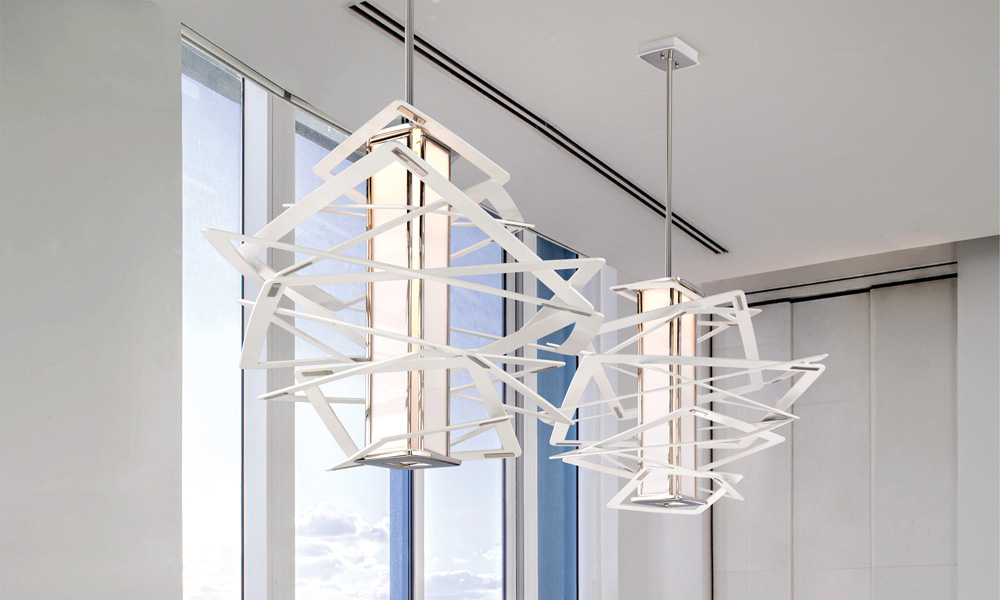 Corbett Lighting – Tantrum
A powerful take on modern lighting design, Tantrum enhances any residence or project with its bold, sculptural style. Comprised of flat, soft-edged squares in a cascading configuration, Tantrum is available in two unique finishes: white with stainless accents and bronze with brass accents. At its core is a high-powered LED light engine enhanced by an opal diffuser and dimmable with incandescent dimmers for setting the perfect mood. Tantrum is handcrafted from aluminum and is available in four pendant sizes as well as a LED wall sconce.
Do you have a favorite geometric design that we missed? Let us know @styleture.