Out with the old, in with the new. With each New Year comes a new opportunity to refresh, recharge…and redecorate! But before the countdown to midnight and the Auld Lang Syne serenade begins, we wanted to share some of our favorite design trends sure to carry over into 2013.
Need help getting the look? No problem! We've included some tips to help you get a fresh start.
Less Is More
We're not shy about our love for minimalism. Simple and sophisticated, this modern aesthetic showcases bold design that's anything but boring. We love LAUFEN's deceptively simple and organic forms that showcase stripped down style—and we're not the only ones! This year designer Roberto Palomba's freestanding Palomba bathtub won an Interior Design Best of Year award and it's easy to see why. Inspired by the elemental force of nature, this tub is a minimalist beauty and modern delight.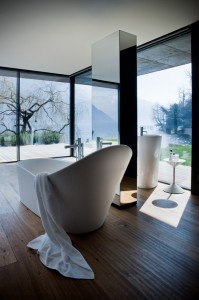 Get the Look: Clean out the clutter! Gather items you no longer need and take a trip to your local Goodwill. Give your items left a proper home—no junk drawers or overstuffed closets! Relocate anything that doesn't belong and hide others out of sight. And resolve to keep it that way in the new year.
Going Green
At Styleture, we love going green , so when Pantone chose Emerald as their 2013 Color of the Year, we couldn't help but celebrate in style. Bold and beautiful, this jewel tone works just as wonderfully as a focal point or accent shade. But if green doesn't suit your look, get inspired by nature instead. Taking its lead from nature's blueprint, Stone Forest creates contemporary designs sculpted from natural materials like stone, bronze, bamboo and more. Native Trails is another company that practices sustainable goals, re purposing wood and copper to make their designs. Let's hope more companies adopt these eco-friendly practices in the New Year and make this trend a lasting change!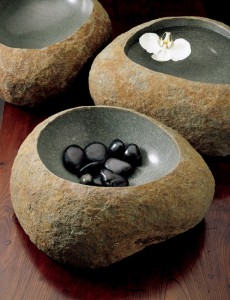 Get the Look: Reuse, recycle, and renew. Old linens or even last decade's sweaters can become unique seat cushions or throw pillows. Be creative and open your mind to the possibilities! Instead of buying new, try shopping at consignment and thrift stores first. Not only will you find something more unique, but you'll be more eco-friendly as well.
Shining Bright
After taking a tour of the House of Rock, we couldn't help but get inspired by designer Elaine Culotti's eclectic layering in the great room. From pops of color to sparkling surfaces, the blend of different textures and patterns creates a winning composition. But when it comes to one-hit wonders, Corbett Lighting's Vixen chandeliers steal the spotlight. Incorporating a traditional chandelier silhouette with nontraditional polished nickel chain link, this fixture imbues a layered look with rock 'n' roll edge.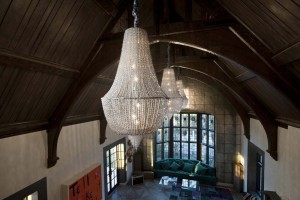 Get the Look: Don't be afraid to mix it up—Try a variety of different textures and colors in your furniture and accessories. If you're worried about overdoing it, play it safe by sticking to one family of colors or coordinated textures. Or keep it simple with easy doses and pops of bright colors, metallics and iridescents.
Are there any trends we missed? Let us know on twitter @styleture!