At Styleture we never pass up the opportunity to celebrate good style. With ICFF (International Contemporary Furniture Fair) just around the corner, we can't wait to see what new products are in store. While we anticipate the latest and greatest in design, we want to take some time to celebrate a few of our old favorites. And what better time to celebrate than May 5th? In honor of our own "Sinko" de Mayo, here are five of our favorite sinks.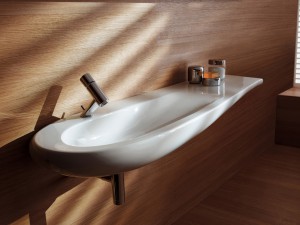 ILBAGNOALESSI One Tuna by LAUFEN
LAUFEN is masterful when it comes to innovation and organic forms, taking bathroom design to another whole level. With the graceful curves of the fish that bears its name, TUNA is an imaginative piece with timeless flair. Its soft fluid lines and clean white finish create a modern and luxurious statement for any bathroom.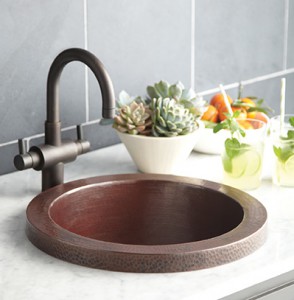 Mojito by Native Trails
Just in time for summer, Native Trails' new Mojito bar and prep sink is making a splash. With a look as refreshing as its namesake, Mojito's hammered copper texture brings beauty to any backyard barbeque. This innovative sink combines artistry and functionality with a deep circular shape perfect for filling with ice and keeping bottles cold.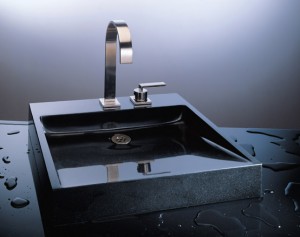 Opus Sink by Stone Forest
With clean edges and a sloping basin, Stone Forest's Opus Sink is an architectural marvel. Hand-carved from solid sandstone or black granite, its sharp yet unobtrusive look brings a striking element of design to the bathroom.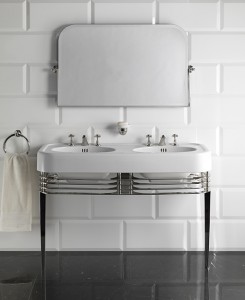 Wide Blues console by Devon & Devon
Inspired by the Golden Years of automaking, this signature look centers on metal strips that resemble the grilles of classic cars. Part of Devon & Devon's 2013 collection, this piece features a generous top molded in white ceramic and metal finish options including chrome, polished nickel and light gold.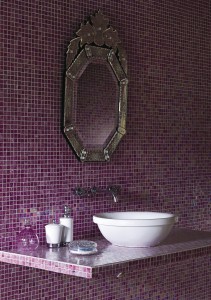 Adelaide Above Counter by Caroma
"Efficient by design" is Caroma's creed. With deceptively simple and highly efficient designs, Caroma is an industry leader in water conservation. Constructed from vitreous china, the Adelaide Above Counter basin brings contemporary and classic elegance with its smooth and simple form.