Even though Baz Luhrmann's The Great Gatsby isn't hitting theatres until June, we can't keep our love for the Roaring Twenties quiet. Nearly a century later, the 1920s produced timeless, modernist pieces that are still very much en vogue today. Sculptural forms with strong ties to architecture and design, faceted polished chrome and stainless steel, elegant black and white and refined crystal detailing… we think these designs are the cat's pajamas! Let's take a look at some of these great designs inspired by The Great Gatsby himself.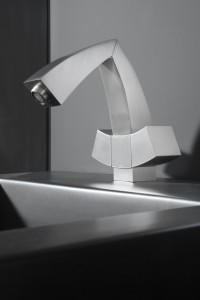 GRAFF's Fontaine faucet is ready for its close-up. Exuding a high level of Hollywood glamour with strong shapes and an Arc Deco feel, its curves and angles mesh perfectly to create an ambiance of pure luxury and visual delight. A modern masterpiece of geometric design, the distinctive Fontaine faucet looks great from any angle.
Who says traditional means boring? The Collins pendant from Troy Lighting makes a subtle yet glittering statement. With its diamond-cut crystals and candelabra base, Collins raises the elegance factor anywhere it's placed. Available in a variety of pendant sizes, and as a single, double, triple or four-light sconce, all options are done in a timeless polished nickle finish.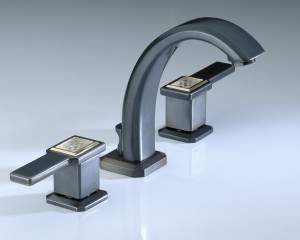 With a modernist feel, spare but well-executed detailing and Lalique crystal, THG's Metropolis series embodies pure luxury. The iconic raisin motif, originally created by Rene Lalique, decorated the interiors of the Orient Express and evokes the texture and fluidity of water. With square or lever shaped handles, Metropolis showcases crystal encased in metal with an option of black or white Lalique crystal. A full set of accessories assures a glamorous environment, destined to make any bath or homeowner swoon with envy.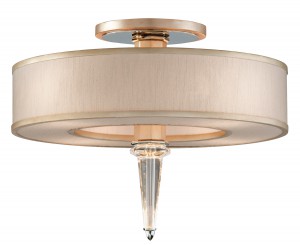 Truly Gatsby worthy, the delectable silhouette of Corbett Lighting's Harlow is a dead ringer for Art Deco. In addition to looking good, this streamlined sophisticate is outfitted with faceted crystal accents, a cool color palette and sleek stainless steel. Combining LEDs and incandescents, Harlow is available as a pendant or single or double wall sconce. Perfect for a hallway, living or dining room or entrance way, this fixture is every bit as welcoming as it is attractive.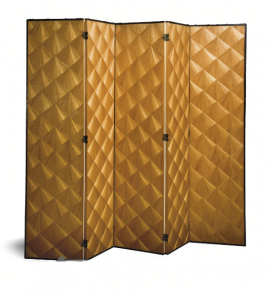 Jean-Michel Frank
French design legend Jean-Michel Frank was the precursor to modernist style. Credited with creating now classic pieces, such as the parsons table and club chair, his use of innovative materials and finishes took understated luxury to a new level. This burnished wood screen, GRAND PARAVENT, VERS circa 1925, employs fan shaped pieces of sycamore which when joined together result in an unforgettable ensemble.
Which design is your favorite? Tell us @Styleture!