How do you fuse a blast from the past with a science fiction future? The answer is steampunk, an eclectic style that injects futuristic, steam-powered technology into the Victorian era. Taking inspiration from the works of H.G. Wells and Jules Verne, steampunk creates an alternate reality where robots and Victorians share the same 19th century setting. Want to update your modern space with a punch of the past? Check out these steampunk-inspired designs sure to float your time-traveling dirigible.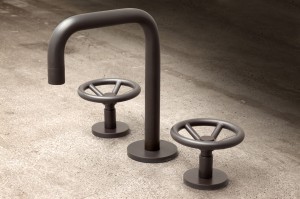 Brooklyn Faucet by Watermark Designs
Inspired by mid-century gate valves and garden hoses found throughout New York City, Watermark's Brooklyn faucet adds an old timey feel to even the most newfangled washroom. Available in an antique brass finish, the round handles and squared spout radiate a distinctive industrial style perfect for washing off elbow grease after a long day of calibrating cogs.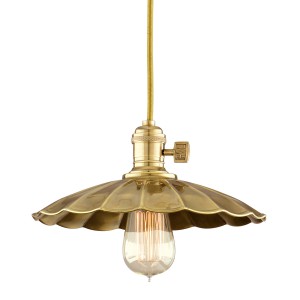 Heirloom Pendant by Hudson Valley Lighting
Why burn the midnight oil in your kerosene lamp when you can shine a light like this? Available in an aged brass finish, Heirloom harkens back to a bygone era. The shade's detailing and tab style switch directly resemble those from the period, making this design perfect for use in any dining room, parlor or steam-powered submarine.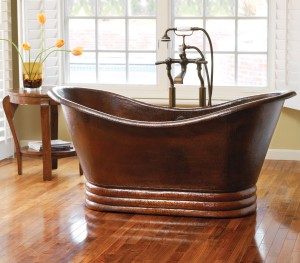 Aurora tub by Native Trails
In the days before indoor plumbing, a bath was a well-earned luxury. Hand-hammered by true artisans, Aurora from Native Trails channels this old world elegance in a truly decadent experience. Available in two sizes and Brushed Nickel and Antique finishes, the reclaimed copper tub is naturally antibacterial. Talk about futuristic technology!
Pro Series by ThermaSol
This one may be cheating, but what's steampunk without steam? ThermaSol's residential steam systems allow you to relax and unwind from a long day in the laboratory, providing a spa quality experience in the comfort of your existing shower. As an added bonus, Thermasol offers aromatherapy oils that can make your steam shower even more relaxing.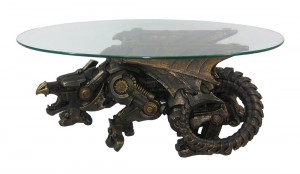 Bronze Finish Steampunk Dragon Glass Top Table by Things2Die4
From his polished pivots to his clinking cogs, this detailed dragon is decidedly steampunk. While futuristic in design, his bronze finish includes hand-painted oxidation for a weathered and antiqued look. A fun and unusual addition, this creaturely coffee table adds a breath of fire-breathing fresh air to any living space.
Want more steampunk style? Designer Art Donovan is at the forefront of steampunk design. Check out his work at Donovan Designs or his book for more.