On Halloween, all sorts of mischief occurs in the black of night. A black cat might cross your path, a witch might fly by on her broomstick or you might see a ghoulish goblin or two. While the color black may be associated with these spooky happenings, black is a classic color of true style and grace. It goes with almost any color and creates a strong yet elegant effect when used as the main ingredient or in small doses. It's been a while since we extolled the virtues of the color black but as you may have guessed, we're back… in black! Here are some of our favorite dark and beautiful designs.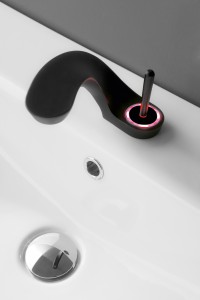 Ametis collection by GRAFF Faucets
Designed by Davide Oppizzi, GRAFF's Ametis collection provides a futuristic ode to high design in the bathroom. Fluid and sensuous, Ametis gives a visual representation of the idea that life is a cycle. Ametis is equipped with an electronic system with a colored ring, which changes from red to blue and vice versa depending on changes in the water temperatures. The faucet line is available in chrome, white or a powder-coated matte black.
Diamond Fountain by Stone Forest
A geometric masterpiece sculpted out of polished black granite, the Diamond Fountain is a bold statement maker. Saw-cut edges contrast the polished sides and add great movement to the water flow, which creates a classic look with relaxing ambiance.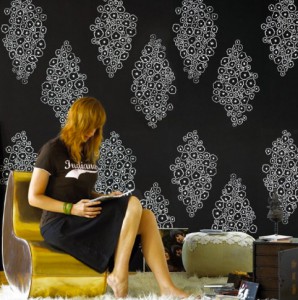 Serious BoKay in Black & White by Nama Rococo
Paint it black! With grace and simplicity, the romantic Serious BoKay wallpaper is infinitely pleasing. Made from hand-mixed waterproof matte paint and ink on archival paper, Serious BoKay is a versatile pattern available in multiple sheet quantities for installation, or as a single sheet suitable for framing.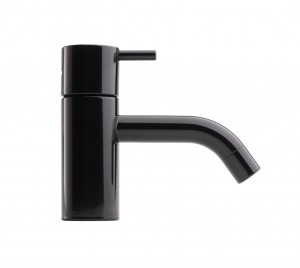 Vola by Hastings Tile and Bath
It's not just a faucet; it's a piece of design history. Whether choosing the single lever, deck-mounted, wall-mounted or electronic "hands free" models, users can almost feel designer Arne Jacobsen's spirit nodding in agreement. Vola faucets are available in chrome, brushed chrome and stainless steel finishes and up to 17 different colors.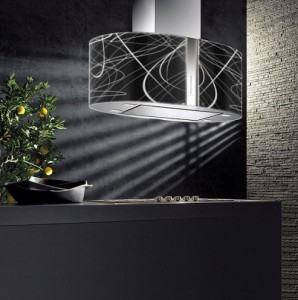 Murano Echo LED Island by Futuro Futuro
Made in Italy, the Murano range hood is constructed from high grade stainless steel and a tempered glass panel with a unique design. Ultra-bright LED work lights, internal body illumination and dimmable internal lighting ensures that you can set any kind of mood in your kitchen. Other features include: 4-speed electronic controls, Perimeter Suction Filter System, concealed metal mesh grease filter and whisper-quiet tangential blower.
Did we miss anything? Let us know @Styleture