Zen, by formal definition, refers to a school of Mahayana Buddhism that asserts enlightenment can be attained through meditation, self-contemplation and intuition. The teachings date back to the 6th century AD and continue to have a significant following today. In our modern vernacular, the term is often used more broadly to describe furniture, décor and even a state of mind that exhibit a level of simplicity, balance and tranquility. Here are some of our favorite zen-inspired products bringing a little more mindfulness into the home.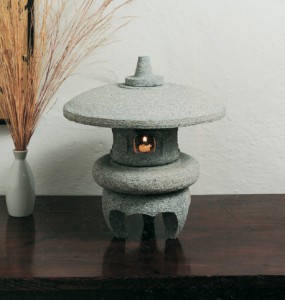 Yukimi Lantern by Stone Forest
Japanese stone lanterns were first used in ancient Shinto shrines where they served as votive lights. In the sixteenth century, Japanese tea masters included the stone lantern in Buddhist tea gardens as a means to light the way. The Yukimi Lantern by Stone Forest is also known as a "snow-viewing lantern," so named for the tendency of the broad roof to hold snow, merging the lantern with its surroundings. Carved from blue-gray granite, this lantern is available in 12″ or 18″ diameter roof.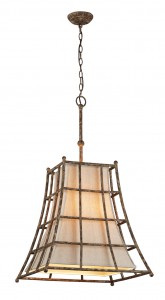 With graceful lines evoking Indochine style, Left Bank by Troy Lighting imbues modern interior environments with a sense of serenity. Each piece features a natural linen shade and metalwork finished in coastal rust for a distressed yet tranquil feel. The collection includes small, medium and large pendants as well as wall sconces.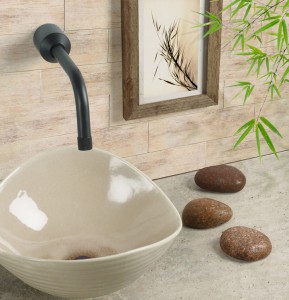 Zen Collection by Watermark Designs
Watermark Designs' Zen collection brings nature indoors with rocks instead of handles. Handpicked from the shores of the Great Lakes in Michigan, the rocks are slightly irregular, which gives them an even more natural look and feel. The Zen Collection is innovative for using rare earth magnets instead of set screws to secure the handles – which appear to be floating on the counters.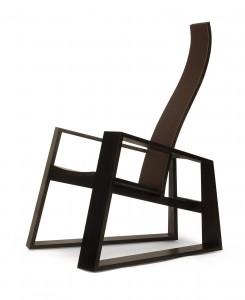 Fade Lounger by skram
Skram's Fade Lounger is a perfect blend of harmony, simplicity, balance. The sensual curves of the backrest create elegant contrast with the strong, straight lines of the armrests and seat. Shown in ebonized european beach, a variety of timber options are available including: european beech, cherry, walnut, rift sawn white oak in natural, ebonzied or whitewashed, and custom. The upholstered seat comes in black, tan, or chestnut saddle leather, or the customer's own material can be used.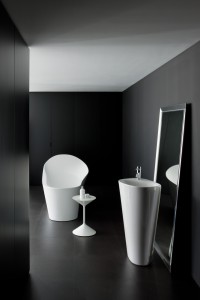 Palomba by LAUFEN
Renowned for skillfully pushing the natural limits of ceramics, LAUFEN's Palomba collection evokes the "fingerprint of nature." The tension between rigorous geometrical and organic shapes is typical of the entire collection, and ensures that all elements can be combined with one another. The highlights of the Palomba Collection include the "Menhir" washbasin and an exceptional freestanding bathtub.
Are there any zen-inspired designs we missed? Let us know @Styleture