Back to school is the time of year to get a fresh start. The smell of freshly sharpened pencils and new packs of paper are great reminders to organize your home for the year ahead. Out of all the rooms that need a little love, why not start with the bathroom? An organized bathroom makes for less stressful mornings and close calls at the bus stop. Turn over a new leaf this September with these products guaranteed to enhance, organize and beautify the bath.
DUNA – Sonia
Marked by a sinuous wave texture, DUNA creates a relaxing ambiance. A polished stainless steel handle gently flows along the front of the drawer, providing softness and comfortable functionality. Designed for contemporary needs, the humidity-resistant DUNA cabinet comes with a large-capacity main drawer and an extra drawer inside for smaller appliances. Three cabinet sizes and a wall vitrine are available in three finishes: white, wenge and vision.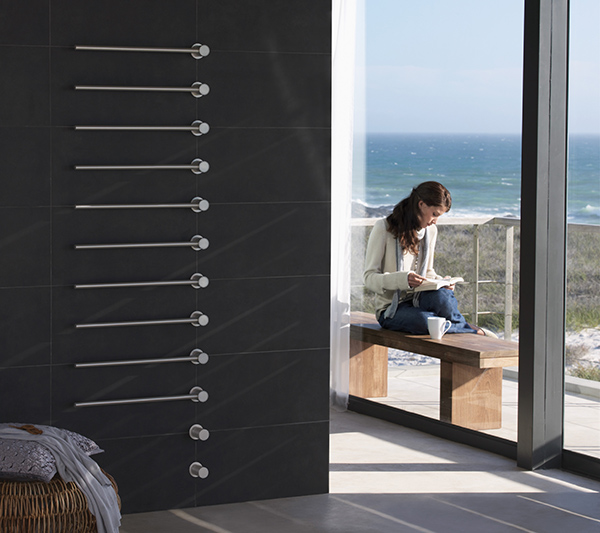 Hastings Tile & Bath – VOLA T39EL Towel Warmer
With this towel warmer, you'll never leave your towels on the floor again. Pushing the boundaries of design and innovation, VOLA's new electric towel warmer replaces the more common radiator-style warmers with a built-in unit hiding all technical elements behind the wall. It's designed as an extremely flexible system of bars which can be combined in number and location, allowing for 3 to 20 bars at 4 inches to 12 inches apart. The unit has a self-closing timer which shuts off automatically after two hours at full power. It also allows temperature regulation from 68 degrees to 120 degrees F. The VOLA towel warmer is available in all VOLA colors and finishes.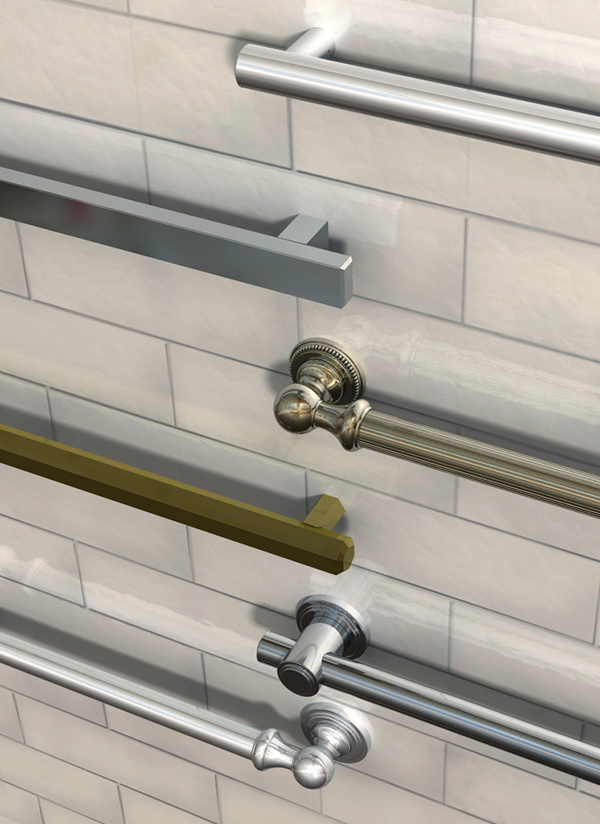 Watermark Designs – Grab Bars
Watermark Designs' grab bars are stylish and practical accessories that complement a bathroom's overall design, while at the same time enhancing its accessibility for people of all ages and abilities. Once relegated to hospitals and nursing homes, grab bars have become a standard in hotels, resorts and other hospitality environments. Watermark Designs offers the commercial interior designer or architect design-forward inspirations that run the gamut from a traditional grab bar capped with finials to one of sleek and sophisticated minimalism.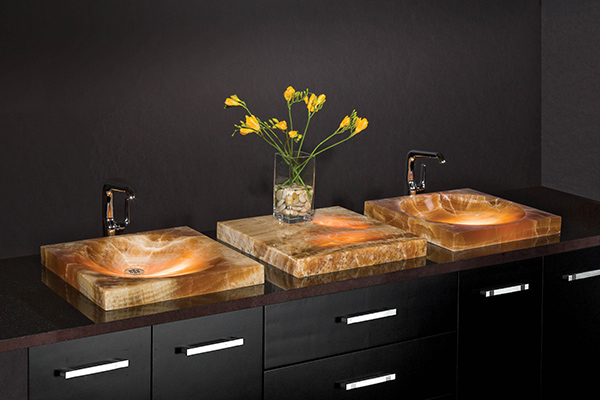 Stone Forest – METRIO Wall Mount System
Inspired by the company's award winning SYNC System, the modular design features hand carved, solid stone basins and counter slabs that can be installed in a variety of floating, wall-mounted configurations or semi-recessed into the countertop. METRIO is offered in two irresistible materials: black granite or amber onyx. For semi-recessed designs done in amber onyx, Stone Forest thins out the underside of the stone slabs to create maximum translucence when under lit with an LED tape light.
THG-Paris – Art Deco Net Soap Dish
Leading the brand's Traditionelle Collection is THG's popular Art Deco series. The Art Deco net soap dish is the perfect accessory for keeping your soaps and other bath accessories organized – and easily in reach. Art Deco is one of THG's most versatile collections in that it could be found easily in a traditional or modern setting, complementing either style, all while drawing attention to its beautiful linear form. In addition to being offered as a basin set, Art Deco is available as a Roman tub set, thermostatic valve, shower set, as well as a range of tub and shower accessories, robe hooks and towel bars.