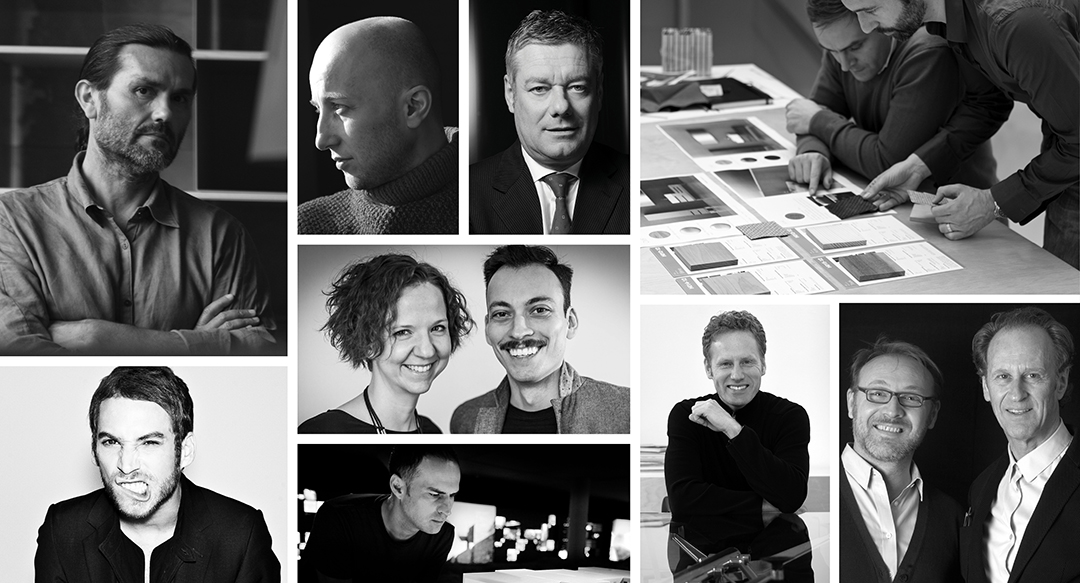 New to the interior design and bath industry is Ronbow's Signature Series. Following its debut at this year's Architectural Digest Design Show, the Signature Series marks the rare occasion that nine of the world's most distinguished European designers have been chosen to create their own collections for one single brand. The designers responsible for the Signature Series are known for their contributions to iconic brands such as Nike, Adidas, Vuitton, Apple and a firm recognized for several exotic Italian automobiles. The series includes multiple options and configurations, with convenient and smart innovations such as LED touch sensitive mirrors, USB ports and plug outlets incorporated into the product, as well as unique material combinations.
Brit & Free
Commercially successful and critically acclaimed UK design duo Claudia Danelon and Federico Meroni, founders of DANELONMERONI, have developed furniture, lighting, tableware, wellness and bathroom products for clients around the world. Now they are bringing their philosophy of "beauty is for everyone" to Ronbow with two new collections, BRIT and FREE, as part of Ronbow's new Signature Series.

Brit:
Refined, luxurious and comfortable, the BRIT collection by Ronbow features clean lines and stunning details. The elegantly paired wood finishes, sleek tapered legs, crystal glass shelving and full mirror coverage set this series apart. BRIT's sophisticated comfort and polished luxury complement every residential interior – from urban apartments to classic homes. The light and airy collection also includes electrical outlets and USB ports, LED lights illuminating the top and bottom of the mirror, solid wood drawer organizers and woven drawer liners, beveled edge TechStone™ tops and vanity wood frames.

Free:
Inspired by the adaptability of living room furniture, the FREE collection is designed to offer a high degree of flexibility. It is characterized by clean lines and a linear aesthetic, allowing the user to configure the pieces in creative and surprising ways. Smart and sleek, the FREE collection provides freedom to create unique configurations that adapt to any bathroom size and style, using smartly designed modular pieces. This adaptable collection is unique in that it's offered in three design options: marble floating plane sinktop module, bamboo floating plane top module and wall-hung vanity module. Accessories include a touch-activated LED mirror cabinet equipped with two electrical outlets and USB ports.

Marco
MARCO, a new bathroom suite collection designed by Ramon Esteve for the Signature Series by Ronbow. The collection emphasizes strong linear design, focusing on essentials rather than embellishments. Perfect angles, crisp lines and spaces create the architectural details, which follow the designer's concept throughout the collection. The sinktop includes a removable basin-floor drain cover, which makes the water look as if it's disappearing. Touch-activated LED mirrors create a similar "floating" effect with integrated LEDs which illuminate around the mirror's perimeter.

Noce
Ronbow presents NOCE, a bathroom suite collection designed by Matteo Thun & Antonio Rodriguez. Matteo Thun is an award-winning architect and designer who has served as Art Director for Swatch. Antonio Rodriguez, head of product design, partnered with Thun under their new industrial design firm MTDR, based in Milan, Italy. The NOCE collection is reminiscent of iconic 1960s vintage style with a modern, functional twist. At the center of the collection is the NOCE vanity, inspired by mid-century modern furniture, featuring a hutch and integrated LED mirror – to create a freestanding showpiece for the bath.

Pebble
Ronbow is proud to unveil the PEBBLE collection, an organic and seamless bathroom suite designed by world-renowned French designer Ora Ito. Ito is ranked among the top 40 most influential people in the world of design, becoming globally famous in the '90s by hijacking symbolic brands such as Apple and NIKE and presenting them with virtual visionary 3D products via media.

Pure
The PURE collection by Russian designer Alexander Zhukovsky, a new bathroom suite series that captures the beauty of simplistic, pure lines with a wall-hung vanity and sinktop, matching LED mirror cabinet and wall cabinet. PURE accentuates the beauty of minimalist, pure line form with a sleek, symmetrical line design theme integrated throughout each piece. Winner of many Russian and international design awards, Alexander Zhukovsky is known for his exceptional industrial design work across multiple disciplines, including lighting, furniture, bath, medical and automotive.
Stack & Wide
Ronbow is proud to introduce two new collections in collaboration with the renowned German design firm Phoenix Design. Since 1987, Phoenix Design has won over 700 prestigious awards and has been recognized for its revolutionary design achievements. Now Phoenix Design is bringing their unique vision to Ronbow with two new elegant bathroom suite collections: STACK and WIDE.

Stack:
Named for its vertically "stacked," asymmetrical appearance, the STACK collection is built from layers of contrasting materials, colors, shapes and orientations. STACK creates a unique, multifunctional living space with smartly designed features, including an integrated bench seat and side cabinet door storage with removable ceramic cups/trays.

Wide:
Inspired by Bauhaus design theory and style, the WIDE collection celebrates the elegance of pure, clean design and harmonious color combinations. A pure, symmetrical line design theme is integrated throughout each piece, making a modern, minimalist statement.

Unity
Ronbow unveils the UNITY collection, a bathroom suite series designed by Kurz Kurz Design which evokes pure beauty through reduced shapes and simple color. Based in Solingen, Germany, Kurz Kurz Design has developed innovative design solutions for well-known clients from different industries, including Hettich, Villeroy & Boch and Williams-Sonoma, and has received more than 60 national and international design awards, including Red Dot Design Award, Good Design Award and iF Design Award. Calming, serene and beautiful, UNITY features a harmonious blend of simple shape and color using a soft glossy white palette, natural plywood edges, and a symmetrical, U-shaped, curved design theme carried through the wood open shelving, stainless steel legs and ceramic sinktop. The UNITY collection includes vanities (plus sinktops) with integrated electrical and USB outlets and matching components such as LED mirror cabinets, wall cabinets and a bench.

Vento
VENTO, a new bathroom suite series of highly stylized vanities, sinktops, LED mirrors and cabinets designed by iconic Italian brand Pininfarina.A 360° design house of international repute and a world-renowned symbol of Italian style, Pininfarina is arguably the most recognized brand in Italian sports car design, with a logo that boasts instant name recognition.The VENTO collection, or "wind" collection in Italian, emphasizes an elegant, sleek and innovative sinktop design inspired by perfectly smooth snowdrifts carved by fast, strong winds.

Waterspace
Designed by Spanish international design luminary Joan Lao, who is recognized globally for his work in product, interior and architectural design, the WATERSPACE collection embodies the essence of all of Joan Lao's pieces – balance. Symbolizing soothing, flowing water, the WATERSPACE collection integrates natural tones, undulating textured wood finishes and a curved design theme for a complete sense of balance and tranquility.