In kitchen and bath design, size matters — in fact, it's a critical component. If an accessory or mirror is too big, it's overwhelming. But if it's too small, it will seem lost. Not unlike Goldilocks, we are all in need of accessories that are "just right." Here are our suggestions for right-sized accessories.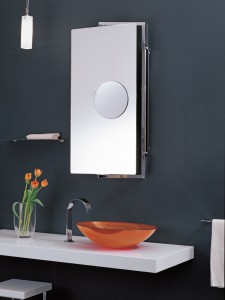 Luna1 Mirror – Hastings Tile & Bath

Is there anything more useful than a mirror with an inset magnifying glass? This mirror really does have it all; it's a two-sided mirror with inset and a swiveling chrome frame. A space-saving 18 inches wide, the Luna1 is perfect for bathrooms where space is limited. The minimalist style allows for maximum creativity with sconces and other lighting options. Well done!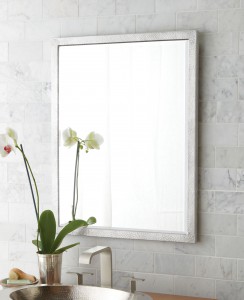 Divinity mirror – Native Trails
Talk about divine. The Divinity mirror offers just the right touch of glimmer and textural interest for pairing with Native Trails Brushed Nickel sinks. Made of hand-hammered aluminum with inset beveled glass, Divinity incorporates high quality, bright aluminum that is made from recycled content, highlighting its unique texture. Characterized by its luminous finish and clean lines, an assortment of shapes and sizes are ideal for use in the bathroom, bedroom, hallway or living area. Divinity is offered in small 22" X 28", large 28" X 34" and 25" diameter round.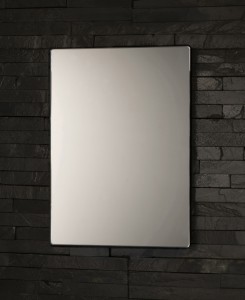 ThermaSol delivers the ultimate in convenience and practicality with its collection of elegantly crafted Fog-Free Mirrors. Suitable for placement either inside the shower or within the bathroom, ThermaSol's Fog-Free Mirrors are guaranteed to never fog up – even in a completely non-ventilated bathroom. Constructed of ¼"-thick tempered safety glass with a 1" bevel, the mirrors are available in four distinctive designs and are easy to install. UL approved.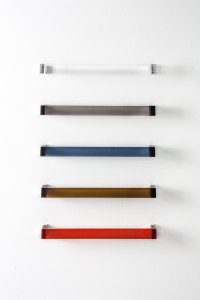 Towel Bars – Kartell by Laufen
When iconic furniture brand Kartell collaborated with LAUFEN, the Swiss manufacturer of elegant, contemporary bathroom sinks, vanities and furniture, the resulting collection, Kartell by Laufen was born. The deliciously colored towel bars and shelves come in a variety of sizes…giving homeowners a multitude of choices.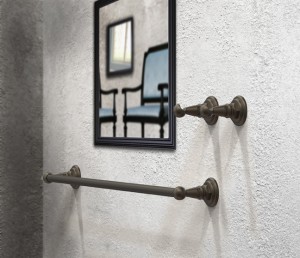 Let us not forget that the fastest growing demographic is 65 and over. Designing or renovating bathrooms to suit this important demographic means providing products that allow them to safely stay in their homes. Watermark Designs has a collection of grab bars that can be finished to look exactly like the existing fixtures. ADA compliant, these sturdy bars do double duty as towel bars; making them even more indispensable.
Which one is your favorite? Let us know @Styleture