With 2017 just around the corner, we're reflecting on some of the design shows we attended in 2016 and the impressive and inspiring works we encountered. One of the most memorable ones was the one right in our city – WestEdge Design Fair 2016, which ran from Nov. 3 to 6 at the Santa Monica Barker Hangar. Designers and guests blended together in a casual, trendy environment where excitement filled the air and sparkles shined through the eyes of the guests. There were curious minds admiring a broad range of works, from furniture, lighting fixtures to functional everyday objects.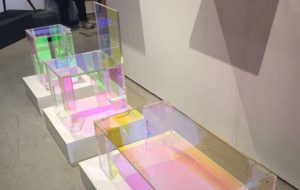 The Giorgio Chair, part of the French Touch Collection by the Los Angeles based Joogii, made its debut at WestEdge, and it was one of our favorite pieces. Named after the disco pioneer Giorgio Moroder, the Giorgio Chair is coated with dichroic film which casts a prismatic color spectrum no matter which angle you look at it from. The colors vary depending on the angle, resulting in a dynamic chair that doesn't only settle with one color.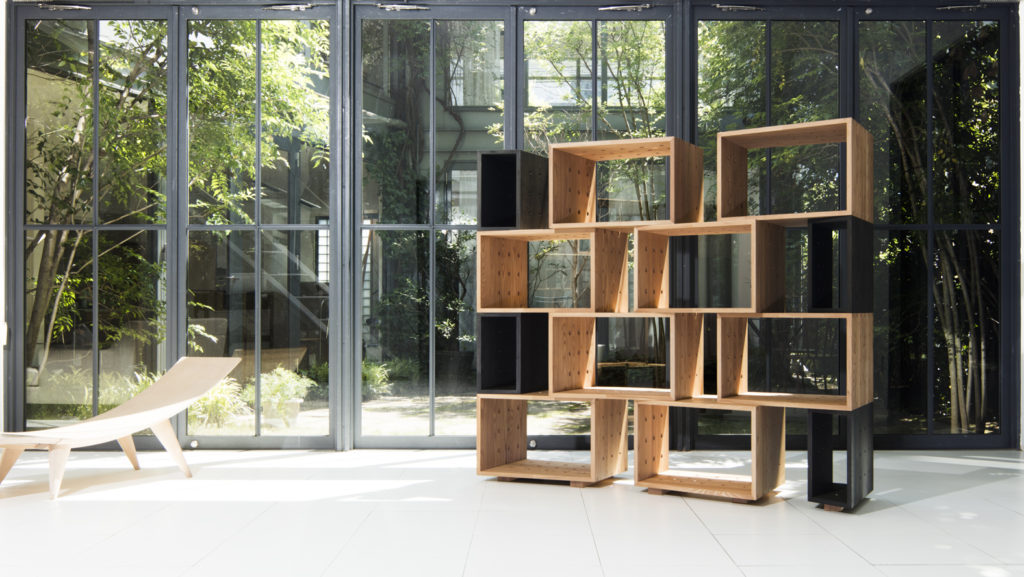 We were also captivated by MOQU's booth and its dimensional modular furniture systems. MOQU means "wood" in Japanese, and it also represents "Modern design + Quality" for the company, which combines traditional Japanese craftsmanship with sustainable designs. The wood is from planted and second-growth forests in Japan. The furniture systems are formed from four basic geometric modules, and the inspiration came from building blocks. By stacking and positioning the modules in various ways, different combinations of furniture systems are formed.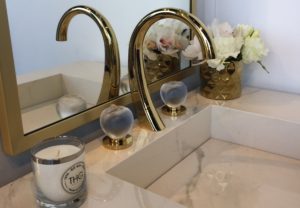 Well-designed and highly functional everyday objects are the best of both worlds – and we found that at the THG Paris booth. THG Paris has been designing and selling luxury faucet and bath products for six decades, and its products are works of art reflecting French craftsmanship. One particular faucet that caught our eyes was the Pomme faucet, a collaboration with Lalique, a French glassmaker brand known for its crystal objects d'art. Pomme means "apple" in French, and it consists of two gorgeous, elegant crystal apple-shaped handles. The high quality craftsmanship is evident through the details of the hand polished crystal apples.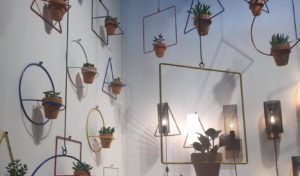 Another spectacular booth we visited was New Made LA by Amsterdam Modern. Its mid-century vintage inspired geometric wire planters looked mesmerizing hanging from the ceiling and lining against the wall. The different sizes and shapes added vibrant, energetic aspects to the display.
Besides innovative designs, foodies or simply anyone who loves good food were in luck at WestEdge, as there were cooking demonstration and a cooking showdown. Attendees were able to try the freshly cooked food afterward. The cooking demonstration was a pumpkin risotto dish with authentic Italian cheese brought by the chef from Italy. The cooking showdown was a competition between two chefs to create Thanksgiving inspired dishes.
We were able to leave WestEdge with stimulated minds and happy stomachs, and we are looking forward to doing the same for the design shows we will attend in 2017.
WestEdge Design Fair
www.westedgedesignfair.com
Joogii
www.joogiidesign.com
MOQU
www.moqulab.com
NewMadeLA
www.newmadela.com
THG Paris
www.thgusa.com