With a trip to Chicago's Merchandise Mart under our belt, we're packing up and hitting the road to our next Design Center destination. With sun, sand and sea (and a bit of Art Deco thrown in for good measure), Miami is a dream destination with a totally different design aesthetic.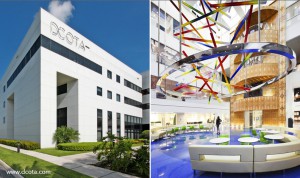 The Design Center in Florida is actually called the DCOTA (Design Center of the Americas), and it's located in Dania Beach, Florida about 20 miles North of Miami. The DCOTA boasts over 770k square feet, showcasing over 100 showrooms.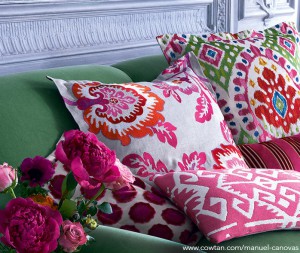 Need some delicious fabric? Check out Cowtan & Tout's showroom, where they carry delightful fabric brands like this one from Manuel Canovas, as well as Jane Churchill, Colefax & Fowler, and Larsen.
Since we're in sunny Miami, we had to check out some of the outdoor furnishings. A personal favorite has always been Janus et Cie. They design and manufacture both residential and contract outdoor pieces that seem timeless and contemporary – quite a feat.
If there really is a definitive "Miami" design, we imagine it might look something like this swoon-worthy setting: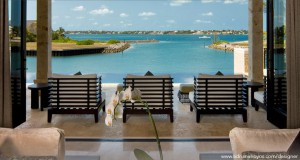 This project was designed by the supremely talented Adriana Hoyos. Along with a team of seasoned designers and architects, Adriana Hoyos has created a versatile portfolio of residential, commercial and hospitality projects for over 25 years in the United States, Mexico, Bahamas, Panama and Ecuador. As a furniture designer she has created collections inspired by her native Latin America – dark and vibrant colored woods, earthy tones and exotic materials – along with an international taste for elegance and clean lines. The cornerstone of her inspiration is this melding of global textures and arts.
Where are we off to next? Let us know @Styleture where we should go!