Feeling inspired after our visits to the DCOTA in the Miami area and The Merchandise Mart in Chicago, we hitched up our wagons and headed west – for our next stop on the Design Center Tour.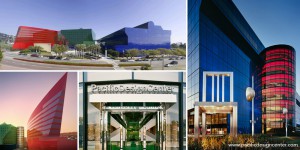 Hollywood beckoned and we answered the call by visiting the Pacific Design Center located right on Melrose Avenue in West Hollywood. This design center is both an attraction AND a design destination, which befits its location among the stars. The PDC boasts two Wolfgang Puck restaurants, a Michael Graves designed fitness center, a state-of-the-art luxury film venue and a 200 seat conference room.
How does the West Coast aesthetic differ from Miami and the Midwest? We'll let you decide.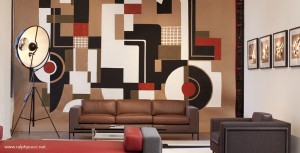 We started our showroom tour looking at furniture – and our divining rod led us right to the Ralph Pucci West Coast showroom. This vignette speaks of California to us in so many ways; the funky factor mixed with the easy elegance combined with colors that work well with the light let in by large, airy rooms.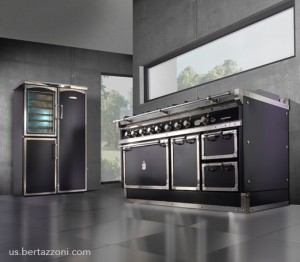 Next we headed to a kitchen showroom to look at some ranges – but not just any ranges. Bertazonni is a family-owned and operated manufacturer of professional grade ranges. Founded in 1882, they continue to manufacture ranges that take your breath away.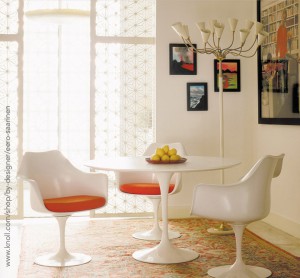 We finished our tour in the Knoll Showroom, where we availed ourselves of the comfort of the classics. The Knoll family has been instrumental in maintaining and upholding the ideas and ideals of the Bauhaus movement. The "idea" behind Bauhaus was to act as an institution and school of thought dedicated to uniting the fields of art, design and industry in order to elevate the quality of mass production. This idea and the associated belief in the confluence of art and industry greatly affected Hans Knoll and inspired him to help bring modernism, through furniture, to America. Today, Knoll acts as the keeper of the flame, and they manufacture the designs of visionaries such as Marcel Breuer, Harry Bertoia, Isamu Noguchi, Han Wegner, Eero Saarinen, and their own Florence Knoll.
If you would like us to review another design center, let us know @Styleture!