When it comes to finding the best designs under one roof, there are few places better than Design Centers. With more than 50 across North America, they remain the best sources of furniture, fabric and finishes for both interior and exterior design products. Join us as we highlight a few of our favorite Design Centers, starting with the biggest – The Merchandise Mart in Chicago.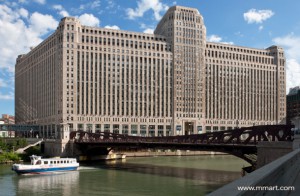 The "Mart" is the world's largest commercial building, wholesale design center and one of Chicago's premier international business locations. Encompassing 4.2 million gross square feet, The Mart spans two city blocks and rises 25 stories. The epicenter for high design and luxury goods, The Merchandise Mart welcomes 38,500 people each business day and nearly 10 million people each year. Visitors frequent The Mart's retail shops and restaurants, LuxeHome® kitchen and bath boutiques, 11 floors of permanent showrooms for gift, home, outdoor and commercial furnishings. That's a LOTof product under one ginormous roof! Here is a little tour of just a few of the showrooms in The Merchandise Mart, as well as two from their outstanding LuxeHome section (located on the first floor – LuxeHome is filled with high-end kitchen and bath showrooms.)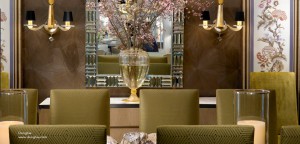 Looking for amazing furniture and fabric? Check out Donghia's showroom. Maintaining the design aesthetic of it's founder, Angelo Donghia, this 40+ year old company continues to design and manufacture luscious products.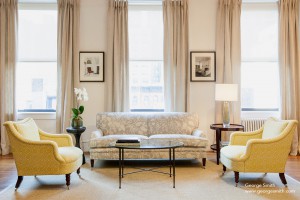 The George Smith Showroom speaks of bespoke furniture beautifully crafted and lovingly made in their workshops in the North of England.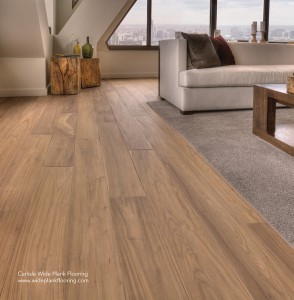 Need flooring? Look no further than Carlisle Wide Plan Flooring. Another 40+ year old company, Carlisle has mastered the art of using reclaimed wood to make beautiful, wide-plank flooring for any manor of indoor use. If your projects are targeted to kitchen and bath, The Merchandise Mart really shines with their LuxeHome showrooms. An entire floor of showrooms devoted to the art of kitchen and bath design, you can easily spend all day just on this one floor. Cabinets, tiles, fixtures, furniture, appliances – you name it – they've got it on display. Two of the displays that took our breath away when we visited were: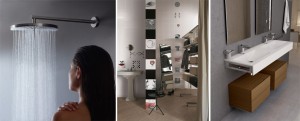 Hastings Tile & Bath. This company has a history almost 130 years old! Known as the exclusive importers and distributors of classic lines like Vola and Ceramica Bardelli, Hastings is a one-stop shop for anyone looking for contemporary bath products.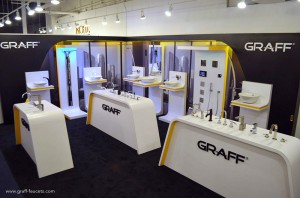 GRAFF is a newcomer to the LuxeHome area, and they bring with them a highly innovative contemporary take on faucets and fixtures. If you haven't seen their Ametis faucets and showers in person, it's worth the trip! Which is your favorite Design Center? Send us your picks @Styleture and we will take a tour!