We may roll out the red carpet for Hollywood glam but when it comes to Oscar night, we can't help but get swept up in the silver screen. But whether you're shooting a major motion picture or remaking your living space, it's important to remember what comes first— lights! From setting the mood to perhaps concealing the wrinkles of an aging starlet, great lighting is integral to a polished finish product. That's why we're taking a cue from a famous little golden statue to present our nominees for best movie-inspired lights.
Best Romance
Sigh…we think we're in love. Corbett Lighting's Flirt chandelier is a cross between a "Love Story" and a "True Romance." But unlike your typical rom-com, Flirt is anything but predictable. With both amethyst rock crystals and clear crystals, Flirt bucks tradition with its nickel jewelry chain. A hand-crafted iron base in a modern silver leaf finish, along with a hardback linen shade, further enhance Flirt's timeless beauty for a look that's sure to leave hearts in your eyes.
Best Sci-Fi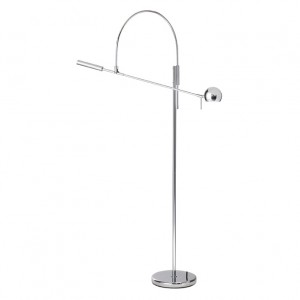 Orbiter by Sonneman – A Way of Light
For a design created in 1967, Robert Sonneman's Orbiter remains light years ahead. Orbiter is an uncomplicated machine, so pure in its elements that it takes the art of simplicity to a whole other universe. With versatile functionality, a simple arc supports a single boom that moves in balance throughout a hemisphere. Revolutionizing what lighting could be, Orbiter defined functional modern art and has even appeared in museums and galleries. We're glad we're not the only ones who think Orbiter is out of this world!
Best Comedy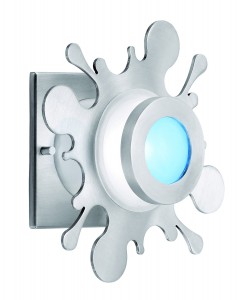 Splat by Creative Systems Lighting
Whether it's a slip on a banana peel or a pie to the face, CSL's Splat brings a much needed sense of humor to your home décor. This ADA and wet location listed fixture is perfect for illuminating poolside bellyflops or perhaps a fully clothed bystander getting pushed into the deep end. Splat is suitable for wall of flush mount and features a diecast aluminum housing, glass diffuser and cylinder, and satin aluminum finish. And that's no joke!
Best Thriller
We were thrilled with Troy Lighting's new collections presented at this year's Dallas Market, but we found Chianti to be the most captivating of them all. Featuring antique silver glass diffusers shaped like wine canters, this fixture puts a new spin on artistic lighting fixtures. Possessing a sort of still life painting quality, Chianti elevates our pulse with hand-worked metal and a chianti bronze finish. Plus, we can't help but be reminded of the villainous Hannibal Lecter who enjoyed his dinner (gulp) with a side of fava beans and "a nice chianti."
Best Drama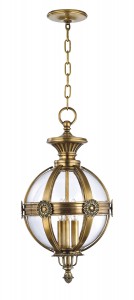 Marietta by Hudson Valley Lighting
Period drama transports us to another era—a world of high fashion, eloquent speech and resplendent elegance. Over-sized and regal, Hudson Valley Lighting's Marietta is a breathtaking globe pendant and a statement maker on its own. Inspired by neoclassical design, the ornate Marietta is supported by a solid metal frame and is accented with floral finials. These elements converge together in one stunning result, providing a dramatic entry way or corridor light fitting. Available in aged brass or aged silver finish, Marietta packs a performance worthy of Meryl Streep.
Did we snub any nominees? Comment below and let us know!