Sand between one's toes, lazy, languid evenings imbued with warm breezes. Is there anything better? This is the time of year when a longing for all things summer becomes an obsession. Homeowners read garden and home design magazines anticipating the warm weather soon to come. In design, white is synonymous with summer— clean and bright, it's a color that says "ahh." Here are some ways homeowners can bring warmth and brightness into their homes right now, well before summer begins.
Boasting a streamlined design, THG's Passion combines delicate clover shapes outlined in delicate silver, all executed in fine bright white Bernardaud china. The collection includes a full lavatory set, tub and shower sets and delightful china accessories. Certain to wow with elegance and charm, Passion is also available as a set of drawer pulls, optimizing the bath and providing a coordinated look.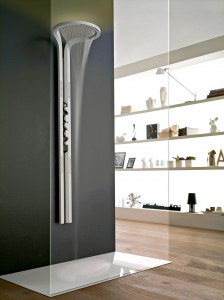 Ametis' unexpected shape seems so beautifully simple; the continuous line of the shower column never stops. The shower column includes an integrated chromatherapy system with RGB LED lighting within the ring, which provides colorful choices for additional indirect lighting and gives a completely new dimension to the shower experience. Along with four spray options, Ametis is a contemporary marvel. There are four spray options: rain, waterfall, body sprayer option and outlet for matching hand-shower.
Big Floor Cone by Sonneman – A Way of Light
Big scale brings a bold presence to any design scheme and when done in all whites as with Cone, the stage is set for big impact. Cone is also available in Red and Black with White Opaque Paper Shades all delivered in a large-scale format.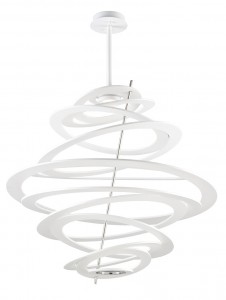 Spellbound by Corbett Lighting
Taking a cue from 1950's orbit chic is Spellbound from Corbett Lighting. Using high-powered and ultra thinLEDS, the flat-edged, widely spaced spiral fixture is enhanced by a bold diagonal. Available in several high-polished finishes, including bright white with polished stainless steel, Spellbound counters a room's static quality by providing an invigorating and captivating light source. Available as a pendant and sconce.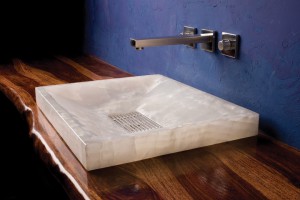 Drop-in Vessel by Stone Forest
This version of Stone Forest's SYNC Drop-in vessel is white, bright and beautiful – sure to uplift any bath environment. The rectangular sink is exquisitely hand carved out of a solid piece of white onyx. The rectangular shallow basin is fitted at the base with a refined stainless steel grid cover, creating an interesting juxtaposition between steel and stone. The SYNC Drop-in Vessel is also available in bamboo, honed basalt and multi-colored onyx.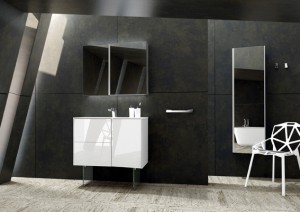 Fractal by Hastings Tile + Bath – Sonia
Fractal is a semi geometric object whose basic structure, fragmented or irregular repeats at different scales. The 360 degrees asymmetrical design creates different furniture depending on your perspective. There is a narrower area favoring the passageway and another wider, maximizing the storage capacity. The offset sink creates a generous free space on the countertop. Available in four metallic finishes and either floor or wall mounted. The floor mounted uses tempered glass legs which creates a transparent effect.