Rusty reds, ochre yellows, caramel browns and pumpkin oranges… It's that time of year when nature's color wheel comes alive. As the leaves change color and fall, nature's beauty takes center stage – transforming trees into multicolored masterpieces. With autumn upon us, here are some of our favorite products celebrating fall's fabulous foliage.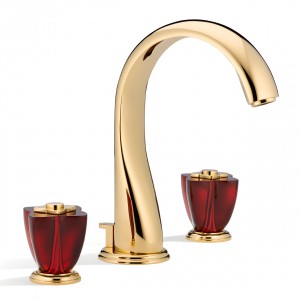 Pétale de Cristal Collection – THG-Paris
Evoking a rich fall wine, the emblematic Baccarat Red is one of the most distinguished and recognized colored crystals in the world. THG-Paris, the luxury bath atelier, has joined forces with Baccarat, one of the most prestigious brands in fine French crystal, for the new Pétale de Cristal collection of bath and shower fittings. Inspired by the delicate lotus flower, Pétale de Cristal offers crystal handles and accessories in a deep Baccarat Red, bold blue and unexpected black – as well as a clear and opulent crisp crystal with a choice of clear or gold accented detailing.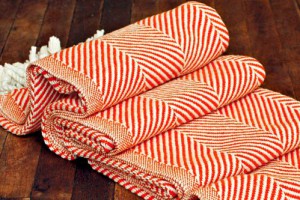 Natural Cotton Throw – Brahms Mount
As winter's chill comes a-knocking, a warm blanket is just what you need for cozying up by the fire. The Maine-based company Brahms Mount weaves textiles with a signature design based on classical elements grounded in tradition. The 100% cotton herringbone throw on a natural background includes fringe hand-twisted by expert artisans. While available in 12 colors, we think "Autumn" packs the perfect punch of fall color.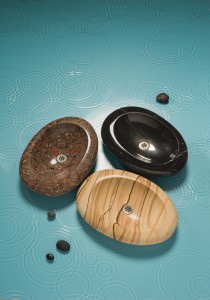 River Pebble Vessel – Stone Forest
Stone Forest takes its inspiration directly from nature. Inspired by the simple beauty of small, smooth pebbles, Stone Forest has enlarged these organic shapes into a home and garden collection that includes vessel sinks, vases, seating, and fountains. They are available in sandstone, Nero Marquina marble and a conglomerate stone known as "Jurassic." These earth tones are sure to spark the imagination and inspire the soul.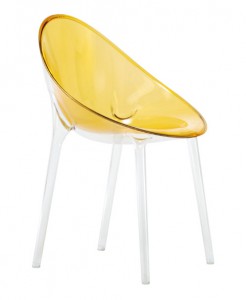 Mr. Impossible – Kartell and Philippe Starck
Designed by Kartell and Philippe Starck, the Mr. Impossible chair is a synthesis of the most refined design concepts and the most advanced technologies in plastics manufacturing. The chair was born from the desire to unite two polycarbonate shells sans adhesive. Suitable for indoor or outdoor use, the seat is available in several colors, but ochre yellow is our favorite for evoking autumnal bliss.
Vertigo – Corbett Lighting
They say time flies when you're having fun, but sometimes the seasons change so fast it can make your head spin. This dizzying design by Corbett Lighting creates a perfect mixture of motion and balance. With an assortment of circular hand-crafted iron rings in various sizes fused together, the Vertigo pendant evokes autumn with a rich bronze and gold leaf finish and a caramel ice diffuser. For those who prefer a more winter-inspired palette, it's also available in a modern silver finish.
What colors make up your favorite fall color palette? Let us know @Styleture.