An enchanting harmony of fuchsia, purple and pink undertones, Radiant Orchid is a captivating, magical and enigmatic purple – and PANTONE's new selection as Color of the Year. According to their renowned color experts, Radiant Orchid is uplifting and bold without being overpowering, re-energizing almost any color palette. They recommend sprucing up interior spaces by incorporating the eye-catching hue in paint, accent pieces and accessories. On the heels of this announcement, we've put together some of our favorite products that incorporate this fabulous hue.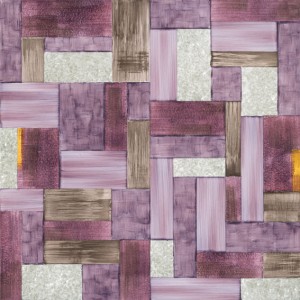 Ceramica Bardelli "Wallpaper" by Hastings Tile & Bath
Ceramica Bardelli's new "Atelier Wallpaper" collection of wall tiles are presented in 16 x 16 inch squares in eight color ways including the delightful purple/orchid. Perfect for kitchen or bathroom walls, the tiles are double-fired and fully handmade on glossy backgrounds.
Capucine Mauve by THG-Paris
Sporting vibrant purple butterflies on the delicate white Bernardaud porcelain of its clover-shaped cross handles, the Capucine Mauve brings nature's refreshing aura into the home. The collection is available in several finish options. The collection also offers the same design with green butterflies (Capucine Vert).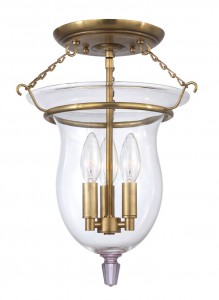 Ulster by Hudson Valley Lighting
While Ulster's crisply faceted amethyst crystal seems a sober contrast to the sensual curves of its mouth-blown glass, the combination is utterly intoxicating. With its beautiful figure and touch of color, Ulster enlivens any space with the perfect pop of purple.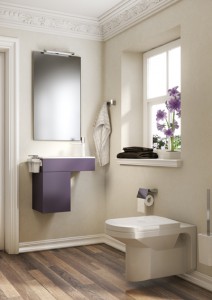 Puzzle Vanity in Rubi Soft by Sonia
Simplicity, flexibility and functionality define Puzzle, combining up to three different geometric elements into one vanity. A 20″ right and left door base unit with two extra elements: door side unit and drawer side unit. A 12″ white metal towel bar can be installed on the sides. Four other finishes include white, blanco soft, shadow soft and teka.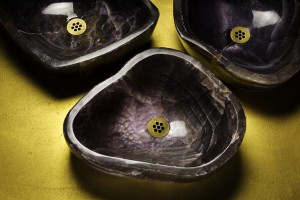 Purple Onyx Wabi Vessel by Stone Forest
Carved from small boulders of rare purple onyx, each Onyx Wabi Vessel is unique in shape, size and color. Onyx is highly variable in terms of crystalline structure and veining, ensuring each piece is indeed one-of-a-kind.
What do you think of PANTONE's new Color of the Year? Let us know @Styleture