Don't you hate it when people say that? "Back in the day, we walked 10 miles to school uphill in the snow…" That kind of thing. We get it – things were "tougher" then. There were no iPhones so how did anything get done!? Washing, drying, bathing and showering had to be done manually – imagine that? We are kidding, because of course bathing and showering are still a manual exercise, even though you actually can use your iPhone now (more on that later.) We started to think about the history of the bath this week, precisely because we are seeing so many advances. If this was what a Roman bathhouse looked like…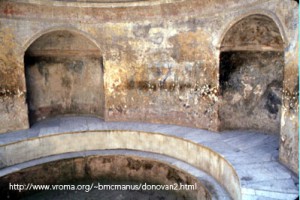 …You can see how far we've come. Today's shower options range from the standard shower heads to giant sunflower-sized rainshower shower heads with ceiling mounted, fully electronic, video-ready experiences. Here are some of our favorites.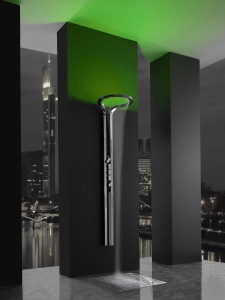 No discussion of the evolution of the shower would be complete without one of our absolute faves: Ametis from GRAFF. Certainly one of the most beautiful, this shower rejects what has come before it and takes design in a completely new direction. You can understand why the designer Davide Oppizzi says that Ametis is a symbol of the fusion between the Universe above and the Oceans below. Its unexpected shape seems so beautifully simple; the continuous line of the shower column never stops – the solid shapes and dynamic elements meld together harmonically.
The shower column includes an integrated chromatherapy system with RGB LED lighting within the ring, which provides colorful choices for additional indirect lighting and gives a completely new dimension to the shower experience. Along with four spray options, Ametis is a contemporary marvel.
Luxury Shower System – Watermark Designs
Since customization is king in just about every room and with almost every appliance, why not the shower? Well, Watermark Designs feels the same way, which is why they've introduced their LSS:
The fully customizable "smart" Luxury Shower System (LSS) offers a personalized shower experience with a full-color digital touch screen, flush mounted screen with 1/8-inch frame, thermostatic valve that controls up to three shower outlets and four programmable preset shower scenarios. The LSS helps conserve water and energy, and also tracks water usage through a Green Statistics function. The LSS was awarded a 2012 Green GOOD DESIGN Award.
VOLA Round Shower -Hastings Tile & Bath
If you are a design history buff, you likely are aware of Arne Jacobsen for many reasons. His work didn't just end with soft seating – he is one of the creators of the iconic Vola faucet. The current Vola designers pay homage to his legacy by continuing to innovate and respect his design aesthetic. Their newest showerhead, which is part of their Round Series, clearly belongs to the VOLA range. The Round Shower is effortlessly elegant. Like all VOLA products, it keeps its technical parts subtly hidden from view. The Round Shower takes the special elements of the VOLA design language as its starting point to create an entirely new product. It plays with existing lines to produce a fresh and aesthetically-pleasing geometrical form. Simple, yet oh-so-elegant.
Okay, now back to that iPhone. Here is how you can use your iPhone in your shower. We are not talking about just planting it on the cabinet so you can hear your playlist. We are talking about actually using a mobile app! ThermaSol, creators of the first steamshower unit for the home, has been making it easier and easier for homeowners to turn their existing showers into steam showers. Their latest creation, their ProSeries, really does allow you to use your iPhone. We are not even kidding!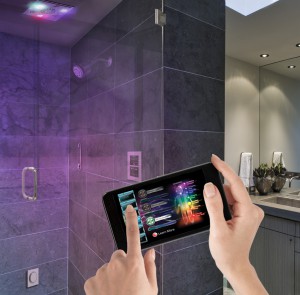 Solitude Mobile App – ThermaSol
When synced with an easily installed module that turns ThermaSol ProSeries™ and AF Series generators into a network peripheral, the Solitude Mobile Application allows users to control all functions of their steam shower systems (including generator maintenance, temperature settings, light and music settings and more) via handheld wireless telephones and tablet devices. The app is available for download through the iTunes® Store and Google Play™, and is compatible with iOS 4.3 and up and Android 2.2 and up. The app and add-on module – available for $595 – can communicate with all ProSeries™ and AF Series steam shower systems developed from 2007 forward, true to "plug and play" technology.
Are there any new bathroom innovations we left off the timeline? Tweet us @Styleture