Warm, inviting and resplendent – When it comes to the current trend of turning old into new again, the French Country style is one of our favorite looks. A warm counterbalance to Industrial Chic, the French Country or Provencal aesthetic exudes relaxed rejuvenation with country-infused elegance. Gently weathered, distressed and rusted finishes add old world charm while modern European styling creates high-end luxury with a down-home feel. Here's a look at some of our favorite products currently redefining "rustic."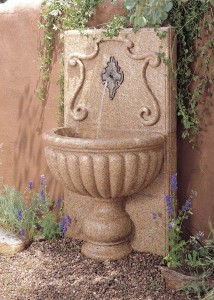 Provencal Fountain – Stone Forest
For centuries, fountains served as watering holes and choice gathering spots for small villages in the Provence, France region. Typical of an 18th century watering trough, the Provencal Fountain adds stately elegance and ambiance to any outdoor space. Available in heights of 36" or 60", this fountain evokes the rustic charm of Provencal living.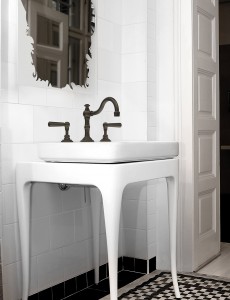 Paris – Watermark Designs
Elegant and stylish, the Paris Collection creates a welcoming space that combines classic lines with old world interpretations. Paris gives a traditional bath a clean, contemporary edge to create lasting beauty and luxurious taste. The rhythm of the elegant multifaceted detail carries through from the graceful spout to the sculpted handles. Get the weathered look of your choosing with one of Watermark's 38 different finishes, including their new Natural Bronze.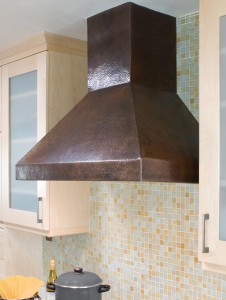 Inspired by the rustic sophistication of French country homes, Chateau naturally creates joie de vivre. Antique or Brushed Nickel finishes offer design versatility for this range hood ventilation system, while reclaimed hand-hammered copper creates visual impact. Available in 36″ and 42″ sizes, Chateau will easily become the heart of the home.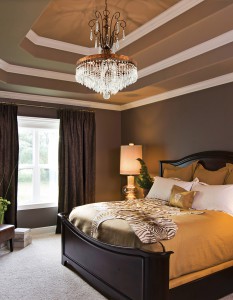 Drawing on classical lines and details, Le Marais is a perfect marriage of rustic and refined. While it exudes the styling of something you might find in five-star Parisian hotel, its unique finish possesses down-home country charm. The pendant mixes finely cut crystal, luxurious gold leaf and distressed wood accents for a look of relaxed sophistication.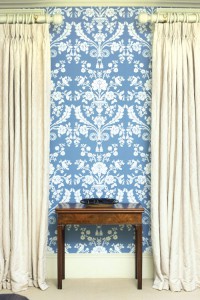 A French Country inspired color palette takes its cues from nature. Gentle pastels in sage and lavender harmonize with bright brick reds and sky blues. Evoking beautiful clear blue skies, this French damask wallpaper was originally produced in 1793 at St. Antoine and is available in 12 other colorways to suit any taste.
Any more ideas for goin' country? Tweet us @Styleture