If you've seen The Wall Street Journal's features on the offices of Google (Paris, Mountain View, Dublin and now New York City), you've seen what creativity and virtually unlimited budgets can produce. Funky spaces with "authentic" NYC graffiti and replicas of apartments as lounge areas make up many of Google's spaces. To us, this signals more than just fun and games (albeit in a workplace). It signals the desire for people to be surrounded by real finishes and products, even as they work on technology that is forward-thinking.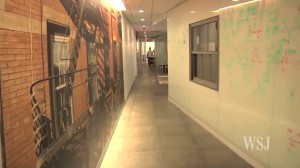 We are seeing this return to "authentic not synthetic" in a lot of home design projects. Reclaimed, reused, recycled – homeowners are interested in the stories of their products, not just their looks. Hand-wrought, hand-hammered, hand-made and hand-finished are other terms we've been seeing.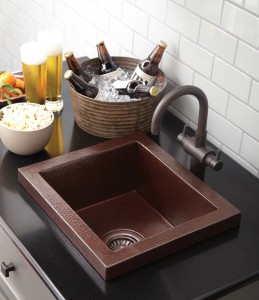 Do you know where your sink was made? Or how it was made? Native Trails can tell you. Native Trails has elevated the generations-old art of working with copper to a new level. Skilled coppersmiths combine centuries of tradition with contemporary design to create one-of-a-kind functional works of art. Using age-old techniques passed down through generations, a typical sink or tub takes several days and many thousands of hammer strikes to perfect. These thoughtful and beautiful creations each have a story to tell.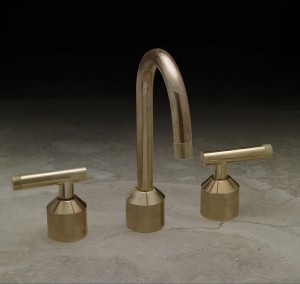 Want a finish on your faucet that you just can't stop touching? Watermark Designs can help you with that. Watermark Designs' Natural Brass Finish was initially designed for a hotel project but is now available as a standard finish for any application. Completely qualifying as an "industrial/authentic" finish, the lived-in look of the Natural Brass begs to be touched. Finished with a very subtle protective coating, this finish won't continue to tarnish – unless you want it to.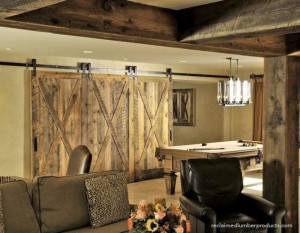 Need a sliding door but just don't have the room? Or want something other than French doors for your home? How about reclaimed sliding barn doors? Funky yet practical, these doors can be used in locations where space is a consideration. And who doesn't love the thought of having a door as an interesting design element?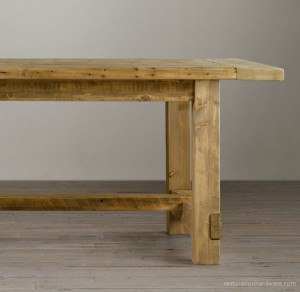 Even "big box" retailer Restoration Hardware as their name implies, remains true to its core mission of supplying products that have a certain "lived in" look and feel. Their salvaged wood farmhouse tables are an excellent example of what we mean. Paired with some funky, "found" chairs (each one different of course), and you've got an entire tableau dedicated to the art of re-design.
There are many ways to create a home environment where every piece speaks to the integrity of design with a conscience – and isn't that what design should be about?