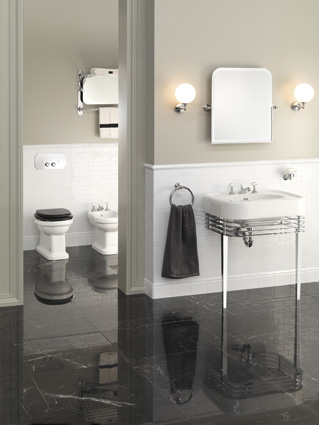 Devon & Devon, known for its elegant and sophisticated complete bathroom designs, has announced the launch of its 2012 collections in North America – where Watermark Designs of Brooklyn, NY is the company's exclusive distributor. The new collections include upgrades to some of Devon & Devon's most popular bathtubs, and a number of bold new designs that blend modern influences with inspiration from the past. Here are a few of this year's highlights: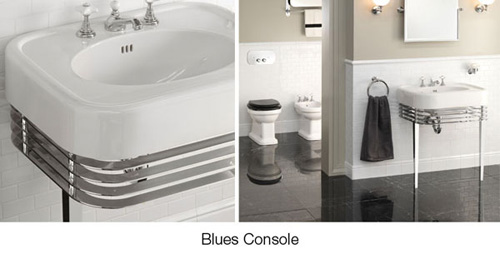 The Blues Console is characterized by a decisive aesthetic impact, generous volumes and elegantly harmonious dimensions. Its structure of sturdy metal strips reflects the typical design of the chrome-plated grills of luxury vintage cars. The generously scaled porcelain basin rests on mixed cross-section pyramidal shaped legs. Blues is also a collection of fine enameled porcelain sanitary ware complete with washbasin with pedestal, bidet and toilet with high, low and close-coupled cistern.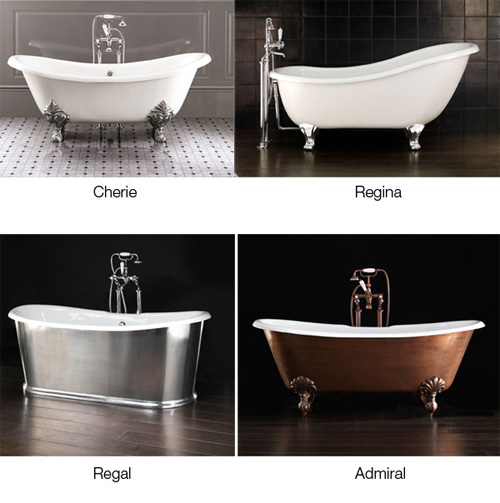 One of the company's most popular models, the Admiral cast iron bathtub, now features a new special enameled treatment that gives the piece a beautiful luminous copper-colored effect. Regina is a free-standing bathtub with flowing lines inspired by easily recognizable, popular retro styles. Regal, a historic piece with a personality all its own, is presented for the first time in colored dress. Devon & Devon launched the "Colors Collection", a selection of 210 water-soluble matt paints dedicated to all the cast iron bathtubs. The Chérie bathtub is a sophisticated illustration of the fin de siècle style. The cast iron tub, with its double raised back, guarantees a pleasant and comfortable bath time experience.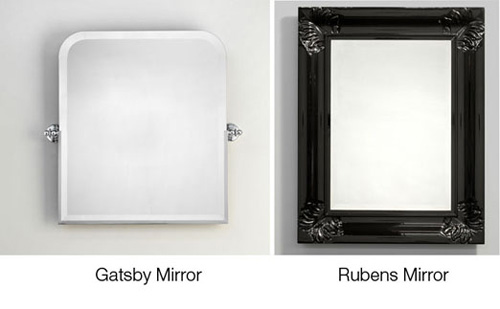 The Rubens Mirror is an expertly crafted rectangular mirror that features a beautiful frame with floral motifs and geometric designs inlaid by hand. It is offered in polished black lacquered wood. The Gatsby Mirror is a chrome-plated brass tilting mirror of classical design that is characterized by its typical beveled cut and rounded top corners. It comes in chrome finish, light gold and polished nickel.
To see the other bath collections that Devon & Devon has to offer visit devon-devon.com.