Why are crystals cropping up all over the interior design landscape? The answer is crystal clear.
With just the right amount of sparkle and polish, crystals add instant glam, a little extra glitter and a quick and stylish pick-me-up to any space. Swarovski has long been synonymous with luxurious, high-quality crystals, since Daniel Swarovski founded the company in 1895 after inventing a radical new machine for polishing and cutting stones. Over a century later, the Swarovski brand still remains one of the most luxurious producers of crystals in the world.
While everyone expects to find a sparkling crystal chandelier or fine crystal china inside the home, few expect to find crystals in their faucets, fabrics or furniture. Here are a few boutique brands that not only incorporate Swarovski crystals but are using them in innovative and unexpected ways.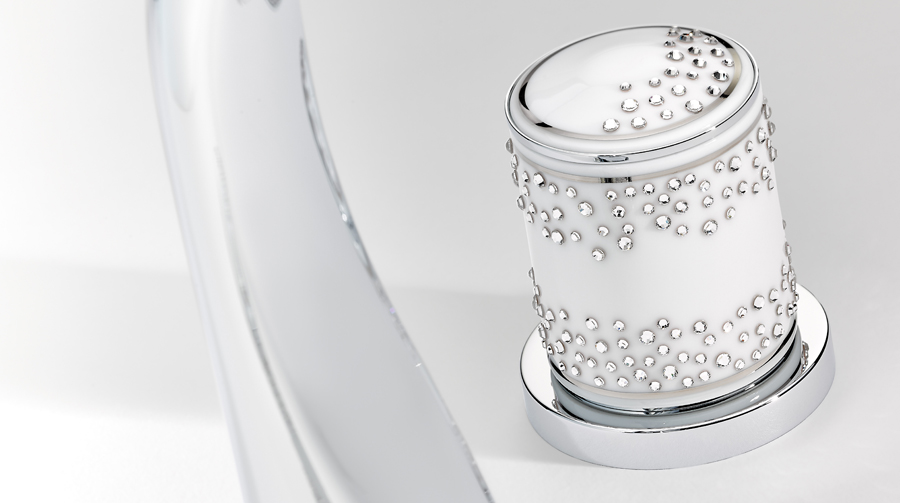 The craftsmanship and attention to detail is more than noticeable throughout THG's Wedding Collection
THG-Paris has done an excellent job incorporating Swarovski crystals into their gorgeous bath products, which are not only visually exciting but built to last. THG-Paris has been known for years for its partnerships with prestigious ateliers, including Baccarat and Lalique, which is why it comes as no surprise that THG has once again chosen to collaborate with esteemed porcelain house Manufacture de Monaco – this time with the renowned Wedding collection that has been reinterpreted into a magnificent bath collection. The multifaceted designs in clear Swarovski crystal combine with the purity of white porcelain and platinum to create a magical effect as each element captures the light and glistens handles of each fitting. This comes together with the gorgeous wide-arc spout, which tapers into a delicate curve. Each Swarovski crystal is hand applied, requiring a great deal of patience by the artists to create each stunning pattern. Available in more than 35 finishes, THG's Wedding collection can surely make an excellent addition to your bathroom. Finely crafted by skilled artisans, the Wedding series reflects the indisputable expertise of both THG-Paris and Manufacture de Monaco.

 Kandola's Florentina Collection makes excellent use of the crystal across their striking fabrics
English brand Kandola has also been making a stir with their use of Swarovski crystals within their fabrics. One of their most interesting examples of this can be found in their Florentina collection, which uses crystals that are sewn into striking material to present a complementary dynamic, and ultimately a remarkable product. By incorporating intricate patterns with vibrant fabrics, the Florentina collection can turn an ordinary room into an extravagant living space.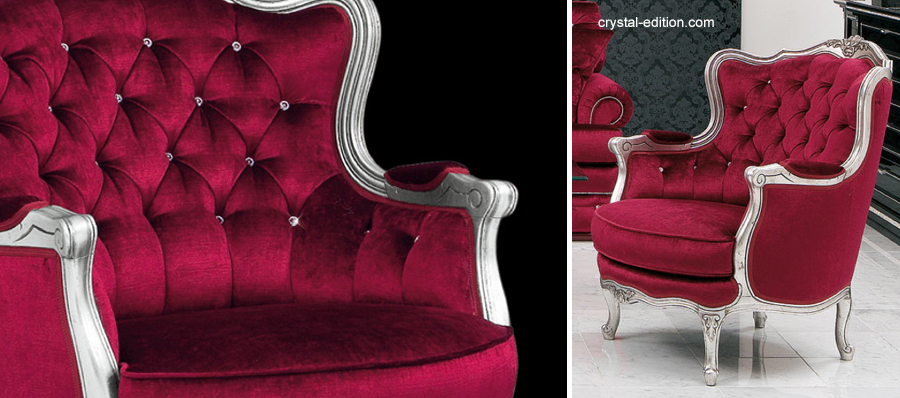 Finkeldei's Royal Armchair from their Crystal Edition is a gorgeous example of the power of Swarovski crystal
German furniture manufacturer Finkeldei has also put a unique twist on Swarovski crystals. The Finkeldei Crystal Edition elegantly embeds Swarovski crystals into its products, creating an extravagant result. The Crystal Edition presents a wide range of breathtaking sofas, chairs and tables. The gems make the collection truly shine without overpowering the pieces themselves. Finkeldei's unique furniture collection can add sophistication and sparkle to your home.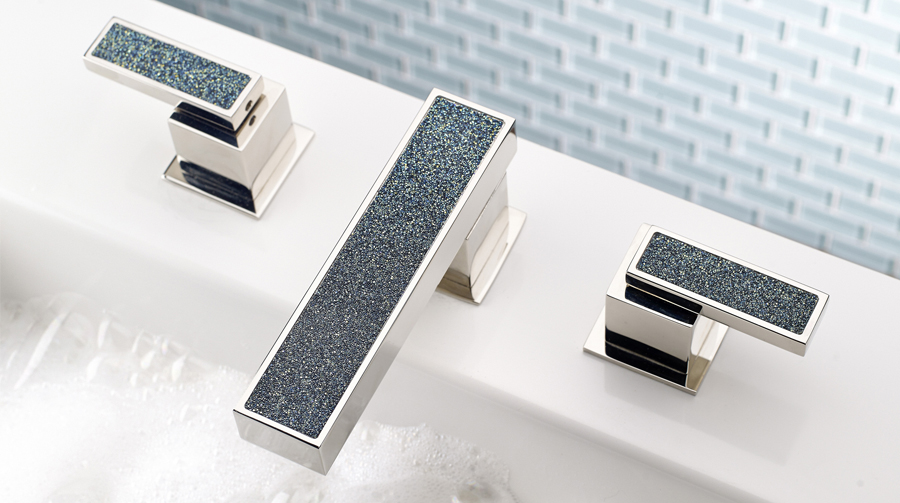 Watermark Designs does an incredible job of rethinking the way in which the crystal can be used
Another excellent partnership comes in the form of Watermark Designs' Jem collection, which utilizes Swarovski crystals in both the faucet spout and handles. Watermark is known for their edgy designs, including their industrial Elan Vital collection. However, rather than rest on their laurels, the company has chosen to go in the complete opposite direction with sparkling results. Watermark manages to use Swarovski crystals in an entirely different way than the aforementioned brands. Rather than choosing to include large stones on their faucets, Watermark has opted to create a galaxy of tiny gems, conjuring up a field of Swarovski crystals.
While all of these products would make great additions to your home, they only scratch the surface of what Swarovski crystals can add. Take a thorough look through these and see for yourself!