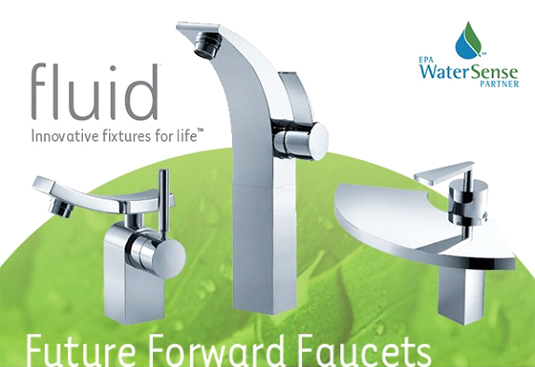 In the world of eco-chic, sometimes style is sacrificed for the sake of the environment. But what if you could minimize your carbon footprint while still maximizing innovation and creativity? fluid faucet's future-forward fixtures do exactly that. Meet a brand of bath fixtures that feature meticulous curves, unique angles, mirror-like polished surfaces, and industry–breaking water saving technology. The choice for LEED-certified projects. Green has never looked more fluidTM. Visit the fluid website at: fluidfaucets.com
The fluid brand is broken into eight different environmentally-friendly (and aesthetically stunning) collections. Each collection calls to mind a different element from nature, art or architecture. All lavatory faucets come equipped with a low-flow aerator that performs at 1.5 gallons-per-minute, a rate that has awarded all models with WaterSenseTM certification.
Fashioned in the shape of a semi-arc rainbow, the Sublime Collection reaches the highest levels of form and functionality, with a gently curved spout ideal for vessel sinks.
The Penguin Collection is a clean, contemporary line of bathroom fixtures, which features a true fusiform shape and takes its design cues directly from nature. The single lever faucet has a streamlined silhouette, upright form and horizontal spout.
Featuring graceful, cello-like curves and angled edges, the Swing Collection embodies the rhythm of music in its flowing form.
The Emperor Collection is a modern collection with Asian design undertones. The faucet was the recipient of the CIDF Gold Award and the iF Product Design Award, for its sweeping form, reminiscent of the ancient Qin dynasty.
Like its noble namesake, the Toucan Collection is versatile, distinctive and features all the elements of effective design. The faucet's spout is shaped exactly like the keel-billed toucan itself, allowing it to prominently extend over the sink.
For the spa-lover, the Fan Collection borrows its graceful lines and motion from history. Its flat spout emits a waterfall flow, offering extreme comfort and superior conservation.
The Wisdom Collection is an inspirational collection complementing a wide spectrum of sensibilities. Inspired by the ancient Greek Acropolis, this collection pairs classic lines with bold volumes. The ideal choice for the transitional or contemporary bathroom looking to maintain beauty and environmental consciousness.
Reminiscent of the enduring craftsmanship of the ancients, the Jovian Collection's formal and austere lines recall the tenants of classic architecture, a stark contrast to the very modern eco-chic technology inside its gorgeous design.
To see the entire collection visit the fluid website at: fluidfaucets.com