MGS has been a brand we have admired for some time. The company's stainless steel fixtures merge Italian luxury, style and sophisticated design with the accuracy and attention to detail of Swiss engineering, precision manufacturing and uncompromising standards. Creating architectural plumbing fixtures for kitchens, bathrooms and outdoors, MGS represents the perfect harmony of aesthetics and technology.
This year at Salone del Mobile and Milan Design Week 2014, MGS opened the doors to its new showroom in the heart of Milan and debuted its latest product collections for Europe and the North American market.
MGS for the Kitchen
The durability, performance and enduring quality characterized by solid stainless steel construction is inspired by professional chefs and required in exceptional kitchens.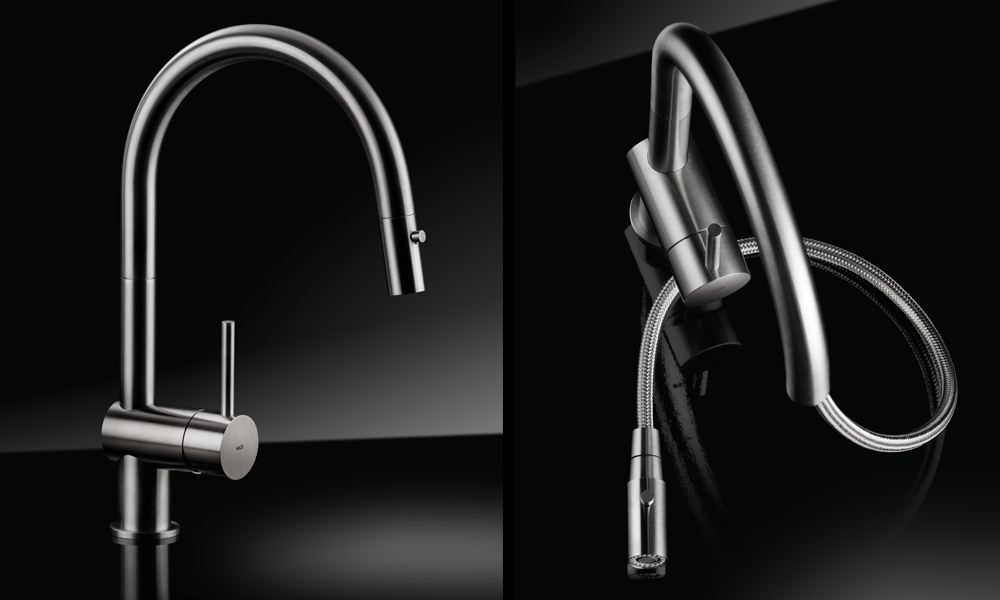 Vela DN
The latest addition to the MGS's Vela product range, the Vela DN is equipped with a small and sleek dual spray hand-shower. Nesting in place with precision and purpose, the pullout hand-shower is literally an extension of the graceful arc spout. The flow patterns can be easily switched from aerated to spray and back by using a very unique slide button.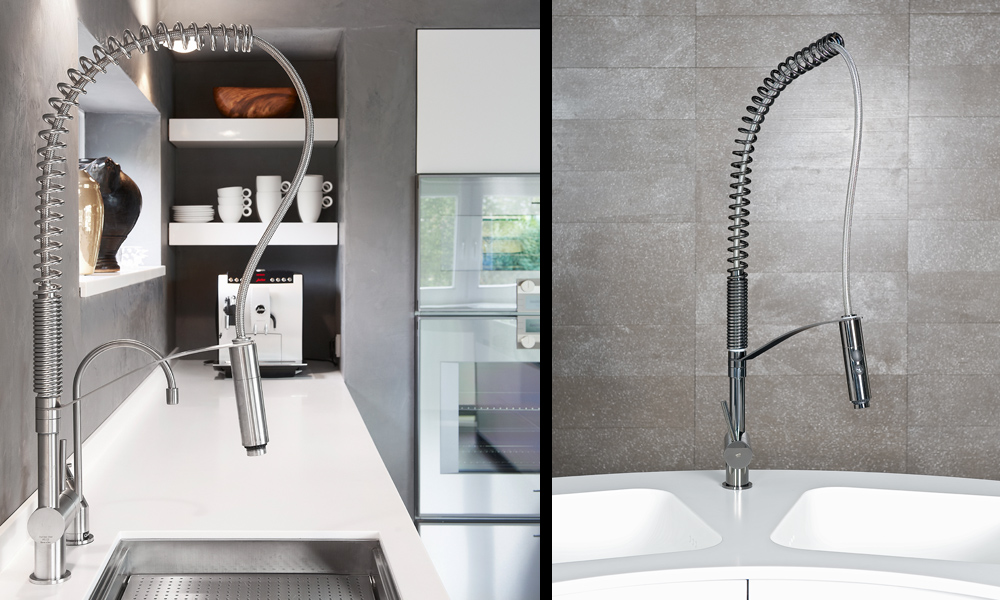 Vela LD
MGS's iconic Vela L and Vela LD are some of the original professional kitchen faucets produced in solid stainless steel. The latest Vela LD includes a unique black metal finish over the solid stainless steel, producing an elegant and dramatic effect.
MGS for the Bath
Refinement, architecture and modern design are interpreted in solid stainless steel and celebrated in the bath space with fixtures that define sophisticated style.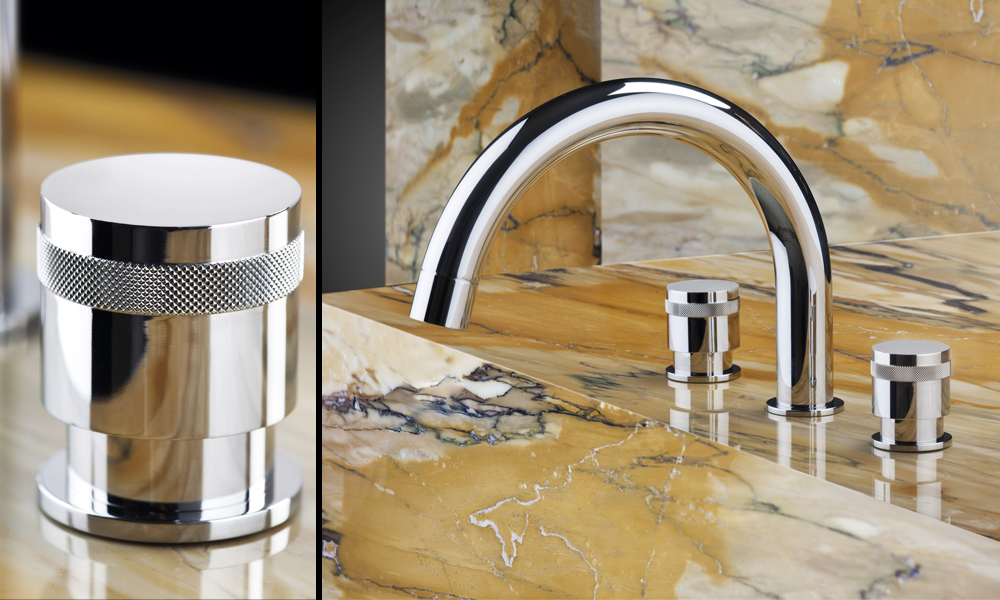 Minimal Beauty Knurled Handles
MGS's latest addition to the Minimal Beauty bathroom collection includes machine knurled handles for its bathroom fixtures. As with all components of MGS, the knurled knobs are more than an "industrial" accent; they have a practical application for the bather by providing a subtle grip on the cylindrical rotating handles on lav sets, deck tub sets and shower valves.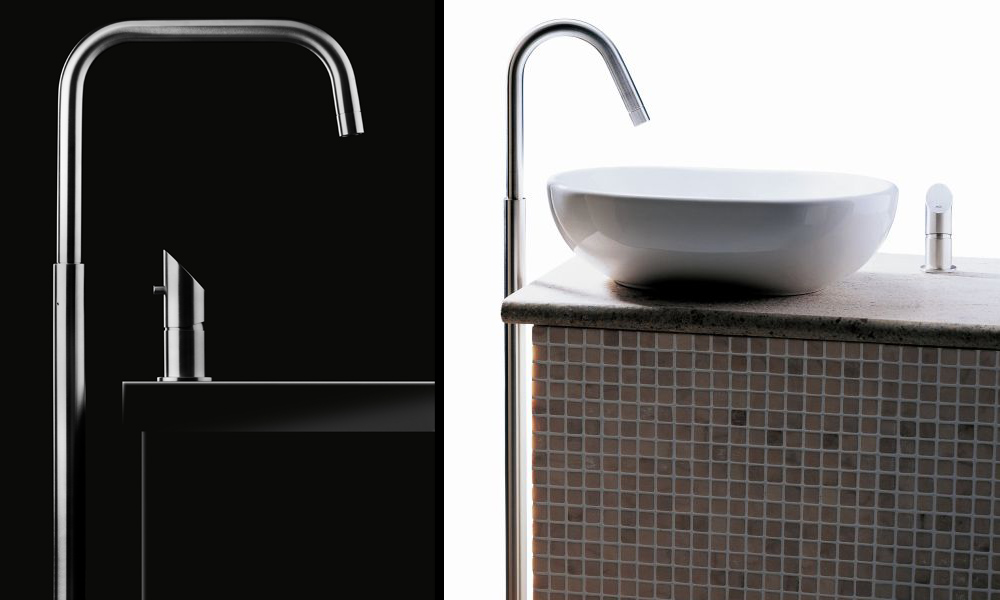 Custom Beauty Floor Mounted Columns
One of our favorite design trends is the floor mounted bathroom faucet, and MGS has interpreted in stainless steel with their faucet columns. Available with deck mounted or wall mounted water control installation options, the collection also offers single mixing valves or two-handle valves to allow the most flexibility for the designer or architect creating the dramatic space.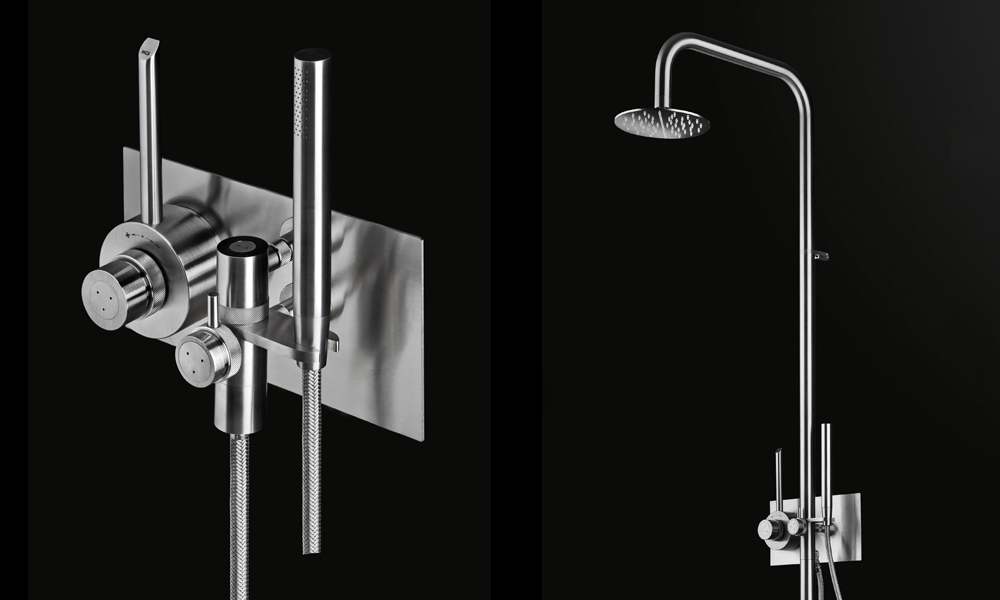 Custom Beauty Thermostatic Valves and Showers
Precision machining, ingenuity and craftsmanship are exhibited in many ways with MGS's thermostatic shower valves and shower systems. Each element is fabricated from solid stainless steel to perfection. There are numerous ways to design a personalized shower space with valve options that include a volume control, mixing valve and choice of built in hand-shower, or users can select from semi exposed shower or tub/shower systems. There are even options for the type of shower head the user desires.
Each MGS fixture is composed of parts that are hand inspected, prepped and polished before assembly, guaranteeing an impeccable finish on all edges and joints. As a result of the high precision machining process, fittings and shapes are extremely crisp with perfect tolerances and assembled to Swiss perfection.
No chemical treatment or finish is applied to the products; rather, the finish is obtained only through hand polishing – a totally eco-friendly process. The result is extremely durable and resistant indoors and outdoors.
Which new MGS fixture do you like best? Let us know @Styleture