When Old Man Winter comes a-knocking, there's no reason you can't summon a tropical summer vacation indoors. In Miami, the weather is always hot and the colors are always vibrant, which is one reason this seaside city has become a mecca for lovers of its very singular style. Perhaps the recipe is equal parts Art Deco and Mid-Century Modern with a dash of Cuban influence and a touch of rock 'n' roll mixed in. Here are some of our favorite products that make us want to pack our bags and say "Welcome to Miami."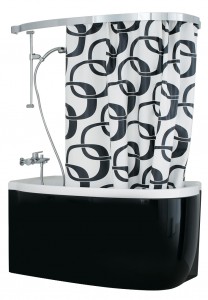 mimo – LAUFEN
The mimo collection by LAUFEN is a refreshingly unconventional bathroom suite imbued with youthful exuberance. Called the "Mini Cooper of the bathroom fleet," this eco-friendly collection features modestly sized sinks, toilets, vanities and a bathtub, illustrating that big things come in small packages. Available in high contrast pink and white or black and white, both which are perfect against the hot Miami sun.

Blythe sconce – Hudson Valley Lighting
Inspired by 1930s design and most notably Art Deco skyscrapers, Hudson Valley Lighting's Blythe sconce offers an artful lighting treatment in brilliant wedges of stacked glass. The prismatic textured fixture merges ornamental flourishes with 21st century innovations and is available in two, three, four and five-light formats. Hung vertically, Blythe is perfect for illuminating the bath or a dressing area and is offered in a polished nickel finish.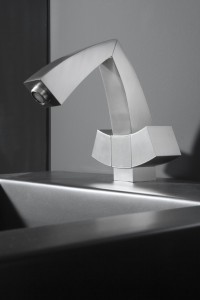 Fontaine – GRAFF
The Fontaine exudes a high level of Hollywood glamour with its strong shapes and Art Deco feel. GRAFF's Fontaine lavatory faucet creates an ambiance of pure luxury and visual delight all while saving water via its water-saving aerator, which reduces waterflow to 1.5 gpm. A modern masterpiece of geometric design, the distinctive Fontaine faucet looks great from any angle.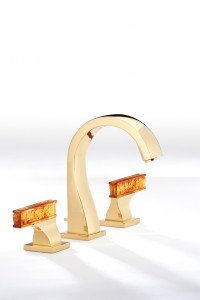 DAUM G – THG-Paris
DAUM is produced by the legendary, historic French art crystal atelier of the same name and celebrated for its mastery of the pâte-de-verre technique. Using old world techniques, crystal handles are hand made by artisans, with no two alike and each piece signed. Six collections, all made from fine crystal, are available in several luminous shades. The pieces were inspired by classic hand carvings made from jade with popular Asian motifs such as dragons and exotic florals, all of which radiate with light and color.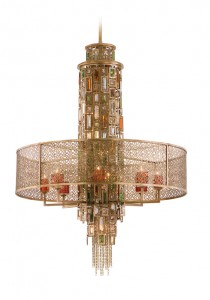 Riviera – Corbett Lighting
With a name inspired by the materials from which it was made, this masterpiece is crafted of Riviera bronze with silver leaf crystal baguettes in a collage of hues including orange and green. Featuring a hand-crafted iron stem to chain suspension, the Riviera Collection is available in a range of models, from a 42 inch diameter chandelier to a two-light wall sconce.
How do you convey your Miami style? Tweet us @Styleture and let us know!