Indulging one's paramour on Valentine's Day can take many forms; plying him or her with chocolate, wrapping a loved one in cashmere, blinding them with bling of some sort, providing a day away from the children a la a spa day. A spa day does sound nice – and if your readers want to know how to pamper their loved ones year-round (earning many more brownie points), perhaps they should focus on bath items that make it easy to say, "ahhh love you."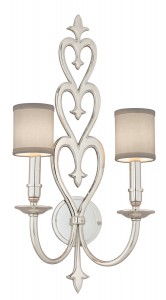 Heart Throb – Corbett Lighting
With its twisted and delicate heart-shaped frame, there is no question where Corbett Lighting draws inspiration for its lovely Heart Throb. Dressed for the occasion, the two-light sconce is crafted in solid brass and features a polished nickel finish that could take a space from zero to 60 beats per minute. Perfect for a board room or dare we say, the bedroom, Heart Throb is topped with hardback linen shades and exudes romance at every glance.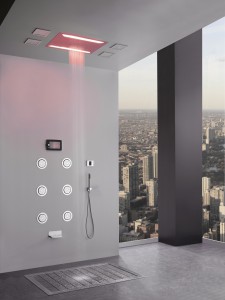 Aqua-Sense – GRAFF
The Aqua-Sense shower system by GRAFF® is a full sensory, completely modern experience. Created for those who want to bring the luxury spa experience home, Aqua-Sense combines high-style design with the technical innovation that GRAFFis known for. The Electronic System with Ceiling-Mounted Showerhead creates an intense central rainfall, features an RGBLED color-changing effect controlled by a touch screen, and a USB port and speakers for portable music player connection (one can pre-program a whole concert's worth of love songs). There are multiple shower options, and the Wall-Mounted Cascade and Rainfall with RGB LED Showerhead features a concealed LED light system, which is known to have therapeutic effects. This could be love.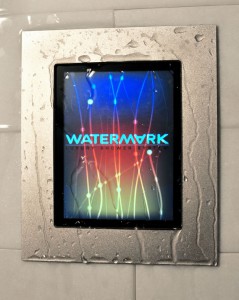 Luxury Shower System (LSS) – Watermark Designs
The fully customizable "smart" Luxury Shower System (LSS) from Watermark offers a personalized shower experience with a full-color digital touch screen, flush mounted screen with thin 1/8-inch frame, thermostatic valve that controls up to four shower outlets, ability to control shower lights, connection to any audio device with headphone jack, and nine programmable preset shower scenarios that allow users to set their name, water temperature, water outlets, speaker volume, lights on/off, water consumption timer or shower duration timer. The LSS helps conserve water and energy, and also tracks water usage through a Green Statistics function. Green, serene, sublime.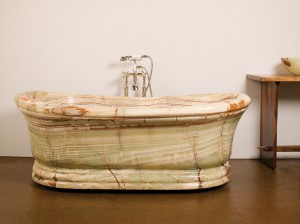 Old World Bathtub – Stone Forest
Like love, humans have always been longing for relaxation. Inspired by the baths of ancient Rome, this stunningly-crafted tub by Stone Forest pays homage to the downtime rituals of the past while remaining totally relevant for today. Carved from a solid block of carrara marble, the bathtub features unique veining and the alluring natural colors of the distinctive stone. It weighs in at 1,800 pounds and is available in limestone, papiro cream, multi-color onyx, honey onyx, and travertine romano.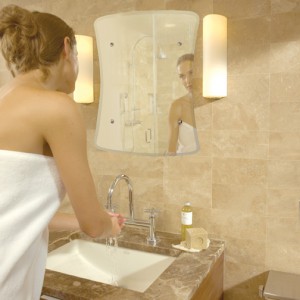 Fog-free Mirrors – ThermaSol
There's no better way to say "I love you" than meeting up with your Valentine relaxed and well groomed. But after luxuriating in that pre-date bath or shower, foggy mirrors can stall the primping process. Enter ThermaSol's elegantly crafted Fog-free Mirrors. Suitable for placement either inside the shower or anywhere within the bathroom, the mirrors are guaranteed to never fog up – even in a completely non-ventilated bathroom. Constructed of ¼"-thick tempered safety glass with a 1" bevel, there are four distinctive, easy-to-install, UL approved designs to choose from.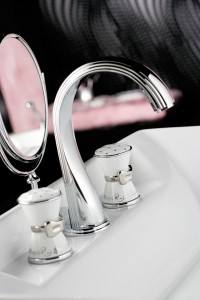 Poemes – THG
Paris, one of the world's epi-centers of romance, also counts Chantal Thomass, adored lingerie designers, among its beloved residents. It comes as no surprise that faucet atelier THG called upon Thomass to collaborate on one of its most delicate series yet, Poemes. Paying homage to the boudoir, Poemes is embellished with delicate bows crafted from fine white porcelain and outlined with silver borders. In addition to taps and accessories, Poemes offers a delightful collection of porcelainware—dishes, vases, round and square pillboxes and candle holders. Nothing could be more lovely in the bath and sure to be a Valentine's Day that will long be treasured.