Simple and understated, while at the same time radiant and luxuriously decadent, crystal offers a plethora of possibilities. Crystal and lucite have remained on our radar, firmly incorporated into fashion, jewelry, home furnishings, architectural interiors and exteriors, even electronic devices and computers. While the "crystal clear" aesthetic still looks current and fresh today, it can also evoke the look of the Mod 60's or design-driven Art Deco era. Masculine or feminine, traditional or ultra contemporary, opulent or minimalist, crystal knows no boundaries and can transcend barriers where other materials, if they dared go, would seem less than dazzling. Here are a few "sparklers" that have caught our eye:
Amadeus by Corbett Lighting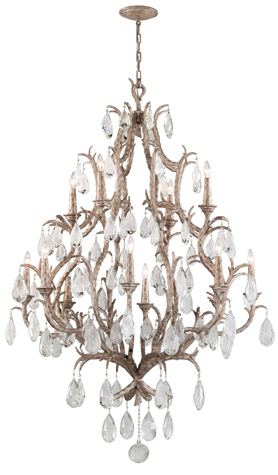 Corbett Lighting brings glittery European elegance through its new fixture Amadeus. Fit for palaces, but equally at home in a lobby, dining room or foyer, Amadeus reinterprets ornate chandeliers of the past and makes them relevant to today. Made of hand-crafted iron and covered with a Vienna bronze finish, Amadeus features Italian crystal drops that glisten from light cast by 60-watt candelabra-base lamps. The family of fixtures includes: 12-, eight-, six- and three-lamp chandeliers, and one- and two-lamp wall sconces.
Rockland by Hudson Valley Lighting®
Defined by its elegant long stems and well-placed accents, Hudson Valley Lighting®'s Rockland sconce is perfectly dressed for any occasion. Its classic design features crystal spheres at the base and tips combined with a cool metal circular back plate. Channeling cool Hollywood glamour a la "Dinner at Eight," Rockland is available as a one- or two-light sconce in high polished chrome finish and topped with crisp, white fabric shades.
Ange by THG®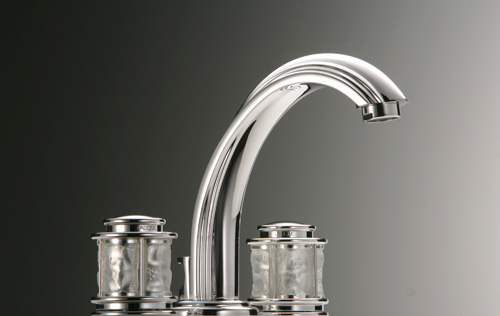 It's not often when an object transcends its intended use and also functions as a piece of art. For ultra-luxury faucet atelier, THG®, this is generally the case with its fine bath fittings and accessories but even more so with its delightful, Ange. Using bas relief and collaborating with Lalique, revered for its high quality crystal, Ange features a series of charming cherubs set in a cylindrical fitting, complete with exquisite patterning and detailing. French for angel, Ange can be specified in any of one THG®'s proprietary 35 hand-polished finishes.
Byron by Troy Lighting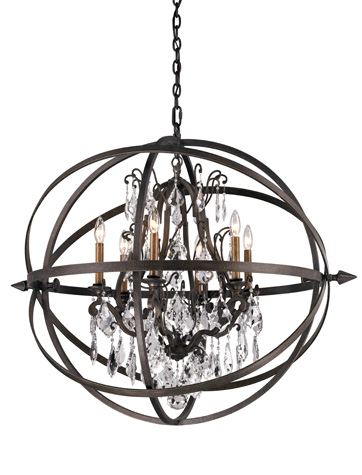 Old World styling enjoys a striking update in the Byron pendant from Troy Lighting. The traditional style chandelier, composed of beveled-edged crystals suspended from an ornate hand-worked wrought iron frame finished in vintage bronze, is caged in a globe-shaped wrought iron framework secured east and west by pointed finials and also finished in vintage bronze. Suspended by a sturdy link chain, the pendant is offered in three sizes that accommodate four, five or six 60-watt candelabra-base lamps.
Edge by Watermark Designs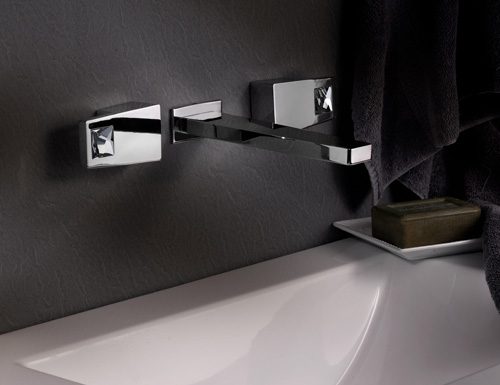 Edge lives up to the name with its sleek tapered edge and trapezoidal spout. Boldly blurring the line between luxury and contemporary, the Edge is available as a wall mount or deck mount, and features three different handle options, including one with an elegant crystal insert. Each handle attaches to the valve via Watermark Designs' signature rare earth magnets, eliminating the need for screws and ultimately resulting in one streamlined look. Edge is destined to appeal to modernists and those seeking a minimalist aesthetic infused with a touch of refinement.