Every day, we indulge in the delights of the bath. From the minute we rise, to the moments before we sleep, the bath provides invaluable comfort and luxury – a source of water and energy that counts among our most valuable resources. But, thanks to the ingenuity of a select group of designers and innovators, we don't have to choose between indulgence and preservation. Introducing the greeniest of baths – our favorite responsible products for smarts and style that work in honor of Earth Day and everyday.
Corbett Lighting Quasar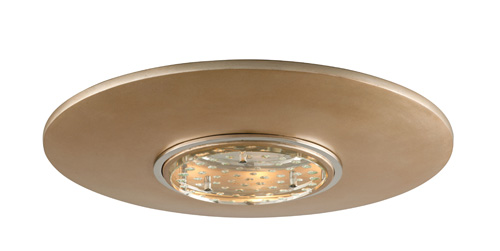 With a name and design evoking the promise of the future, Corbett Lighting's Quasar delivers nothing less. Accented with silver leaf finish, the metallic LED fixture offers stunning illumination with minimal ecological impact. Perfect for the needs of the bath – Quasar emits a warm glow from a sleek disc of bronze. The textured lens adds dimension, while the high-tech LED bulb adds green intelligence. Available as a pendant, flush mount application or ADA-compliant sconce, Quasar makes perfect design sense.
Native Trails Yanama Vanity with Eclipse Sink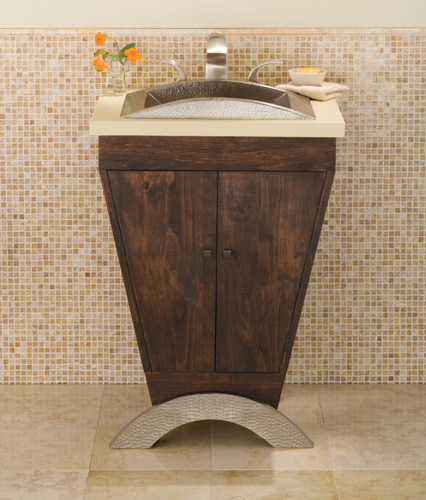 Two of the most luxurious materials – rustic cherry and hammered copper – come together in Yanama by Native Trails. A superb cabinet whose beauty is only outweighed by its ecology – the torso is constructed from FSC-certified, sustainable wood – Yanama re-imagines the geometry of the vanity. Designed to pair with Native Trails' Eclipse basin, made from hand-hammered, recycled copper, this sink captivates with its sweeping curves. Good for the environment, great for the bath. Shown here in brushed nickel, Eclipse is also offered in an antique copper finish.
Stone Forest® – Quattro Bamboo Vessel Sink with Bento Box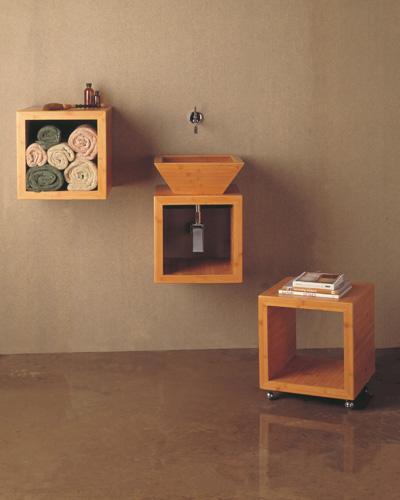 The Stone Forest Quattro Bamboo Vessel is an elegant addition to any bathroom space. Beyond chic design, it is also made out of one of the most durable and sustainable materials available: bamboo. The vessel can sit on a wall mounted Bento Box (also crafted from bamboo). The Bento Box can be wall mounted and used for storage, or it can be purchased with castors and used as a seat or side table.
Caroma® — Sydney Smart One-Piece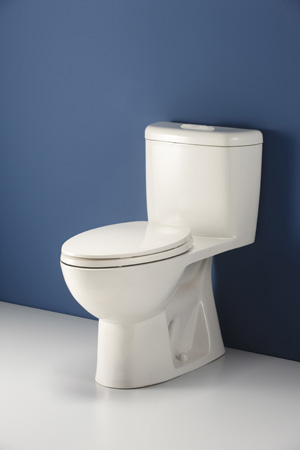 Boasting one of the lowest water consumptions among high efficiency toilets (HET), the new Sydney Smart 305 by Caroma has already set industry-leading standards for green design with its Smart Technology. The two-button construct allows for greater water control and the modern Easy Height bowl delivers comfort, sleek lines and clean, modern aesthetics. Conscience, without compromise. WaterSense® labeled.
Hastings Tile & Bath — Nikles Shower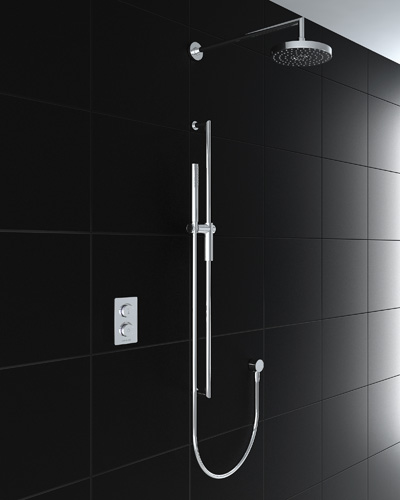 From Hastings comes a masterful fixture of style, sophistication and sustainability. The Nikles Shower, part of the new Niklesmatic collection, is truly a work of the world: developed in Switzerland and produced in Italy, the modern chrome shower head provides luxury and experience without excess. Featuring industry-approved low water consumption without loss of performance, Nikles' patented Airdrop® technology mixes air and water for a soft, refreshing spray. Cal-Green certified, the gorgeous metallic halo and avant garde hand spray set a most unexpected stage for a most eco-friendly piece.