Carpet versus Tile – The debate continues…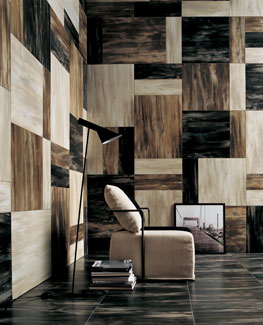 It's 2011 – and there are still far too many people who say they want to use sustainable and healthy products in their home but who don't fully understand what constitutes a sustainable home environment.
Unknowingly, we sometimes buy home design products without much thought to the product's provenance or even more importantly – the product's life-cycle. Carpets, granite, paint, even the light bulbs you use are all known to be somewhat less than 'green,' depending on the types you use. As for carpet: currently, the US discards approximately 4.7 billion pounds of carpet annually. That is an awful lot of landfill refuse. And we're not even talking about the VOCs (volatile organic compounds) released in the air from carpets as well as their propensity to provide ample breeding ground for various and sundry allergens. There are many carpets that are made from all natural wools, vegetable-dyed – and if you or your family are not allergic to wool, then these can be a good (and beautiful choice).
If there are allergies to contend with – right under our very sensitive noses is a tried and true product that is inherently 'sustainable.' A product that lasts for years and years and is easily cleaned with plain tap water. We are of course, speaking of tile; porcelain, ceramic and even recycled glass tiles.
Heck, tiles are so versatile (pun intended) that there are some tiles that even look like wood – without the maintenance issues (polishing, splintering), and there are some that even look like wainscoting – now that is creative!
More than just their inherent beauty, there are some other things to note about why tile is a healthy and sustainable choice:
No VOCs – Neither Ceramic nor porcelain tiles contain VOCs that release gas prior to, during or after installation.
LEED certification – For builders, architects and designers interested in obtaining LEED (Leadership in Energy and Environmental Design) certification for their projects, using tiles should be a natural fit. Products that meet stringent VOC restrictions contribute to LEED credits for a project.
Air quality – because ceramic tile is not an original nor secondary source of air pollution, and because it does not absorb odors — you needn't worry about indoor air quality.
Mold inhibitors/prohibitors – Porcelain tiles are less likely to absorb moisture and they are resistant to staining, abrasion and cracking in cold weather. Because tile is chemically inert and inhibits the growth of mold, mildew, fungus & other viruses, it is ideal for use even in environments that need to be sterile.
Sustainability – the lifespan of tile products should make it a slam dunk when thinking of sustainable design. Tile's longevity is reported to be up to four times longer than other materials. Tiles can literally last for generations.
Have we convinced you to take a second look at tiles for any design project? If we haven't – we hope the drop-dead gorgeous tiles that we've shown you here might help us make our case.
All tiles shown available through Hastings Tile & Bath