Best known for their spartan facades with geometric lines, homes designed by Joseph Eichler are the definition of California Modern. With open atriums, floor-to-ceiling glass walls and numerous skylights, Eichler homes bring the outdoors in and serve as enchanting contemporary spaces. Therefore, when a Northern Californian couple decided to renovate their 1959 Eichler to make it wheelchair accessible they asked for a kitchen that would fuse functionality with their retro-modern show home. Requesting a kitchen built for wheelchair use without compromising style, the couple turned to Architect Richard Morrison who asked ALNO San Francisco's Deganit Albalak to aid in the cabinet design. Offering seven height options for their cabinetry, ALNO kitchen systems can be customized for accessibility and personalization. (Visit ALNO at http://www.alnousa.com/)
Morrison chose ALNO cabinetry and infused the kitchen with alternating red, pale yellow and cherry wood lacquer to create a Mondrian-like effect. Recalling the modern style and color palette of the original Eichler era, the same red and yellow palette was used throughout the house to reflect the homeowner's penchant for vibrant colors.
Built to optimize workspace comfort and compliance with the Americans with Disabilities Act, one kitchen wall features a lowered, 29-inch counter top with ample under the counter storage and wheelchair accessibility. Easy-to-use pull out drawers, a semi-circular Lazy Susan, a mini-pantry and garbage bin fit seamlessly behind the colorful, glare-free cabinet doors. Lowering the above-counter appliance garage from the standard 18 inches to a shortened, more accessible height, the cabinetry's custom design instantly eliminated the need for an uncomfortable, over-extending reach.
"The accessibility of cabinets and storage space units was key," said Albalak. "We wanted to keep the flow of the space open and uncluttered, while curtailing the cabinets to the homeowner's needs. What's great is that we were able to do this, while maintaining the signature Eichler aesthetic."
Helping to complete the kitchen's user-friendly transition, a low cook top, side opening oven and bend-free dishwasher were built into the wall units for easy access. A curved kitchen island helped shorten the workspace triangle, making appliances and tools easily attainable, while providing additional storage space.
Before: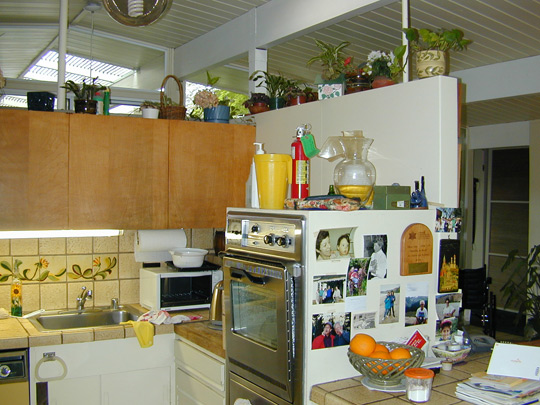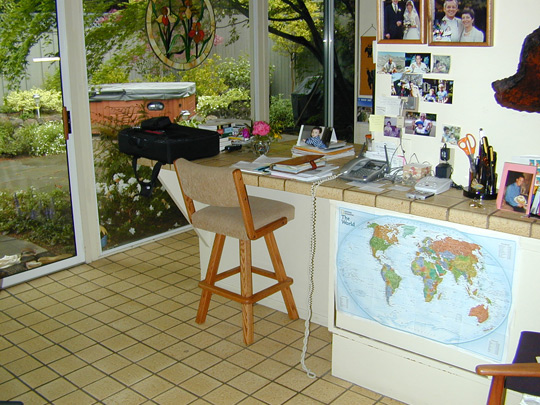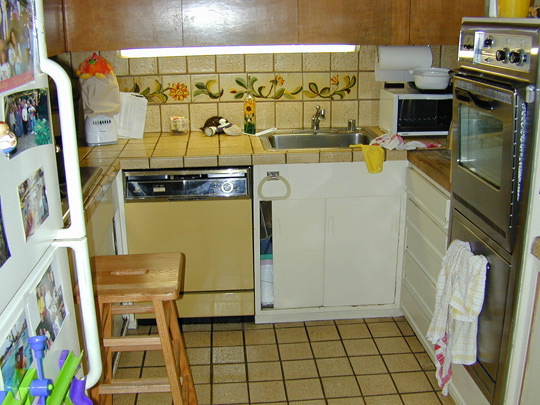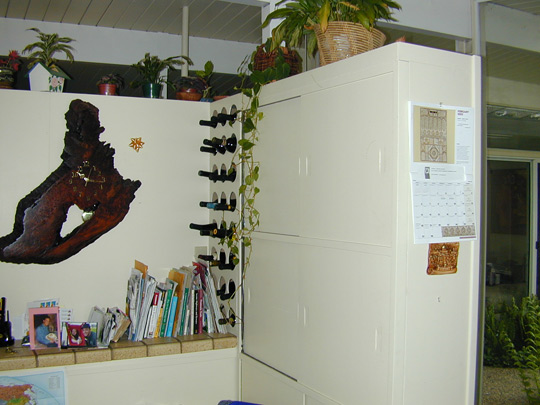 After: