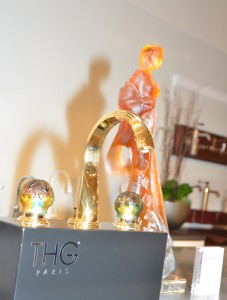 Styleture was recently given the exclusive opportunity to attend a private event and showing of French premier brandsTHG and Daum. The event, which was held at the B&C Select showroom in Laguna Hills, California, highlighted their collaborative efforts for TGH's Daum collection for the bath.
THG's partnership with Daum symbolizes the culmination of French heritage and craftsmanship. Daum, known for its world-renowned crystal, and THG for its opulent faucetry, combined forces to create one of the most unique collections of luxury bath fittings. Walking through the showroom, you couldn't help but notice the allure and the extensive detail that went into every piece. The crystal seemed to play with light and colour. It was like couture for the bathroom!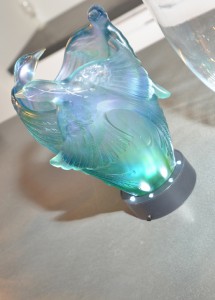 One of the highlights of the night was being able to see and learn how each Daum crystal is created. Daum casts each crystal by hand using the pate de cristal technique coupled with the lost wax technique. Master artists create a mold for the sculpture, fill the mold with groisil (multicolored crystal fragments), and place it in a kiln for 10 days. The mold is then broken, revealing the finished product. And since groisil blends and merges at will, every piece has its own individuality and no two faucets are alike!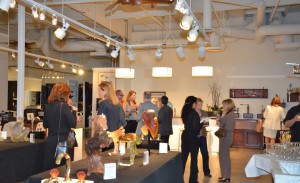 The event was a lively one. Guests enjoyed cocktails and hors d'oeuvres while THG and Daum representatives spoke about the inspiration behind the collaboration. The most exciting part of the night had to be the drawing for the Bird of Paradise vase! Pam Crow, sales manager of Daum-Haviland, had the honor of choosing the winner. Unfortunately for us, we didn't win— nevertheless, it was an amazing night.
With six collections and the knowledge that each crystal is truly one-of-a-kind, the THG Daum collection elevates luxury fittings to a level that few, if any can match.
Event photos courtesy of THGStyle