Black out? Never. The darkest color in the rainbow is also the most tragically misunderstood. Black isn't all doom and gloom, it's a color worthy of worship even outside the funeral parlor. White is passé after Labor Day, but black is classic and refined year round. Feeling a little spooky? Take the passenger seat in our hearse and ride along as we dig up these black beauties…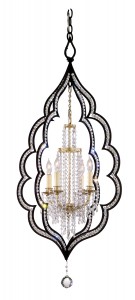 Bijoux – Corbett Lighting
Bijoux is the French word for "jewelry" and while the traditional Goth may shun sparkles in favor of studded bracelets and lace chokers, this is a piece worthy of anyone's collection. Wrought from hand-crafted iron, Corbett Lighting's design blends Classic Golden Silver with delicious Antique Black. And just like your trusty night light, the shining crystal accents brighten up even the darkest corners.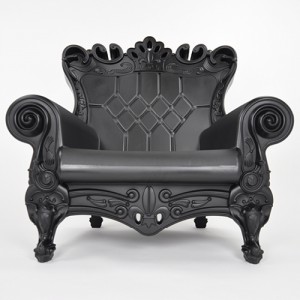 Queen of Love Armchair by Moro-Pigatti
Even people of a ghostly pallor need to get a little sunshine once in a while. This whimsical throne by Italian designers Graziano Moro and Renato Pigatti can be placed outdoors or indoors, depending on your ghastly tan lines. And because this armchair is made from recyclable linear polyethylene, it's an eco-friendly addition to your haunted house. The Queen of Love is available in 13 unlucky colors but we prefer to lie back in black.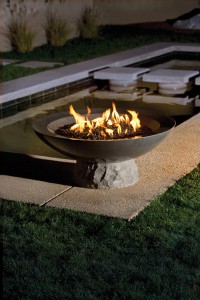 Saturn Fire Vessel – Stone Forest
Double, double toil and trouble. Hand carved from black granite, the Saturn Fire Vessel uses lava rock to keep the fire burn and cauldron bubble. Sitting upon a blue/gray granite pedestal, this unique vessel is perfect for casting spells (…or toasting marshmallows).
Jasper – Hudson Valley Lighting
Like a murder of crows perched on telephone lines, the Jasper Chandelier gazes back with watchful eyes. But this design is anything but shady. Sleek and delicate, these thorny tendrils come in antique nickel, old bronze, and polished nickel finishes. Topped with black lampshades lined with silver, will you need another design to light your chamber door? Quoth the raven, nevermore.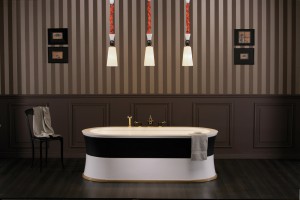 Bagatelle bathtub – THG Paris
How does a ghost get clean? Luxury design atelier THG Paris offers a tub that would be the envy of Dracula's castle. Custom designed by Olivier Gagnère, the Bagatelle collection is available with metal, fine crystal or black obsidian inlays.
Were you waiting for the punchline? Why of course anyone knows a ghost takes a BOOOOObble bath.
Are there any designs we missed? Tell us @styleture on Twitter or comment on our Facebook page!