Roll over, Beethoven! From AC/DC to ZZ Top, rock 'n' roll is a way of life. But why leave your rock reverence for the stage when you can amp up the design in your own home? Whether you're looking to bring the recording studio to your studio apartment or turn your posh pad into a mosh pit, we've got just the designs to make you twist and shout. So pull on that ripped concert tee, crank your speakers to 11, and rock out to these headbanging designs!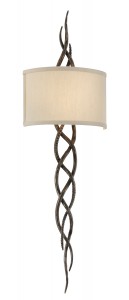 Troy Lighting – Tattoo
When it comes to a rock star's tattoos, no patch of skin is unworthy as a canvas. But when your 9 to 5 is less than forgiving to your self-expression, there's Tattoo by Troy Lighting. Wrought from hand-forged iron with a cottage bronze finish, these sconce's serpentine swirls are softened with a hardback linen shade. And unlike the name of your ex, this is one Tattoo you'll never want to remove.
Zephyr – Plane Wall
Business class? Please, real rock stars take private jets. The Plane Wall by Zephyr is as sleek and seductive inside the metal club as the mile high club. Designer Robert Brunner packs extravagance in a powerful minimalist package straight from his Arc Collection. This range hood makes a powerful slanted statement in black or white glass and stainless steel with a trio of halogen lamps to give it the spotlight it deserves. And because Zephyr's hoods are some of the quietest, your dad won't yell at you from the next room to keep it down.
Watermark Designs – Napa
Just like a rock star, the Napa faucet takes its inspiration from the wine bottle. The Brooklyn-based Watermark is a bold design innovator of decorative plumbing fixtures. Their made-in-the-USA ethos and commitment to environmentally friendly practices are as cause for celebration as any sold out show. This faucet is available in a variety of finishes, so pick your poison and pop a cork.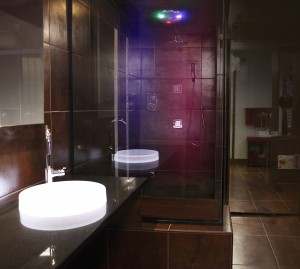 Thermasol – Serenity Light and Music System
Partying like a rock star can lead to some needed downtime for rehab and relaxation. Thermasol's steam showers make the ultimate detox chambers. Their Serenity Light and Music System produces high-intensity full spectrum light and sounds for a relaxing chromatherapy experience. Activated by remote devices through your home's WiFi, you can connect with your playlist to tune in and rock out.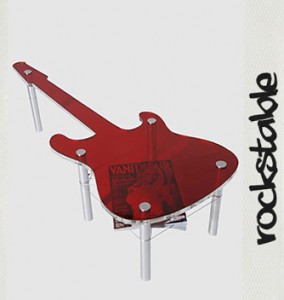 Rocket Design – Rockstable
This coffee table from Rocket Design a smash hit—not to be confused with the guitar a rock star smashes at the end of the show. A three part harmony of Plexiglas®, aluminum and steel unite to create a guitar silhouette great for entertaining guests or groupies alike. And its colored surface is replaceable for ultimate customization in color or print.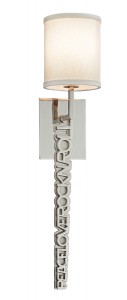 Corbett Lighting – Alter Ego
This solid metal sconce is rock solid. With its clever mantra declared boldly in rich polished or satin nickel finish, Alter Ego is tempered with an elegant hardback linen shade. This piece sheds light on what life is all about: Peace, Love and Rock-N-Roll.