Elizabeth Alexandra Mary Mountbatten-Windsor, QE II, or her majesty Queen Elizabeth the II is celebrating 60 years on the throne.
As Britain's second longest reigning monarch, outranked only by Queen Victoria, we anticipate that her majesty and the entire United Kingdom will feast, drink and be merry in honor of the Queen's Diamond Jubilee, June 2-5. Day in and day out, the Queen must carry herself with poise and grace, be familiar with all levels of protocol and decorum, give speeches, fulfill efforts and juggle an action-packed calendar of appearances and requirements, always dressed to the nines. Not an easy task, but one can only imagine the perks associated with the job as well as the choice abodes. We'd like to think that the following will inspire a royal treatment in any home.
Palomba Bathtub by LAUFEN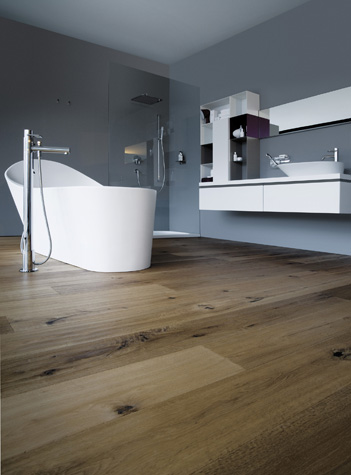 LAUFEN's first solid surface tub, this beautiful 72" long bathtub complements other pieces in the Palomba Collection. Standing 35 inches at its highest point, it retains a softness of overall shape, and showcases outstanding curvatures that are both dramatic and divine. This piece is destined to serve as the bath's "crowning glory."
Atmosfere Floor Mount Toilet and Bidet by Hastings Tile & Bath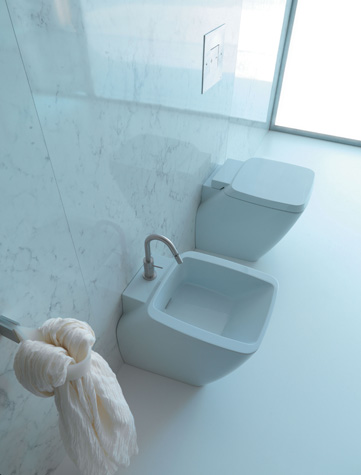 Part of Hastings' Atmosfere collection, these fireclay ceramic toilets bring contemporary styling, giving the bath a completely fresh perspective. Available as a floor-or-wall-mounted design and featuring soft-close covers, the upright Atmosfere brings a touch of European styling to any bath project. May we be so bold to say that a royal flush is imminent?
Emperor Faucet by fluid™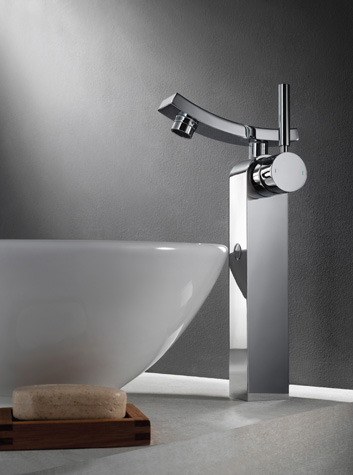 Aptly named, fluid's Emperor collection of contemporary bath taps is denoted by its streamlined silhouette, upright form and horizontal spout. This modern faucet with Asian overtones brings award-winning design and regal character to one of the home's most frequently used spaces. And, like all of fluid's bathroom faucets, it too is WaterSense® approved.
Fountainbleau by Troy Lighting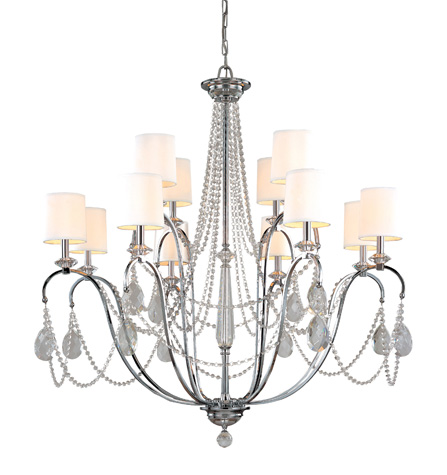 Troy Lighting's Fountainbleau Collection invokes pure brilliance, elegantly re-inventing the classic chandelier. With its graceful, polished chrome arms extending outward and delicate crystal glassware and hardback linen shades, the Fountainbleau affords a luxurious radiance to any room it graces. Talk about standing up and being made to take note!
Duomo by THG®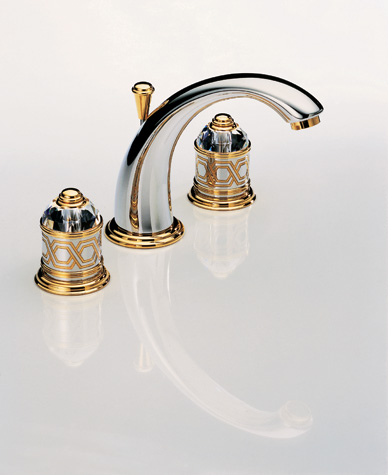 With its bold shape and towering design, there's no question that luxury fitting brand THG® created the Duomo to be found only in the spaces where the world's elite reside. Named in honor of the renowned Duomo in Milan, revered for its classically inspired domed shape like many of the world's cathedrals, THG brings artistry and elegance to the bath. Intricate designs are inscribed in the domed handles and one can select Lalique Crystal or bronze, brass, gold or one of 35 hand-polished finishes. Duomo is available as a tub filler or shower set as well as a full suite of accessories. One's powder room will never be more palatial.