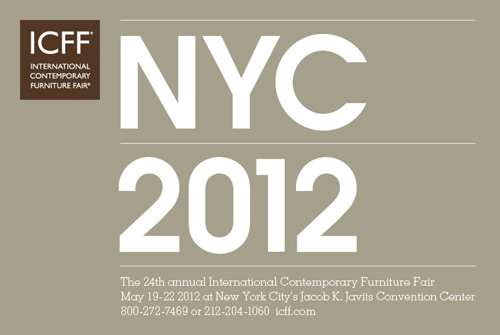 New York City's Design Week is two weeks away and through all of the boroughs and beyond, designers and artisans, event planners and buyers, photographers and journalists are scurrying to print schedules and make arrangements for the annual pilgrimage to the big apple. At the center of what is certain to be a week of exclusive parties, showroom events, product launches, and live blogging is the International Contemporary Furniture Fair (ICFF) held from the 19th through 22nd of May.
ICFF is North America's answer to Milan's prestigious Salone di Mobile which draws over a quarter million visitors every year, with more than half of them hailing from abroad. New York is expected to thrive noticeably more artfully than usual as the city absorbs visitors clamoring to get a first look at this year's trends in furnishing and interior design. Over five hundred exhibitors ranging from manufacturers and distributors to architects and designers will be vying for the attention of at least 25,000 visitors of the same industries each day of the show. Major names across all disciplines of design are being flown in as brands acquaint visitors and colleagues with their brands. One such name is Davide Oppizzi, a high-end designer who has worked with, among others, Louis Vuitton, Chanel, Bulgari, and famous jewelry designer Lorenz Baumer. Oppizzi will be present to speak with visitors at the GRAFF Faucets booth about the Ametis collection which he designed.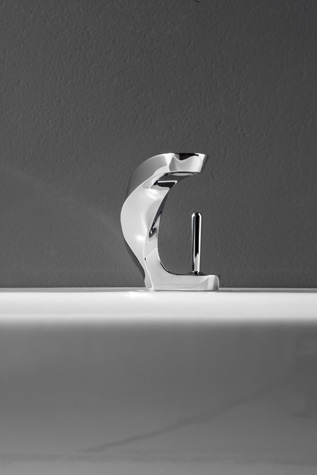 GRAFF Ametis
Design Week will kick off with an ICFF opening night party on Saturday, May 19th at the Park Avenue Armory, a beautiful and massive former National Guard building that has been restored as a major installation and performance venue.  The opening party will be held in the Drill Hall where, after a few drinks, Vanderbilt's and Roosevelt's trained for deployment to the Civil War. In an ironic juxtaposition to the historic setting, "Space Program: Mars" will be in its third day of a four-week interpretation of a theoretical future mission to Mars, complete with live astronauts in space suits preparing to establish a colony. Artist Tom Sachs has garnered attention in the past for his inventive installations and has described this interest in aerospace as originating from his interest of highly-refined materials and technology.
Perhaps much more so than other trade shows, ICFF holds events that are particularly relevant to new designers looking to gain a foothold in a constantly in flux industry. Quickly becoming a staple at top design shows, there will be a Designboom Mart, a sort of design bazaar that attracts budding young designers to showcase and sell a limited selection of their affordable wares. It serves as an opportunity to expose the freshest talent to the seasoned professionals who make it all happen.
Bernhardt Design will be again sponsoring the highly popular ICFF Studio which matches a hand selected group of emerging designers with potential manufacturers. To be considered by Bernhardt, a designer must have a working prototype that is marketable, ready for mass production, and commercially viable. Once selected for inclusion in the competition, New York-based design firm Truck will create the display booths for the participants and studio 2 x 4 Inc. will produce the graphics used. Past participants have seen their products featured in prominent design publications, won ICFF Editor's awards, and had their careers greatly propelled. The exposure and opportunity to create name recognition has kept a steady crush of talented applicants streaming in, and attracted a reliably heavy attendance of interested manufacturers, ready to jump on the next big idea.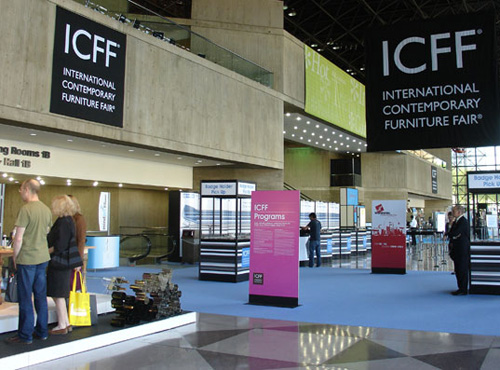 During the show, high profile speakers will be holding talks with big names in the design world and sharing where they believe design is headed. Hugo MacDonald, design editor of Monocle, will be speaking with the famed industrial designer Ronan Bouroullec about him and his brother's experiments with design. The editor in chief of Interior Design, Cindy Allen, will be interviewing three of Spain's architects and designers who have made Spanish style hotter than ever. Portuguese Investment and Trade Commissioner Rui Marques will be sitting with top talent to talk about Portugal's design and architecture industries. Susan Szenasty, editor in chief of Metropolis, will be speaking with experts Ingolf Matthee and Mark Wolinsky about the latest trends in kitchen and bath design and will later have a talk with Keith Barrett, chief operating officer of BR111, about the evolution of interior surfaces.
In a period of great uncertainty for students and young graduates, New York Design Week offers a multitude of opportunities for the inexperienced to connect with the experienced as we hit the big "refresh" on interior design. As designers of all types, we are incredibly lucky to work in a realm that is so incredibly open to ideas, very old and very new, forever churning out new ways of doing things. Perhaps more so than anywhere else, New York is a place where one is expected to go far out of their way to be picked out of the heaving crowds, but for sheer opportunity and exposure cannot be outdone.