The Los Angeles based firm of Marmol Radziner – a design-build practice led by Leo Marmol and Ron Radziner – has become widely known for their dynamic architectural, historic restoration, landscape, interior and furniture design projects.
These days, they're making news for the private Desert Hot Springs residence they built for none other than Mr. Marmol and his wife Alisa Becket, now on the market at $1.2 million. The price, obviously hefty for some and peanuts for others, reflects a significant drop from the $1.85 million price tag the house carried just a year ago. For the limited pool of buyers who seek a home in the remote California desert locale, this Marmol Radziner house is nothing short of a highly compelling opportunity. The prototype prefab home is oriented to capture outstanding views of the San Jacinto peak and San Gorgonio mountain range. Situated on a sweeping five- acre estate, the house extends over significant stretches of the property with covered outdoor living areas, 2,000 square feet of interior living spaces and a detached carport. The ultra-modern desert home utilizes four house modules and six deck modules made of steel framing that can extend up to sixty-four feet in length; interior modules comprise the living spaces like the bedroom and kitchen, exterior modules define the covered spaces and sunshade modules protect occupants from the harsh elements of the desert. The modules all align in a way that an outdoor protected environment is formed, giving way to a private pool and a cozy fire pit perfect for hosting warm gatherings. The home features a plethora of open frames and glass that allow the line between nature and the inner home to be blurred. Furthermore, the home's design employs both passive and active solar technologies, providing power to all of the home's electrical fixtures and amenities; concrete floors provide additional passive solar heat gain.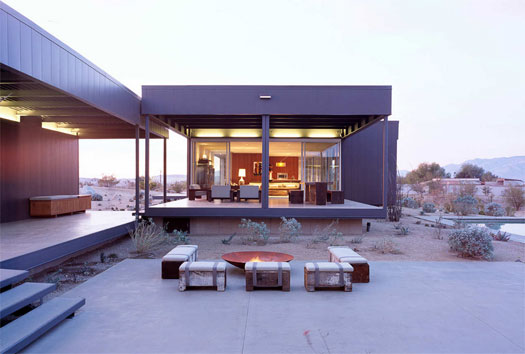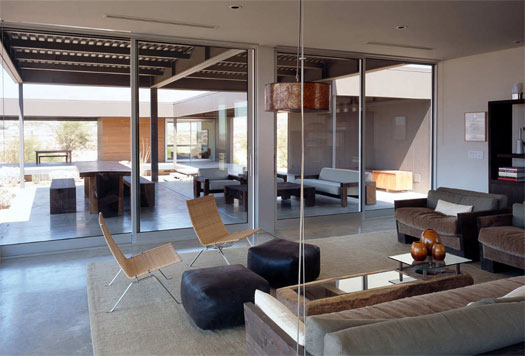 Desert Hot Springs, affectionately referred to by locals as "DHS", is a scenic town of spas and resorts just minutes from Palm Springs. The town boasts one of the world's finest natural hot mineral water aquifers, clean air, stunning natural scenery, and prime access to the Desert Resort Cities of the Coachella Valley. For the relaxation and/or retirement minded individual, the Marmol Radziner residence is certainly worth a look.
Photography by Joe Fletcher