When it comes to romance awareness, you'd think February and its endless parade of Valentine's Day cards and candies would take the cake. But go figure – it's August. As we mull over all things amorous, we're celebrating National Romance Awareness Month in style. Join us as we share the love for some of our favorite romantic products.XOXO!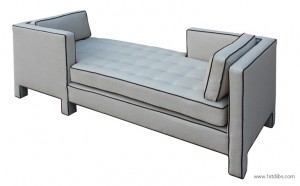 Despite their uptight reputation, the Victorians were actually quite romantic. During the 18th and 19th centuries, young couples could sit in chairs that allowed them to face each other while keeping a high level of propriety. These chairs were called tête-à-tête or courting chairs. While the original versions have their charm, we're head over heels for this 1960s version designed by Edward Wormley for Dunbar.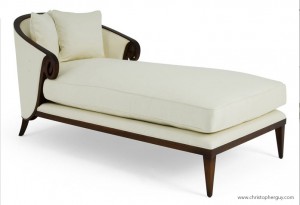 We love chaise longues in general, as they speak to a time when you could actually lie back for hours without fear of recrimination. This totally romantic and ultra chic chaise longue was designed by Christopher Guy – it's called Gigli, which sounds French, which of course is the most romantic language.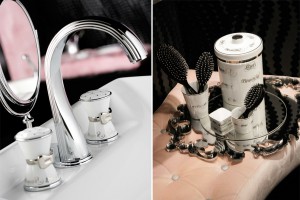 Speaking of the French – do we think a faucet can articulate romance? When it's a THG – absolument! THG has introduced the Poemes Collection of coordinating bath fixtures by lingerie designer Chantal Thomass. To decorate the bathroom, THG and Thomass revisited the tradition of the boudoir with ultra-refined and super-chic fixtures crafted from white porcelain and decorated with delicate silver borders. The collection is comprised of a faucet and coordinating accessories including dishes, vases, round and square pillboxes, candle holders, cups and soap dishes. The only decorative theme to these extremely refined furnishings is four words: Glamour, Lovely, Chic and Beautiful.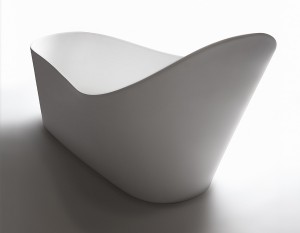 While we're on the topic of romance in the bathroom, we'd like to declare our love for this sensual tub by LAUFEN. Designed by Roberto Palomba, this beautiful 72 inch long tub is the perfect complement to the other pieces in the Palomba Collection. Standing 35 inches at its highest point, it retains a softness of overall shape with amorous appeal.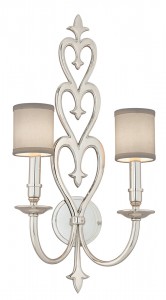 It's a rare occasion when a lighting fixture causes the heart to skip a beat. Heart Throb by Corbett Lighting induces such a thrill. Solid brass in a polished nickel finish is complemented by linen shades for a look that leaves us lighthearted to say the least.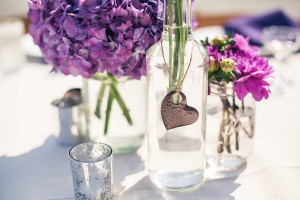 And if you would like to give your loved one the perfect token of your affection, you could do no better than these heart-shaped ornaments from Native Trails. Handmade by artisans, each heart-shaped ornament is as unique as the love it expresses. Hand-hammered out of recycled copper and tied with twine, each elegant, enchanting ornament will arrive in an ivory organza bag ready for giving. The Copper Heart Ornament is also part of the "Share the Love" campaign. With the purchase of the Copper Heart Ornament or other select items, Native Trails will donate 20 percent to CASA for Children (Court Appointed Special Advocates), a nationwide non-profit foundation that helps abused and neglected children find loving homes.
Are you feeling the love? Let us know which one is your favorite @Styleture