When it comes to summer fun, there's no better place to let your cares drift away than down by the sea. The ocean breeze and salty air don't just reinvigorate the mind and body— they can also provide some stylish inspiration. As we push off the dock and sail away, here's a look at our favorite nautical designs suitable for sailors or landlubbers alike. Anchors aweigh!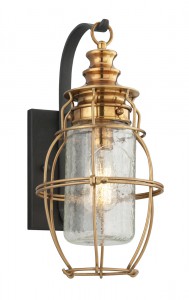 Little Harbor by Troy Outdoor Lighting
On dark and stormy nights at sea, ships need a friendly light to guide the way. When a lighthouse won't do, try the next best thing. Little Harbor by Troy Outdoor Lighting draws inspiration from the past and the busy, seafaring communities of the East and West coasts. Made from solid brass and finished with forged black accents, the fixture creates a rich, nautical look from sea to shining sea.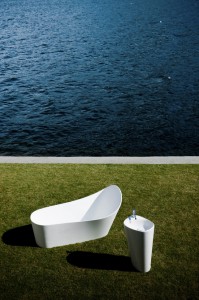 Palomba Freestanding Tub by LAUFEN
The Palomba tub by LAUFEN creates a dynamic, asymmetrical look that recalls a natural water basin carved out of the rocks over the millennia. Its organic and asymmetrical shape channels the beauty of water's evolving form as it continuously changes to fill the basin. These natural lines mold to the contours of the body and provide ergonomic support— perfect for soaking those sea legs.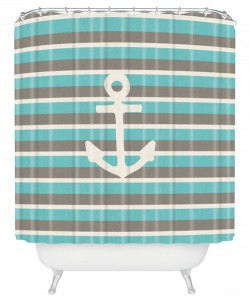 Bianca Green Anchor 1 Shower Curtain by DENY Designs
Ready to make some waves? This nautical shower curtain from DENY Designs features a white anchor against a background of turquoise, gray, and white horizontal stripes. When you slide the curtain to the side, the stripes go wavy for a truly sea-worthy touch.
Ship's Wheel Linen Pillows by Cricket Radio
Whether adorning a nautical-inspired room or not, these ship's wheel pillows will steer you in the right direction. These unique, hand sewn pillows are made from linen and eco-friendly ink. Part of Cricket Radio's Montauk Collection, they definitely deserve a place at the helm.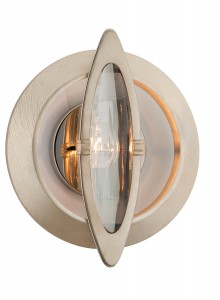 Perfect for lighting up your room's port or starboard side, the Sublime series captures the essence of the maritime nautical look. As a modern interpretation of Art Deco, the fluid lines and sparkling smoke crystal diffuser create a glamorous look worthy of the captain's cabin.
Did we pick your favorite nautical designs or are there more fish in the sea? Let us know @Styleture