The holiday season is fast approaching, which means it's already time to start planning for your traditional winter bash! Holiday parties are a festive way to ring in the season and a terrific way to schmooze with co-workers, friends, family and potential clients alike. However, it's easy to go overboard (and over budget) when hosting these events. This year throw a fabulous shindig without breaking the bank with these creative holiday party ideas.
Traditional invitations are expensive—not to mention passé. Upgrade to the smartphone generation by sending e-invitations instead. Your guests are more than likely to have Facebook, which makes it easy to set up an event page and invite them to join. Still a few stragglers behind the times? Try sending an evite (hyperlink www.evite.com) to their ancient AOL address instead.
Food is a crucial component to any holiday party, but all those tasty treats can add up to a grocery bill as long as Santa's naughty list. A surefire way to save time, money and dishwashing soap is to throw a potluck dinner instead. As the host(ess), you supply the dishes and silverware, while your guests bring their favorite holiday dishes to share. Having everyone chip in creates a festive feast with a variety of dishes to delight their taste buds.
As far as beverages go, brewing up a seasonal punch or eggnog is a festive way to cut costs while satisfying thirsty guests. Having a few mixers and coffee on hand is gracious, but there's always the BYOB option as well.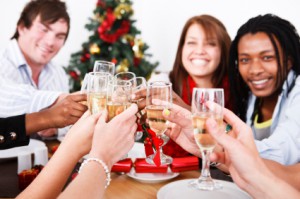 When decorating for the season, remember cheap can be chic. Don't get trapped into buying overpriced holiday decorations that take up storage space 11 months out of the year. Consider using what you already have, making your own decorations or using inexpensive alternatives. Christmas lights are a cheap investment but can be stringed around the door, ceiling and windowsills to set the mood of the party. Candles and other small décor items can be purchased from dollar stores or at a low cost as well. Just remember to stick to a color scheme so your inexpensive decorations look tastefully done.
Lastly, it is the giving season so leave your guests on a good note. Filling goody bags with homemade holiday treats is an economical party favor to hand to your guests on the way out!
We've told you our tips to hosting a party on a budget this holiday season— now we want to hear from you. What are some of your tips and tricks for hosting a stylish yet affordable holiday party?