Autumn is upon us, from the shorter days to the crisp cool nights. And while it may be hard to compete with a festive pumpkin spice latte, the real superstar of fall is nature's beauty. As the leaves change color and fall to the ground, we're left to wonder, what would autumn be if not for the trees? Take a leaf from nature and go out on a limb. Spruce up your home this fall with these tree-inspired designs!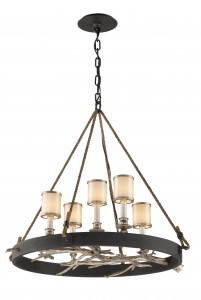 Drift – Troy Lighting
From Troy Lighting's new summer collection comes a fixture that's all fall. Drift blends white pearl glassware with hand-forged iron, driftwood made out of bronze with silver leaf, and natural Manila rope. It is offered as a chandelier, pendant and sconce, more options than you can shake a stick at.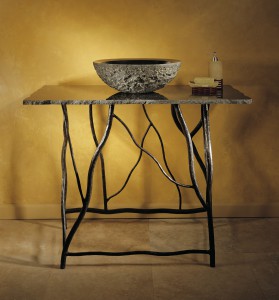 Iron Branch Console – Stone Forest
The New Mexico-based Stone Forest takes its lead from nature's blueprint, offering contemporary designs made from natural materials. And while stone is their specialty, this hand-forged iron console channels true autumnal ambiance. It includes a black granite or carrara marble countertop so your mood can change with the season.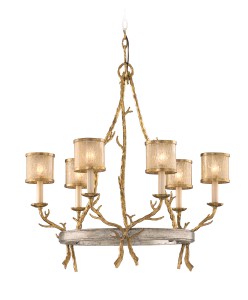 Parc Royale – Corbett Lighting
Can't see the forest for the trees? Corbett Lighting's Parc Royale blends golden ice glass and a gold and silver finish, creating a mesmerizing look. The hand-wrought iron fixture is a perfect addition to your family tree and can be specified in nearly every configuration: pendant, chandelier, semi-flush and myriad sconces.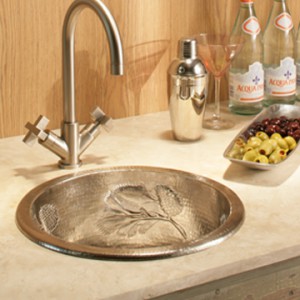 Pinecones – Native Trails
Native Trails is known for their commitment to sustainability and their copper sinks are no exception. Forged by artisans from reclaimed copper, their Pinecones sink offers a hand-embossed pinecone design to bring a little bit of the outdoors to the indoors. Available in Antique or Brushed nickel finish, it's a natural addition to any nature lover's bar or prep area.
Paris Ginkgo Faucet – THG
During fall, the ginkgo tree's leaves turn a bright yellow before falling to the ground. THG channels this unusual plant in their Paris Ginkgo faucet from the Daum Collection. The crystal plays beautifully with the golden-finished exterior, and each piece is cast by hand ensuring no two are alike. It's a little early to mention snowflakes but you know what season is next…