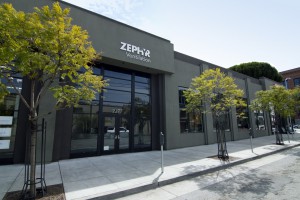 Located in San Francisco's Design District, Zephyr Ventilation is known among chefs and kitchen designers as a design-centric maker of range hoods that function as centerpieces of beautiful kitchens. Interested to see how a company like Zephyr operates its one and only Zephyr showroom, Styleture dropped by for a visit to check out the space and was seriously impressed.
First time visitors to the showroom might expect an ordinary experience but are delighted the moment they enter the showroom. Zephyr is not just a supplier of products, but a trusted design resource that inspires new ideas and challenges visitors to look at design differently. The showroom's location benefits from its proximity to so many other design businesses, which keep a steady stream of design industry professionals dropping by.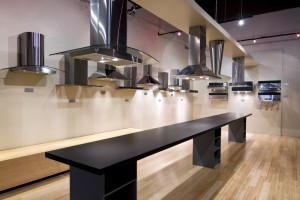 The lovely Showroom Manager Kerry Clark was happy to show us around and introduce us to their expansive line of products. Upon entering the showroom, one ascends steps to the product floor which was elevated above street level during the building's remodel.
Zephyr wants visitors to have the sensation of experiencing a consumer electronics product, rather than an appliance. Zephyr's Director of Marketing, Arcadio Lainez says "an appliance does things, a product is yours."
All of Zephyr's products can be found in the showroom and are fully functional, allowing showroom visitors the ability to "kick the tires" of products that they might otherwise only see, rather than experience. You can toy with the settings and listen to the steady whisper of the ventilation systems that surround you in the showroom.
The idea behind the layout and design is to give people an experience when they visit the showroom, to get people thinking in new ways about their own kitchen needs and ideas. Zephyr's mantra is that of discovery, manifested in the textures, shadows, and lighting of their custom designed space where people come to think about remodelling. The showroom highlights the product collections with ambient lighting and a design set-up that puts the hoods above countertops to make it easier for visitors to visualize the products applied to an actual kitchen.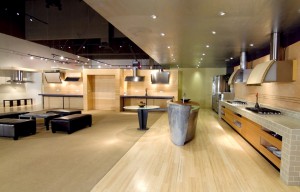 Zephyr sells through distributors, and this showroom is intended as a resource for them just as much as it is for homeowners and interior designers. Most distributors would struggle to fit the entire range of Zephyr products in their stores, so this gives them a place to come and see products as they're introduced. No sales transactions are made at the showroom, the intention of the space remains to educate visitors about the Zephyr brand and products.
Lainez says that Zephyr differentiates itself from competitors by creating a different sort of environment "where people can come to think about remodeling," adding "nobody has a showroom like this."
Calming mood lighting, well balanced music, and the minimally, yet perfectly appointed seating area make the showroom feel more like a lounge or art gallery than an appliance store. In fact, the showroom was recently home to a Match.com promotion that was featured in a television ad campaign when the dating site held a single's meet and greet there.
Build It Green, an organization that promotes the adoption of sustainable homes and lifestyles, and the American Institute of Architects both recently held events at Zephyr, showcasing the adaptive reuse of this former warehouse.
There are lots of things to love about the Zephyr showroom: the reuse of a former industrial space, prime location in the Design District, well appointed interior, pleasant staff, and beautiful product. We were spoiled and we can't wait to go back!