Don't wear white after Labor Day! This adage has been uttered as the seasons change from summer's lazy days to the cooler days of fall. Considered passé after Labor Day by the glitterati during the 19th century and still adhered to today by some, there are reasons to celebrate and enjoy summer white—well after Labor Day and into the year!
Caroma® -Invisi Series II
The Invisi™ Series II wall-hung toilets hover above the floor, only visibly attaching to a wall. Plumbing is hidden inside the wall to create a more spacious and luxurious look for bathrooms. With the tank, flush-valve and trap designed to work as one optimized system, all Invisi™ Series II suites flush with less water without impacting performance. They include two buttons for flushing; for an average flush volume of 1.28/0.8gpf.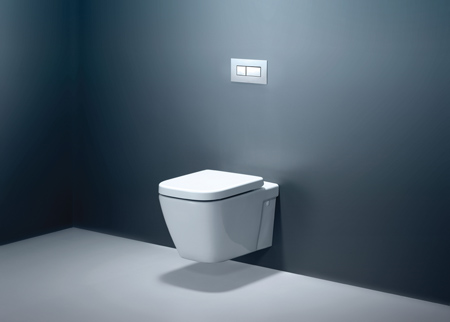 Hastings Tile & Bath – Vola RS
Keeping the circle (a key element of Vola designs), the Round Series is pure Vola: sleek, minimal and uncluttered. Available in black or white, the waste bins and tissue dispensers sit flush against the wall — framed only by a metal ring in polished chrome or brushed stainless steel. As with all Vola products, the Round Series complements other collections in the Vola line.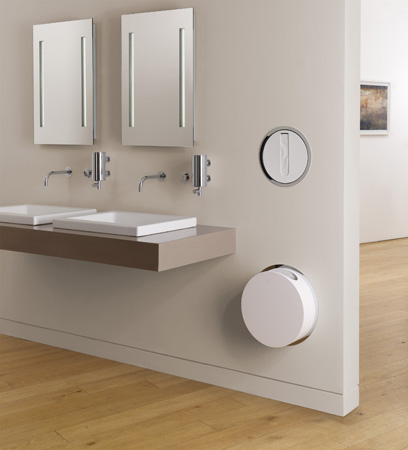 GRAFF® – Ametis
GRAFF®'s newest collection, AMETIS, designed by Davide Oppizzi of DCUBE is a symbol of the fusion between the universe above and the oceans below; a futuristic ode to high design in the bathroom. Fluid and sensuous, AMETIS guides the water through the gentle curves of the faucet, providing a visual representation of the idea that life is a cycle. AMETIS is equipped with an electronic system with a colored ring which changes from red to blue and vice versa depending on changes in the water temperatures. Faucet line is available in chrome, white or powder-coated matte black.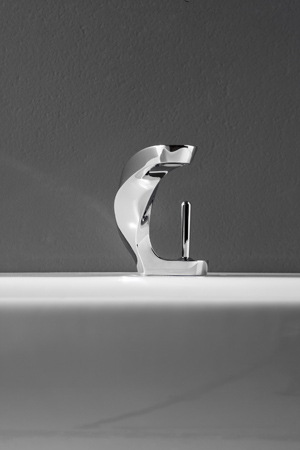 bulthaup – White Rough Sawn Oak
A fresh take on oak: A novel approach to oak opens up new design possibilities and a new feeling of space. Rough-sawn oak has a back-to-nature appeal, the strong grain pattern lending the wood a vital radiance. The rough- sawn manufacturing method brings out the wood's natural character and emphasizes its raw beauty. White rough-sawn oak is an interesting alternative to the pure-white kitchen. It has the versatility and open feel of a classic white-fronted design, but with a more organic structure that lends it a dynamic, distinct personality. The existing natural gray and black brown shades are now joined by colors such as bronze brown and black gray. Subtle use of this natural material can be harnessed to create attractive accents in kitchens of otherwise very smooth and serene appearance.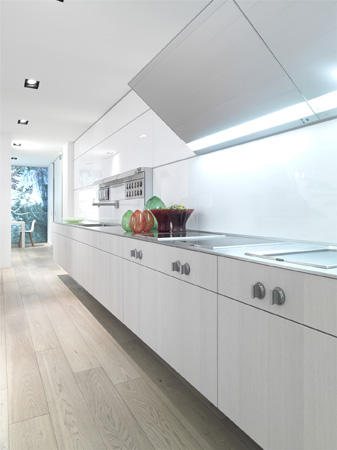 Stone Forest® – SYNC Drop-In in white onyx
Stone Forest®'s SYNC Drop-In is a rectangular vessel sink exquisitely cut from white onyx or amber onyx. The angular shallow basin is fitted at its base with a refined stainless steel grid cover. This new version joins other previously offered SYNC Drop-in vessels available in bamboo, honed basalt and multi-colored onyx.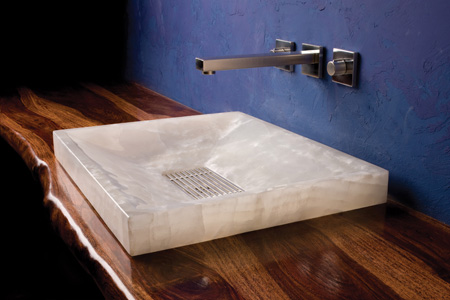 Hudson Valley Lighting® – Lydney
Lydney, one of Hudson Valley Lighting®'s new pendants, offers functionality and good looks in one fixture. Made from polished nickel, this industrial style fitting casts a broad light beneath its shiny painted exterior and is available in a choice of three colors:  as shown here in white with polished nickel, but also in black and grey, also with a polished nickel interior. With its unadorned canopy and simple cord, Lydney provides a timeless lighting option and is available in three sizes.