When citizens of Paris stormed the Bastille, the city's largest prison, in the name of Liberty, Equality and Fraternity, a global revolution had begun. The actions of those taken in 1789 led to the eventual dethroning of King Louis XVI and Marie Antoinette, who symbolized excessive extravagance, eventually paving the way for democracy and a new republic. In honor of these risk takers, we salute the following manufacturers for their out-of-the-box thinking and revolutionizing the home with extraordinary products:
Hudson Valley Lighting – Marietta
Over sized and resplendent, Hudson Valley Lighting's Marietta, a breathtaking globe pendant, is a statement maker all on its own. Based on an existing design found in The White House, the fixture draws inspiration from the Empire Era, made famous by Napoleon. Regal and ornate, Marietta is supported by a solid metal frame and is accented with floral finials. These elements converge together in one stunning result, providing a dramatic entry way or corridor light fitting. Available in aged brass or aged silver finish.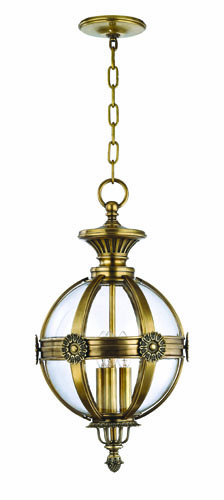 THG – Surf
With dramatic curves and artful lines, fine faucet atelier THG strikes a balance in the bath with Surf, a tap and waterfall spout collection. With a 180-degree wave inspired arc anchoring the piece, Surf provides an unforgettable accessory for a sink or tub and is completed by a two-tone trim of polished chrome and gold and deep grooves. Minimizing any disruptions, THG had the foresight to integrate the drain plug into the fixture's curve. In the name of good design, we're completely open to Surf's distractions.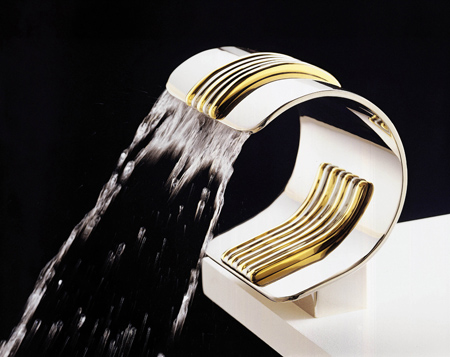 Hastings Tile and Bath – Atmosfere Round Tub
A revolution in bath design, the Atmosfere Collection from Hastings shines with its simple shapes, minimalist design, and eco-friendly, easy to clean polymineral composite material. The bathtub's glossy exterior and the matte and silky interior combine to make the Atmosfere a contemporary must-have. The round tub is 47 inches in diameter. Also available in a rectangular or square shape and available with fitted ceiling hung shower curtain rails.
Native Trails – Halcyon
Compact, convex and curvaceous, the wall-mount vanity Halcyon by Native Trails is anything but ordinary. Made from two types of solid bamboo, Caramel and Woven Strand, the design amply shows off the material's beauty and is practical as it eschews water damage and will remain durable for years to come. Plus, Halcyon has space to hide plumbing and allow for easy installation. Perfect for powder rooms or small baths, the Halcyon is positively unstoppable!