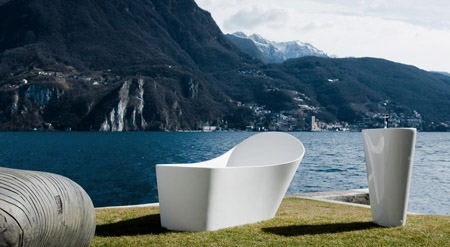 "Intense, gentle and natural forms that evoke inlets, small lakes, rocks smoothed for millennia by the ceaseless motion of the sea." Ludovica + Roberto Palomba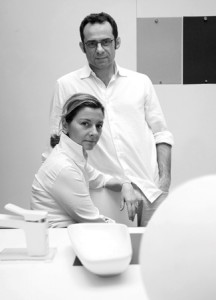 Laufen – the Swiss manufacturer of innovative ceramics for the bathroom, have once again collaborated with the husband and wife team of Ludovica + Roberto Palomba on additional pieces for their award-winning collection; Palomba Collection 2012. They describe this collection as, " A project that playfully challenges the hard and fast rules of how ceramics are handled during the manufacturing process." Proving once again that all things are possible, we present the Palomba Collection – available in North America Summer 2012.
Countertop Washbasins
These washbasins continue the Palomba's evolution of the 'fingerprint of nature' with their organic, soft shape and thin ceramic surround. Available as small as 19 inches up to 39 inches, these washbasins are best when used with the Palomba vanities. Available in white and matte white.
Menhir Floorstanding Washbasins
"Menhir," which means "tall stone" in Breton, is a floor-standing ceramic washbasin available in a freestanding or wall-hung version. Its smooth contours recall a rock formed and polished by the tide, its bowl organically morphing into the washbasin surface.
Vessel Bowl Washbasins
These asymmetrical bowl washbasins are an elegant addition to the Palomba line. Imbued with an organic yet classic countenance, they are at home in any contemporary setting.
Solid Surface Tub
Laufen's first solid surface tub, this beautiful 72 inch long tub is the perfect complement to the other pieces of the Palomba Collection. Standing 35 inches at its highest point, it retains a softness of overall shape, which is in keeping with the other Palomba pieces.
Bathroom Furniture
The Palomba collection also offers a complete set of coordinating furniture designed under the Palomba name. Vanities, open and closed cabinets, and shelving will offer designers a myriad of options for their projects. The vanities will be available in white, putty gray, common pear light and cherry vermont dark. The square and rectangular boxes will be available in white, putty gray, red cranberry and blue aqua. Colors available for the backwalls and rectangular boxes will be orange, red, common pear light, cherry vermont dark and mirrored. The design possibilities are endless!