Environmental concerns regarding light pollution have resulted in the enforcement of Dark Sky regulations by various cities, counties and home owner associations across the U.S. With the advent of Title 24 in California, energy efficient fluorescent lighting or motion controlled lighting has also become mandatory for exterior lighting fixtures. However, being environmentally responsible doesn't mean you have to sacrifice style.
Here are five environmentally trendy outdoor lighting pieces from Troy Lighting's Environmental Series:
Kinetic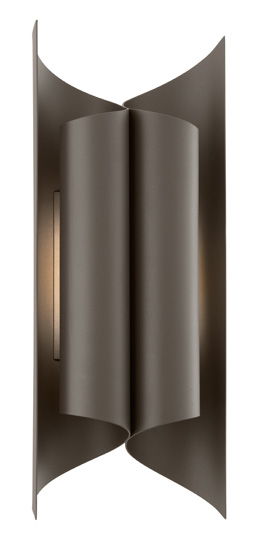 Kinetic captures the natural flow of Japanese origami with a wing-like sheet of laser-cut aluminum enfolding 16-1.2W LED light engine. Maintaining a surprisingly chic and minimal look, this Title 24-compliant fixture satisfies that ever-elusive quest for beauty, function and energy-efficiency. It comes in bronze, satin white and coastal finish (silver).
Raleigh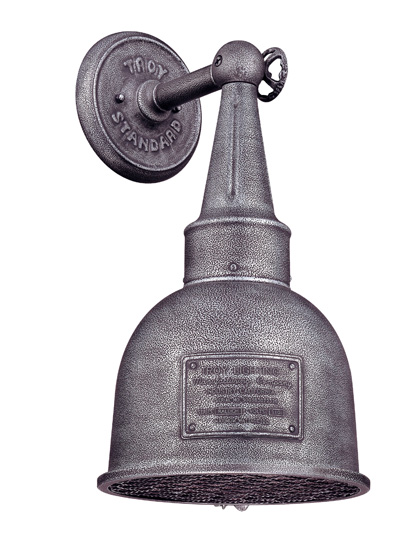 The industrial era has inspired the design and craftsmanship of many great works in the modern era; the richly detailed Raleigh is no exception. Hand-forged from iron in an old silver finish, the exterior wall mounted fixture is Fluorescent Dark Sky compliant and comes with a motion-controlled fluorescent lamp, which meets ENERGY STAR requirements. Meanwhile, the pendant comes with highly energy-efficient, dimmable LEDs, meeting Dark Sky requirements.
Drake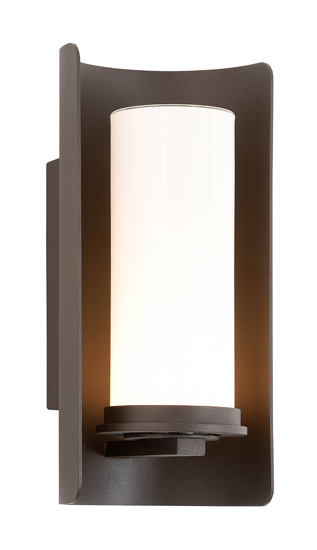 Resembling a pillar candle set in semicircular housing, Drake artfully mixes the casual elegance that is synonymous with Troy Lighting and the technology necessary to meet today's strictest of energy requirements. As part of Troy Lighting's Environmental Series, Drake is an ENERGY STAR-certified lantern, which is supplied with a motion-controlled fluorescent lamp. The fixture is also available with an LED option, which meets Title 24 in California.
Blade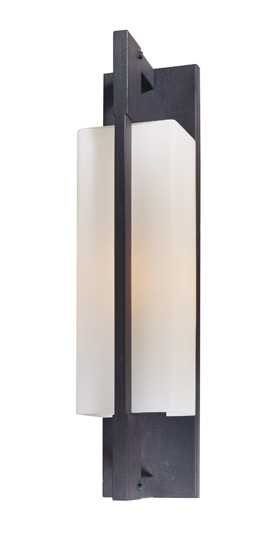 To simply say the look of Blade is "sharp" doesn't do it justice; this sleek beauty re-imagines contemporary design with a stylish hand-worked wrought iron frame in  a forged iron finish, matte opal glassware and a fluorescent lamp.
Serengeti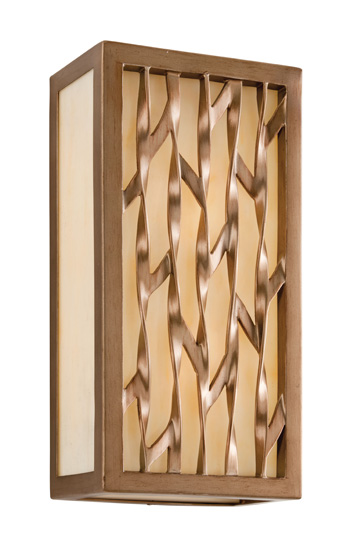 The nature-inspired focal point of the Serengeti design is the inset of twisted, glistening strips of hand-forged iron that projects an abstract interpretation of graceful branches. A mix of textured material-marbled honey glassware and painted bronze leaf finish on the metalwork-add drama to the clean lines of this dynamic outdoor fixture. Available with a fluorescent lamp, Serengeti is available as a rectangular wall sconce in three sizes.